This delicious Chicago-Style Hot Dog, is a perfect for a crowd. Grilled beef with all the best toppings and poppy seed buns!
Paul and I lived in downtown Chicago for over 15 years. There were so many foods that symbolized Chicago, but one that is so close to my heart was the Chicago-style Hot Dog. You could get a hotdog on every corner on any given street or block all over the city.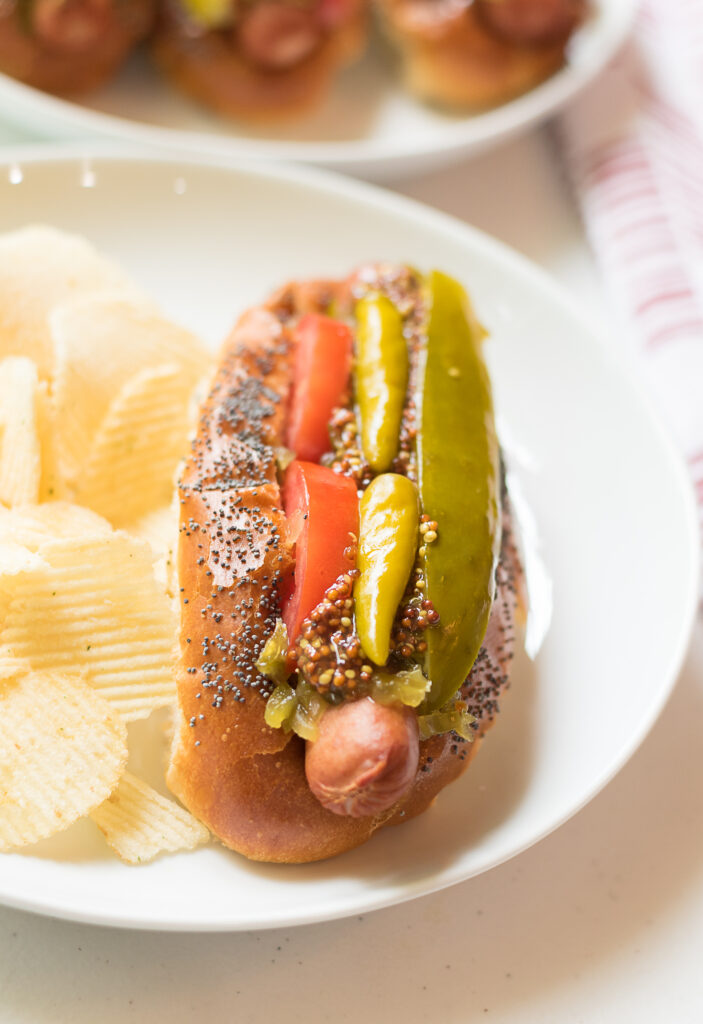 When I indeed had my love affair with the Chicago-style hot dog was when I was pregnant with our twins, Megan and Chris. I found early on that we were having twins and my appetite was on first base ready to slide into home. I was hungry. There were many foods I could not eat, but that spicy dog was something I craved!!
Depending on what region of the country you live, your Hot Dog toppings could vary a lot. But in the Midwest and around the country now, the Chicago-Style Hot Dog is most popular. I wanted to share this wonderful meal for all your 4th of July menus when your family and friends start to gather!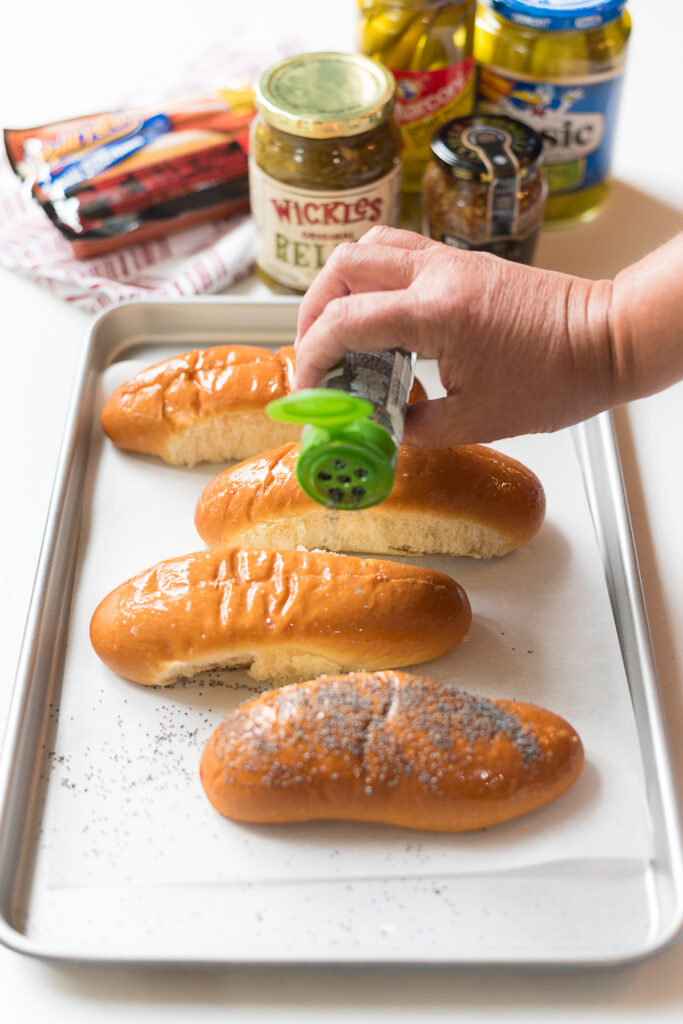 So what exactly makes a Chicago Hot Dog Recipe different than the others?
Not only are the toppings different, but the bun is a bit different as well. However, the Chicago Dog starts the same as many hot dogs, with a good quality all-beef frankfurter. The original Vienna all-beef hot dog is where it all started, arriving when German immigrants came to Chicago. I have researched where you can buy this hot dog, and Sam's has them in stock.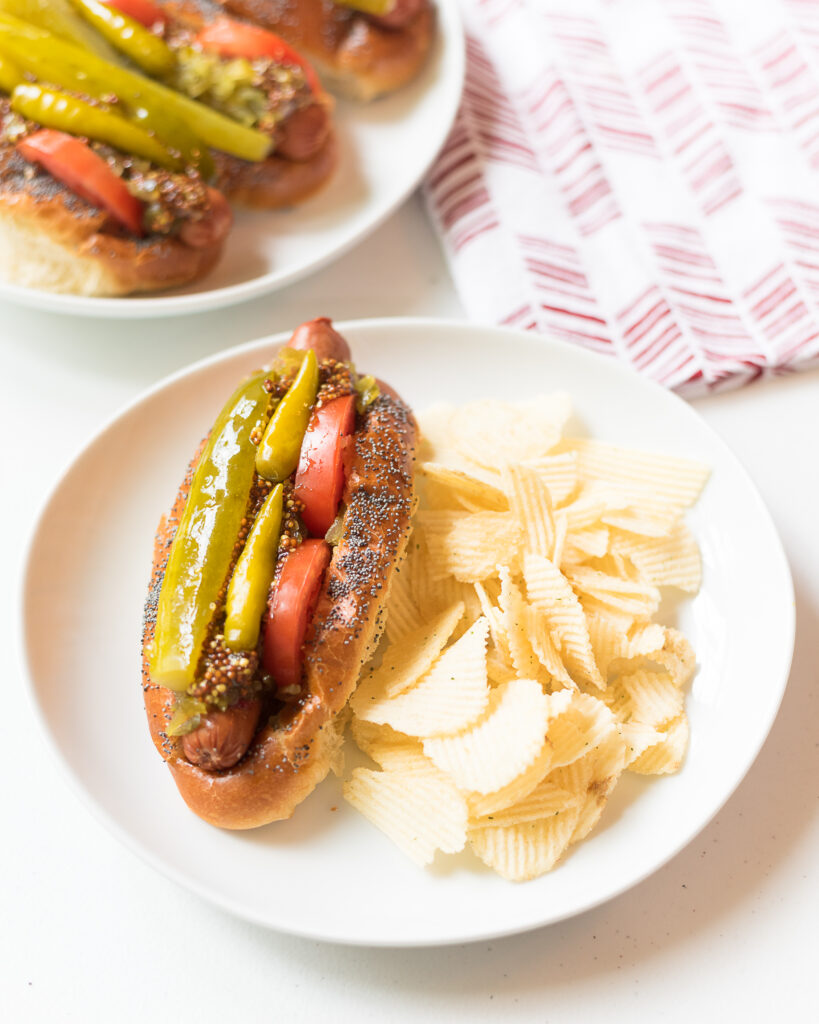 While I love the flavor of a grilled hot dog, there is actually a traditional cooking method for hot dogs. First, you place the hot dogs in a large skillet and add about 1/2 cup of water and steam them. Then drain the water and brown the hot dogs. This whole process takes about 10 minutes. Steaming the hot dogs before grilling gives them a crisp outside and juicy center.
After you have a good hot dog, then you need a tasty bun. The Chicago-Style Hot Dog is served on a soft bun with poppy seeds. If you can not find the poppy seed bun, then take the bun of your choice and brush it with butter. Broil the bun until just heated and the poppy seeds are stuck to the bun.
Now, the best part, in my opinion, the toppings. This unique hot dog toppings include yellow mustard, or I prefer grainy mustard, pickle, relish, sweet onions, pickle spear, tomatoes and celery seed.
I can just see myself sitting on a stool on a Chicago street corner enjoying every last bite. Sometimes I would even had two!!!
Here are the step by step picture guide to making the delicious buns:
Step 1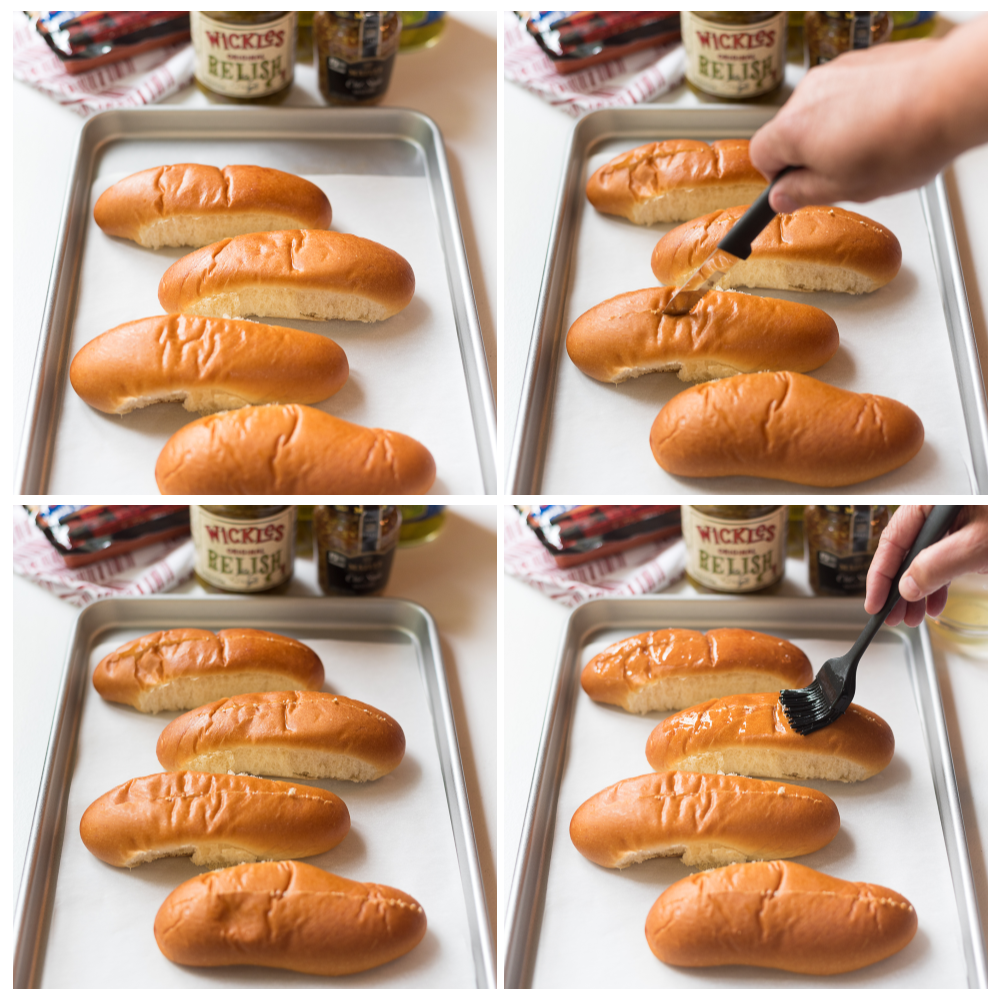 Step 2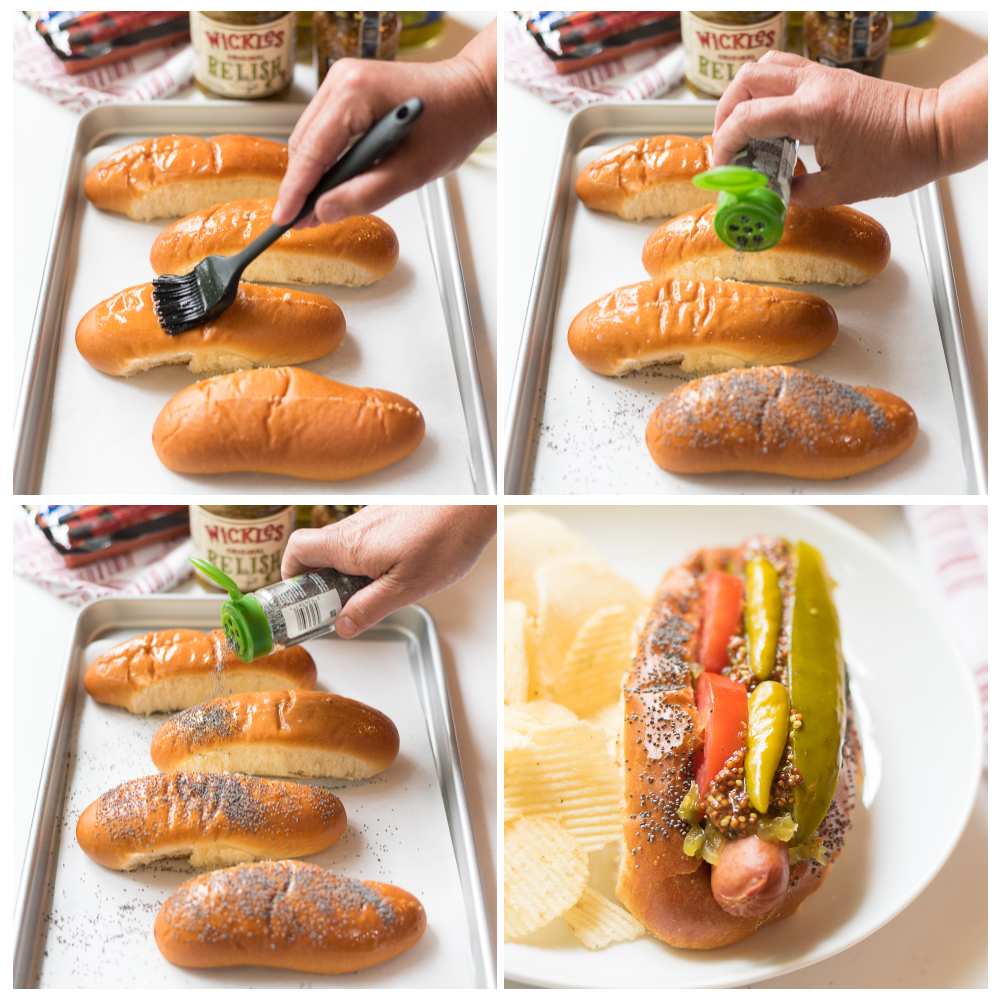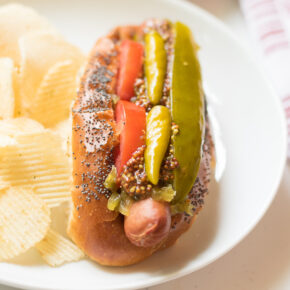 The Chicago-style Hot Dog
Ingredients
Poppy Seed Buns
4

Unsliced hot dog buns

1

Egg White Beaten

Poppy Seeds
Chicago Dogs
4

Natural casing hot dogs

4

Poppy Seed Buns

See recipe above
Instructions
Poppy Seed Buns
Preheat oven to 400 Degrees

Slice buns lengthwise through the top, leaving the base intact.

Brush tops with egg white. Then sprinkle generously with poppy seeds.

Bake until lightly toasted , about 5 minutes
Chicago Dogs (Add toppings in the order listed below)
Preheat grill to medium-high.

Grill hot dogs until heated through and lightly charred.

Serve in Poppy Seed Buns, assembled with toppings as listed in order below
Classic Toppings
Wickles Relish.. it is sweet and spicy.
Other Posts The you May Enjoy…
Roasted Strawberry and Beet Salad
Chewy Pecan Squares with Wildflower Honey
View my latest cooking videos, and please consider subscribing to my YouTube channel!
This post may contain affiliate links and I may earn from qualifying purchases.