This green smoothie has been my go-to green drink for years. This flavorful smoothie is packed full with protein and vitamins, and has a smooth, creamy silky consistency.
What is the perfect smoothie?
I think My Perfect Green Smoothie is a beautiful bright green color that tastes delicious and is healthy.
We are all experiencing a very different and challenging time in our lives. Without the daily trips to the gym or your yoga class not happening, our nutrition can go by the wayside. I have the answer. Start your day off right with this subtly sweet and nutty, protein-packed dairy-free and gluten-free smoothie. This quick breakfast or afternoon snack option takes about 5 minutes to prepare.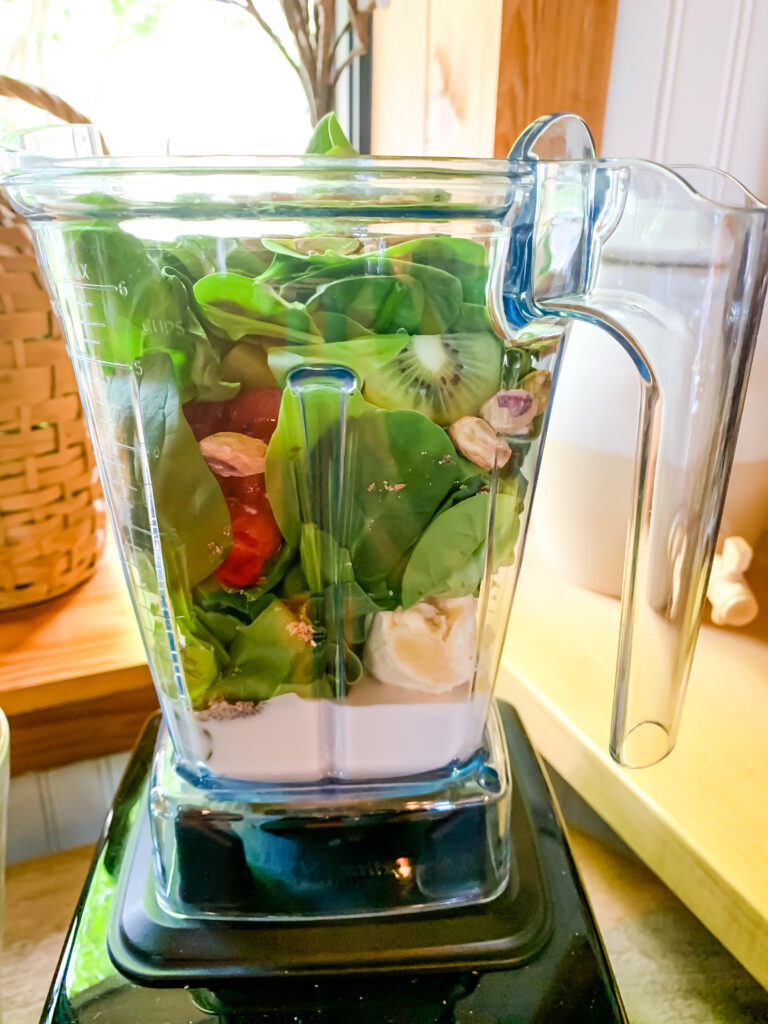 With this almond and pistachio blend, it is perfect for those who are craving a nutritious smoothie that is both sweet and salty. The protein from the yogurt and pistachios are a real power punch. The spinach makes it green, adding fiber, along with vitamin C, potassium, magnesium, folic acid, and calcium. Spinach is a powerful antioxidant. The sweetness of the banana will balance out the flavors.
The tart cherries are packed full of Vitamin A, C, B6, and E, more fiber, beta carotene, and antioxidants. Tart cherry juice is an excellent juice to boost your nutrition.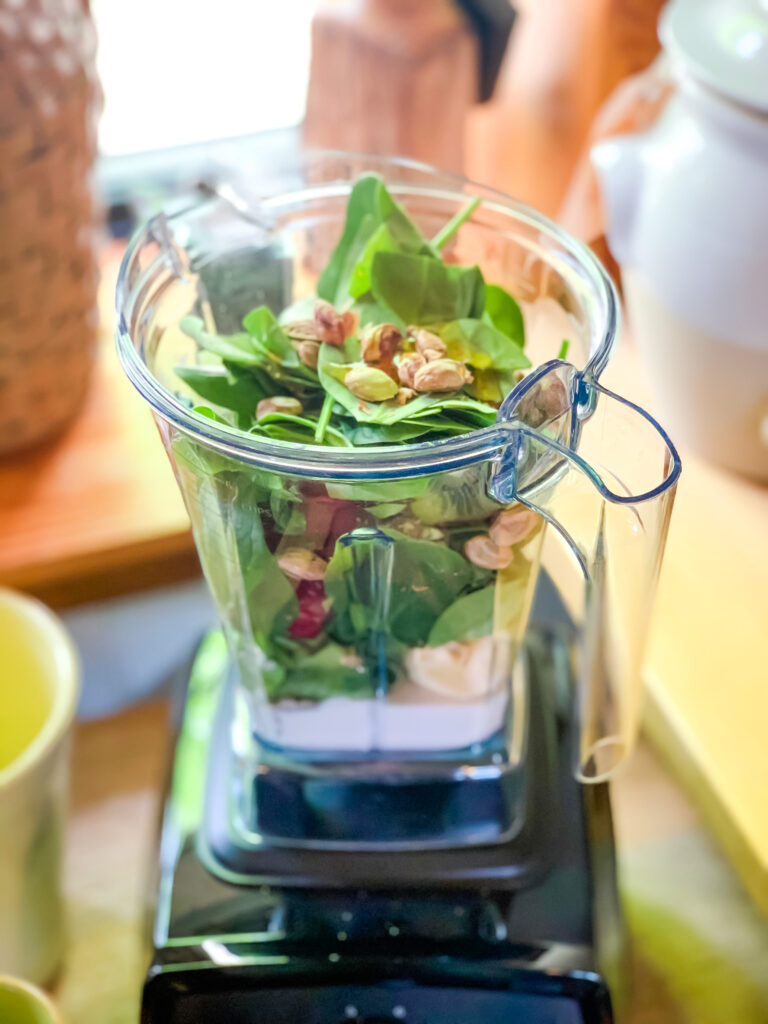 Furthermore, the power of flax seeds, chia seeds, and bee pollen speak for themselves.
Flax seeds are full of fiber for digestion and are an excellent source of heart-healthy Omega-3. Now with Flax seed, they need to always be ground to be absorbed into the body. The blender will take care of that in this recipe.
Chia Seeds are full of Omega 3, calcium, protein, and more fiber. They will give the smoothie a creamier consistency.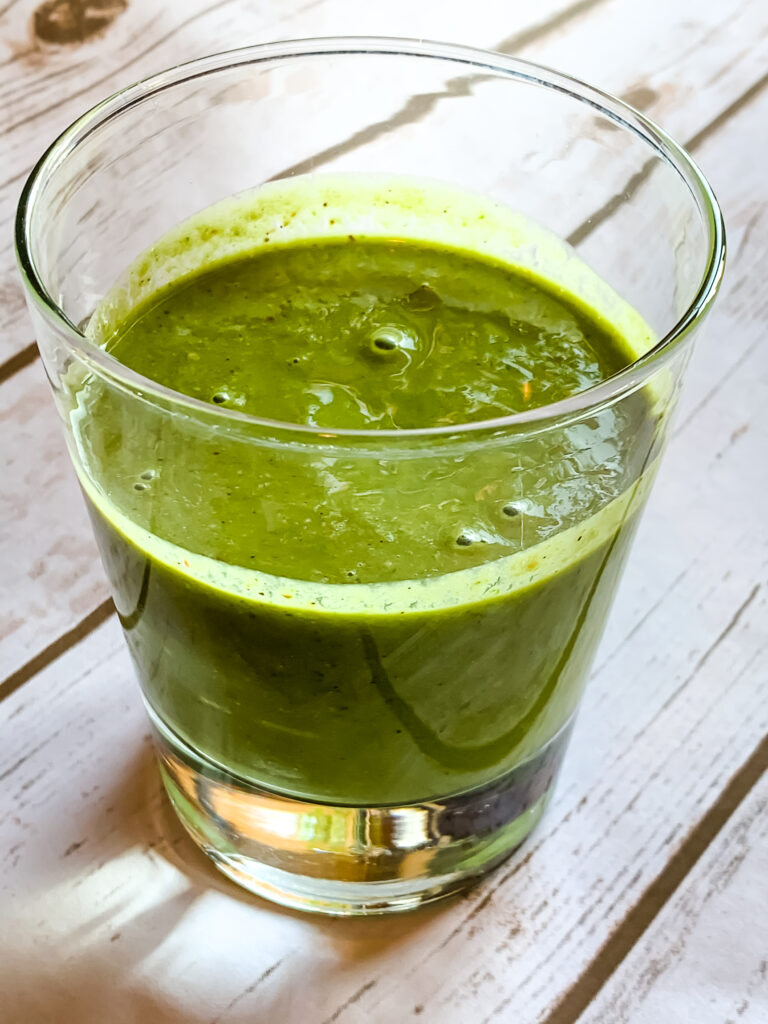 With Bee Pollen, it containing 22 amino acids that our bodies require and is known to increase energy with all the B complex vitamins and helps with allergies, especially if the honey local.
The Recipe
The recipe is straight-forward. Place the ingredients in the blender with layers, as I have stated. The layers help the ingredients blend better. Also, if it is not mixing, then stir everything around with a spoon or a tamper.
I love the combination of the Perfect Green Smoothie, but you can substitute ingredients if you don't have everything at home.
Without a doubt, I will be sharing more smoothie recipes, but for, now enjoy the deliciousness of the Perfect Green Smoothie!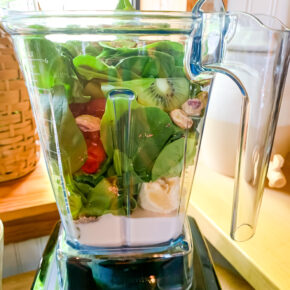 My Perfect Green Smoothie
Ingredients
1/2

cup

Almond Milk

1/4

cup

Almond Yogurt

3

cups

Organic Spinach – divided into thirds

1/4

cup

Pistachios – shelled and not salted

1/4

cup

Frozen Sour Cherries

1/2

Banana – peeled

1

tsp.

Flax seeds

1

tsp.

Bee Pollen

1

tsp.

Chia Seeds

1/2

tsp.

Turmeric Blend

1

tbsp.

Honey
Instructions
In a blender, pour in the milk. Place one cup of spinach on top. Next, layer the yogurt, then another layer of spinach. Add the pistachios, cherries, banana, flax seeds, bee pollen, chia seeds, and turmeric blend. Add the remaining spinach. On the top, add the honey.
Serves: 2 to 3 but can be easily doubled.
Other Posts The you May Enjoy…
Easy Mediterranean Cauliflower Pizza
Instant Pot Corned Beef and Cabbage
Fudgy Avocado Brownies with Fudgy Chocolate Frosting
Easy Chicken Sausage and Veggie Saute Dinner
View my latest cooking videos, and please consider subscribing to my YouTube channel!
This post may contain affiliate links and I may earn from qualifying purchases.