This Cherry and Pistachio Snack Cake is quick and easy to make, and it's gluten-free. I loved it served with ice cream and a few fresh cherries for garnish. A sprinkle of powdered sugar can dress up any sweet treat. It's perfect for after dinner or first thing in the morning with coffee or tea.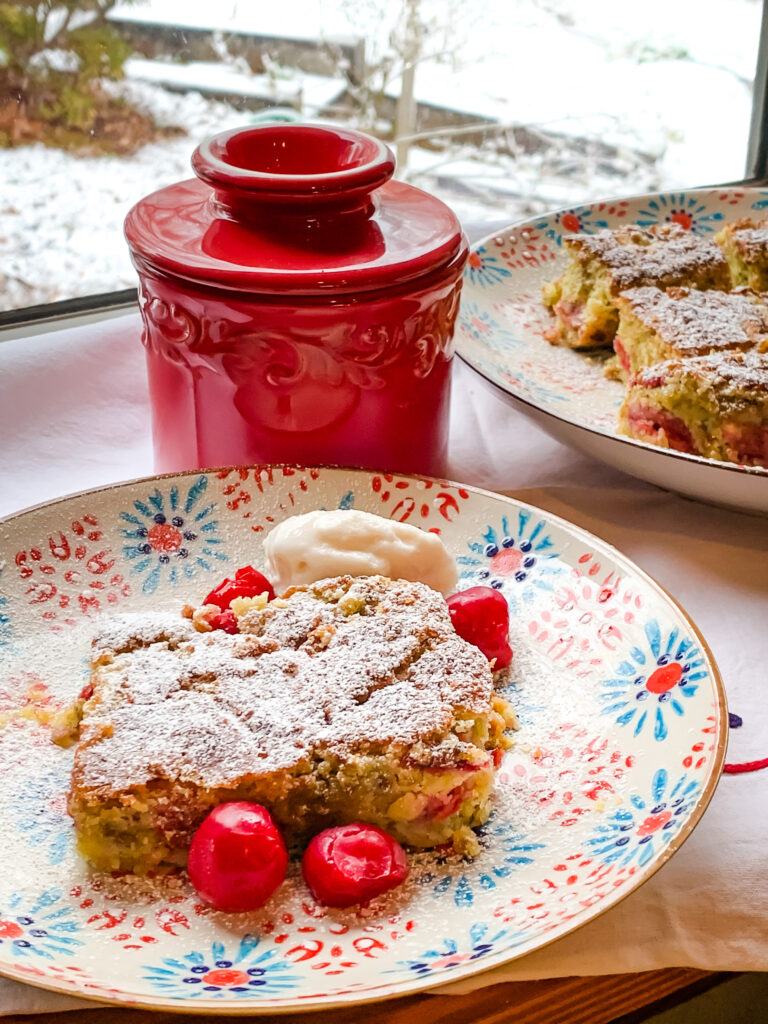 Gluten-Free Cherry & Pistachio Snack Cake is straightforward to make. It's straight forward. It was interesting when adding the eggs to the creamed butter and sugar mixture; by the end, the eggs broke. I have never had that happen and made sure the eggs were at room temperature like I always do. I keep mixing all the eggs, and when I added to the dry-mixture, the egg mixture incorporated beautifully, and don't overwork the batter at his point.
A few words about the ingredients!
I love the use of fresh sour cherries. They are so healthy for you and provide the perfect balance between sour and sweet. I've found a wonderful place to order cherries on-line, Northwestern Wild Foods, which are freshly picked in season and flash frozen and then ready to ship.
When the cherries arrival, they were perfectly packed and still frozen. I did use the frozen cherries, but I let them sit out and thaw and dried with a paper towel until very dry.
Fresh cherries with pistachios are a match made in heaven. I love using pistachios in all sorts of cooking, but in sweet cakes, they are delicious. The recipe called for ground pistachios, but I mixed them until they were crumbly but done fully ground. I like the texture it gave the cake. Here is the link where I buy my pistachios: https://amzn.to/3ahlKAy
I have found in this recipe and others that you need to search out the best Gluten-Free Flour that works for you. It can make a difference in the baking and the cooking times. I have found King Arther Gluten-Free Measure for Measure flour works the best for me. https://amzn.to/2UvyP2n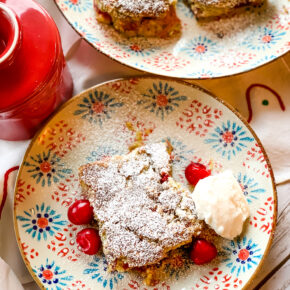 Gluten-Free Cherry & Pistachio Snack Cake
Ingredients
1 1/2

Cups

Butter – unsalted and softened

6

Large Eggs

1

Cup

plus

3

Tbsp

Gluten-Free AP Flour – shifted*** see note

4

tsp.

Baking Powder

1/4

tsp

Salt2 Cups Pistachios – unshelled and unsalted – lightly ground** see note

7

oz.

Fresh Cherries – pitted and halved* see note
Instructions
Grease a 9 x 13-inch baking pan, then line with parchment paper (base and sides). Set aside.

In a stand mixer, beat the butter and sugar in the bowl with the paddle attachment, on medium speed for 2 to 3 minutes, until pale and creamy.With the mixer running on low speed, add the eggs, one at a time, until each egg is incorporated. In a separate bowl, mix the sifted flour, baking powder, salt, and ground pistachios together until mixed.

Using a metal spoon, fold the dry mixture into the wet mixture until incorporated. Carefully fold the cherries into the mixture until evenly distributed, then pour the batter into the prepared pan.

Bake the cake for 25 to 30 minutes, until golden brown and a toothpick inserted into the center comes out clean. Let cool completely in the pan, then cut into 16 equal pieces.

Serve with ice cream and few fresh cherries and a dusting of powdered sugar.
Other Posts The you May Enjoy…
Easy Red Curry Noodles with Chicken
Easy Chicken Sausage and Veggie Saute Dinner
View my latest cooking videos, and please consider subscribing to my YouTube channel!
This post may include amazon links. As an Amazon Associate I earn from qualifying purchases.