Easy Mediterranean Cauliflower Pizza that is not only healthy but is delicious too! Made with a healthy pizza cauliflower crust that is gluten-free. This meal is quick and easy to make.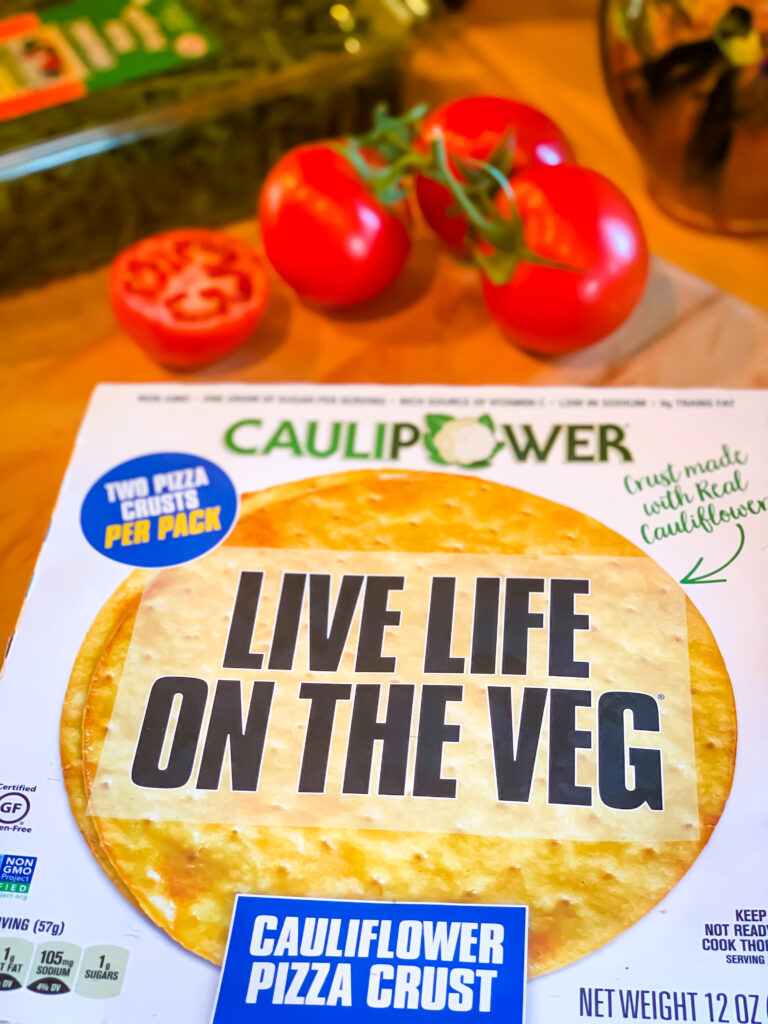 It's dinner time! What can I make healthy and quick that tastes good?? I start looking in the freezer and pantry and find a box of Cauliflower Pizza Crust. Yes, a healthy pizza for dinner!
I have a plain cauliflower pizza crust, so I have a blank canvas awaiting what I can find in my pantry and refrigerator. Whatever you or I decide, you can't go wrong with this pizza crust made with cauliflower as the first ingredient, so it's naturally gluten-free.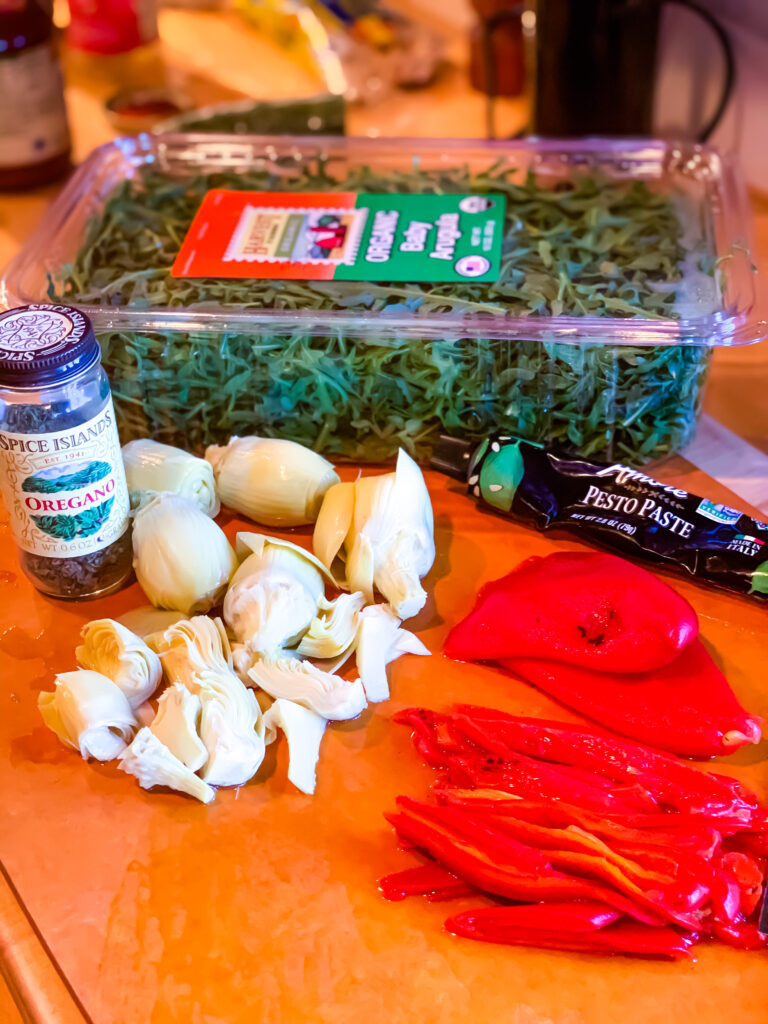 I used a jarred pizza sauce, but by adding basil pesto and oregano it added tons of flavor. I found a can of artichoke hearts, alongside a jar of roasted red peppers and delicious green olives that we normally use for martini's, but it's time to break them out for the pizza.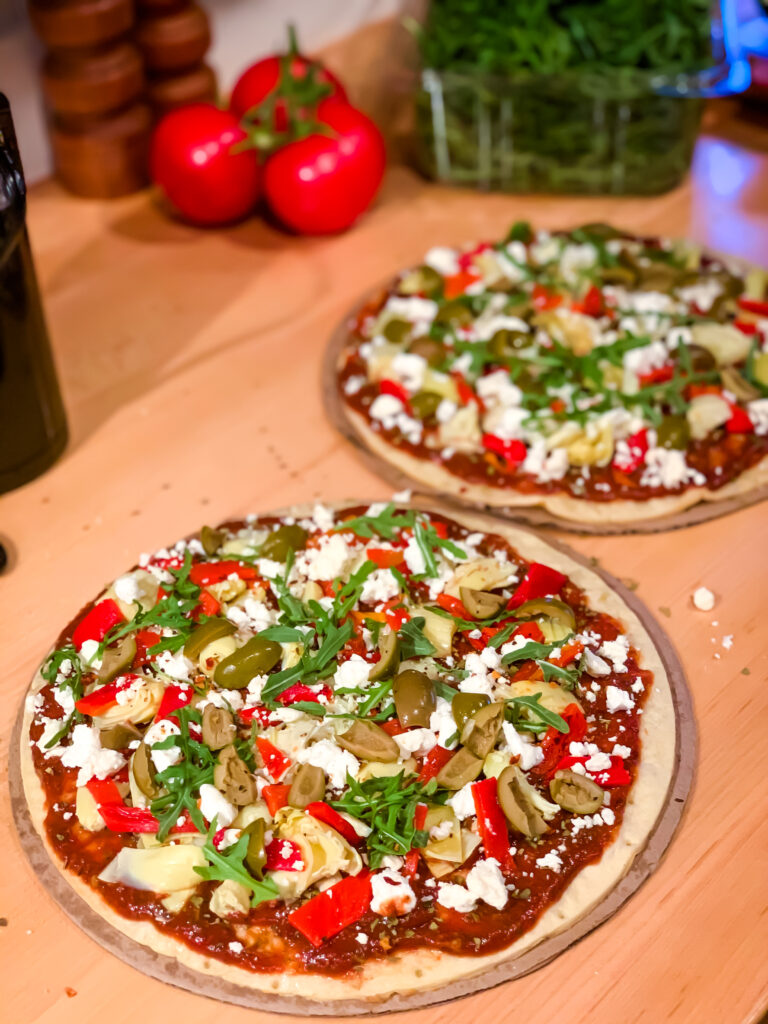 As for the cheese, I used crumbles of goat and feta cheese that are the perfect way to top off this Easy Mediterranean Cauliflower Pizza. Normally I eat dairy-free meals, but will use goat and feta cheese on occasion.
I had a large box of arugula to make salads or use in smoothies. I wanted something fresh on the top to add color.
It's time to begin baking the pizza. I set the oven according to the box instructions at 450 degrees. You want to cook the pizza frozen. Otherwise, it will begin very fragile when handling. The instructions on the box said to bake for 13 to 15 minutes, and that is way too long, at least in my oven.
I put the pizzas directly on the oven rack. The crust is very crispy, but the top was not as bubbly as I wanted. I turned the broiler on and cooked the pizza for four minutes or until the cheese is soft and melted, not burned. The whole process took about seven to eight minutes.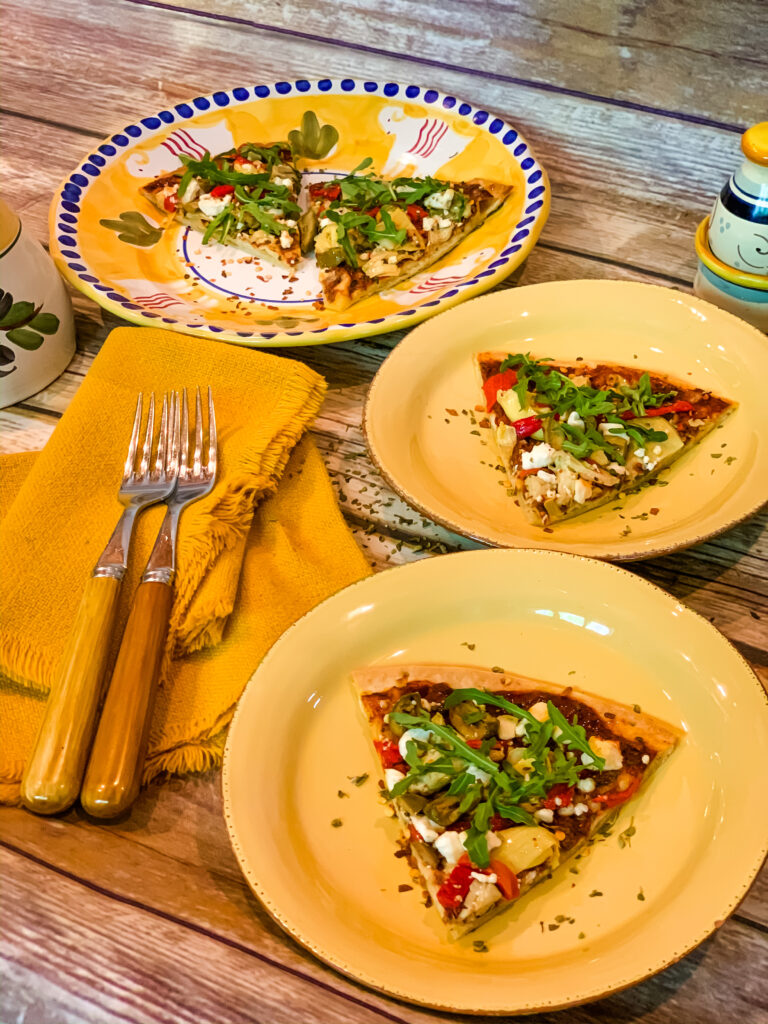 It was time to eat! I cut the slices and serving them on a plate. I add fresh arugula on the top with a sprinkle of red pepper flakes to finish.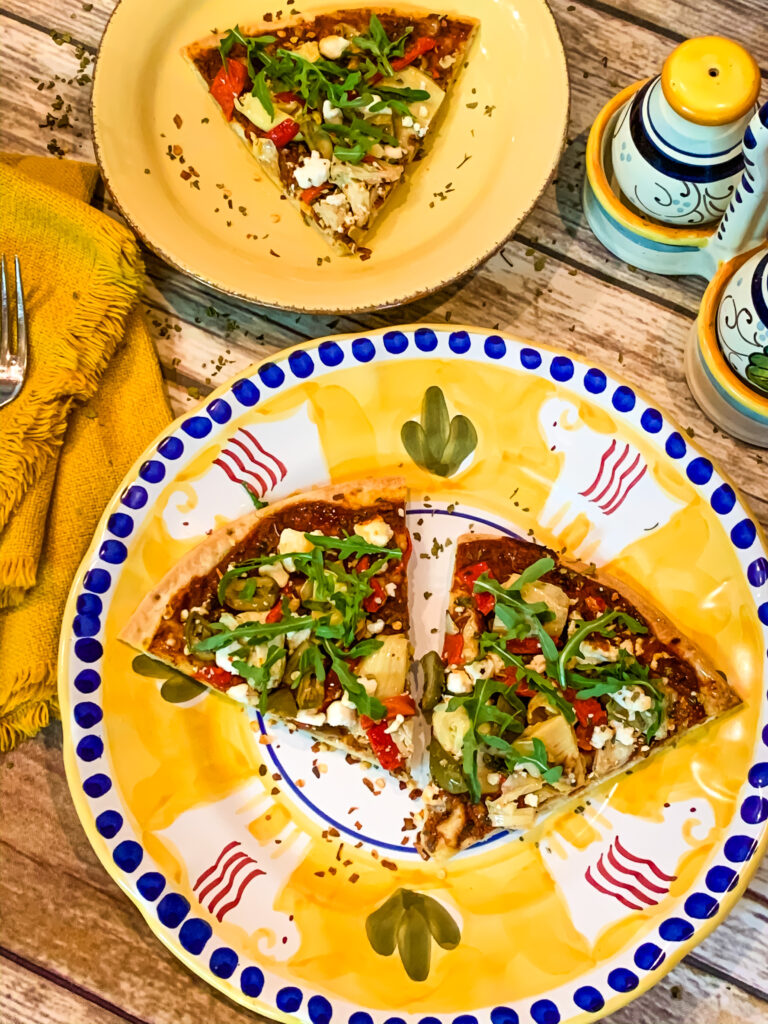 *One last note. The recipe can be cook over medium heat for about four to five minutes or until crisp, not letting the edges get too brown. Remove the crust with a large spatula and top with the desired ingredients. Return to the grill and cook about three to four minutes or until the cheese begins to melt and edges are brown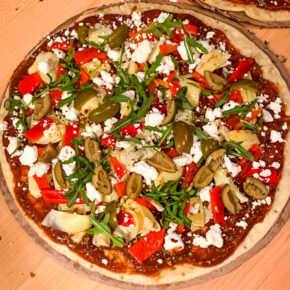 Easy Mediterranean Cauliflower Pizza
This meal is quick and easy to make.
Ingredients
2 –

Frozen Cauliflower Pizza Crust

1

Tbsp.

Extra-Virgin Olive Oil

1

cup

Pizza Sauce

1/4

cup

Basil Pesto

1

tsp.

Dried Oregano

1

Can

Artichokes in water – cut into pieces

1

cup

Roasted Red Pepper – cut into 2-inch strips

1/4

cup

Feta Cheese and or Goat Cheese – crumbled

8 to 10

Green Olives – sliced

Arugula – a handful to sprinkle

Red Pepper Flakes
Instructions
Preheat oven to 450°F. Mid the pizza sauce, basil pesto, and oregano together.

On the crust, spread the olive oil around the crust to the edge of the crust.

Evenly distribute the tomato sauce moisture out to the sides of the pizza dough. Top with artichoke hearts and roasted red pepper.

Pinch off small pieces of feta and or goat cheese and scatter them around the pizza. Top with olives and arugula. Sprinkle with the red pepper flakes.

Place pizza on the center rack of the oven. Bake 10 minutes, or until edges are nicely browned, and the cheese is melted. Let cool slightly before slicing and serving.
Other Posts The you May Enjoy…
Easy Red Curry Noodles with Chicken
Instant Pot Corned Beef and Cabbage
Fudgy Avocado Brownies with Fudgy Chocolate Frosting
Easy Chicken Sausage and Veggie Saute Dinner
View my latest cooking videos, and please consider subscribing to my YouTube channel!
This post may include amazon links. As an Amazon Associate I earn from qualifying purchases.