This smoked trout dip is such a versatile appetizer. It can be served in the cucumber cups, as shown, or in celery sticks, belgium endive, crackers, crostini, and honey-wheat pita chips. You can also served plated as an entree salad!!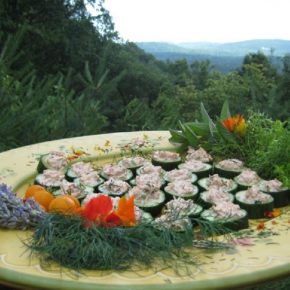 Smoked Trout Dip served in Cucumber Cups
Ingredients
1

– 8 oz. Smoked Trout Filet

Sunburst Trout Farm or local sources

¼

C.

Sour Cream

¼

C.

Mayonnaise

1

oz.

Cream Cheese - softened

1/3

C.

Lemon Juice – freshly squeezed

2

T.

Pure Maple Syrup

1

T.

Worcestershire Sauce

1

T.

Grainy Dijon Mustard

1½

t.

Horseradish – grated

Fresh Chives – finely chopped

1

Long or 2 Medium Cucumbers - seedless

Fresh Dill - lightly chopped for garnish and sprigs for the garnish for the platter
Instructions
Remove the trout from the packaging. If there is skin on the filet, remove and throw away. In a food processor, add the trout filet, sour cream, cream cheese and mayonnaise. Pulse the mixture until slightly mixed. Add the lemon juice, maple syrup, Worcestershire sauce, Dijon mustard and horseradish and pulse until just mixed. It is very important not to over mix the trout dip, as the consistency should be on the chunky side. Remove the mixture from the processor into a bowl. Add the chopped chives and stir until folded into the mixture.

For the cucumber cups, score them lengthwise with a fork to make a nice edge. Cut the cucumbers crosswise into 3/4 inch thick slices. Use a melon baller or a small scoop to gently scoop out about half the center of the cup, just enough to hold the trout dip.

Place about 1 tablespoon of the salad in each cup, making sure that it is securely in the cucumber slice. Garnish with the dill and serve immediately or refrigerate covered with a damp towel until ready to serve.