I love making this easy and tasty Smoked Cauliflower Hummus. It's a wonderful way to use Cauliflower in the winter months when it's in season. The hummus is creamy, spicy, fluffy, and flavorful, and you will never know that any cauliflower is in the dip. It's an even more healthy alternative to regular hummus. The recipe is just delicious!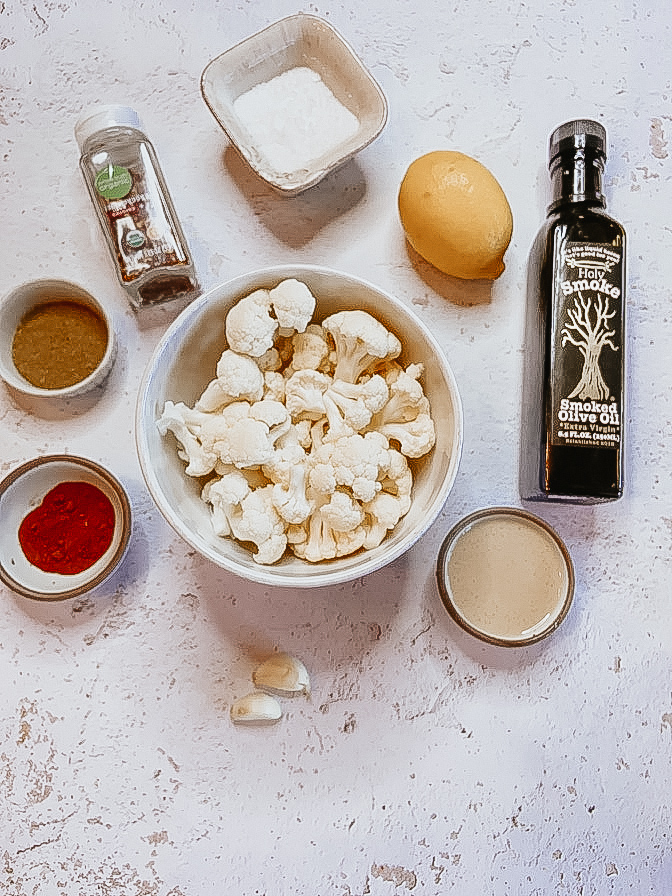 The smoky flavor happens when you roast the cauliflower. The smoked paprika is the flavor that gives the recipe the zing. This recipe also has a good amount of spice, not too much, but you can adjust the spices if you like the hummus to be milder.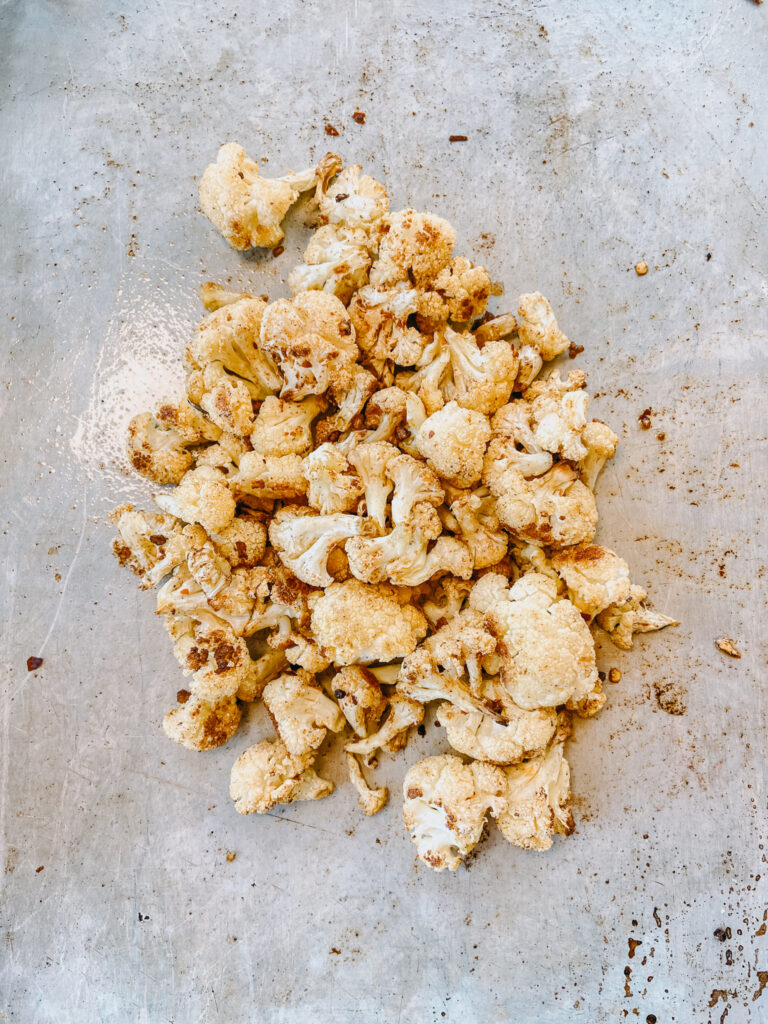 About the Recipe
This recipe is super easy, and I like to use a food processor.  The food processor will give it more texture. You can use a blender, which will result in a creamier consistency.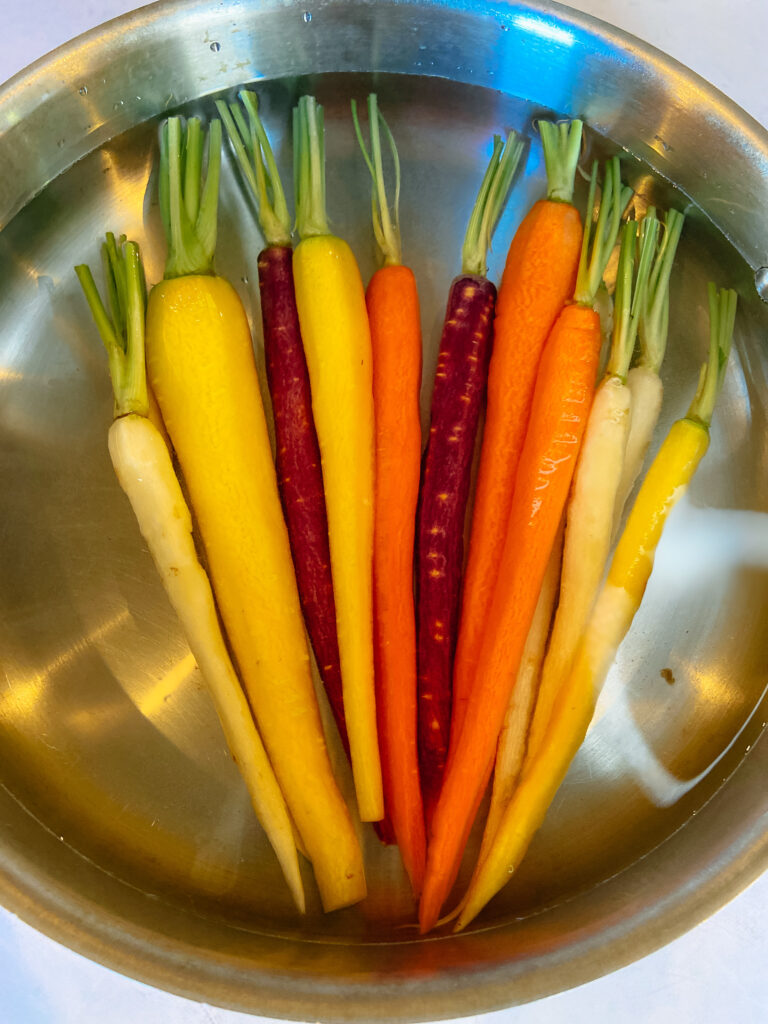 Roasting cauliflower or any vegetable is so easy. It should be a cooking technique that everyone uses in their day to day cooking. It brings out the sweetness of the cauliflower/vegetable with a rich, caramelized flavor. 
It's so simple. Cut the cauliflower into medium size florets and add the olive oil and spices. Shake the mixture around, and the cauliflower is ready for the oven. Let it cool when out of the oven for about 3 to 4 minutes.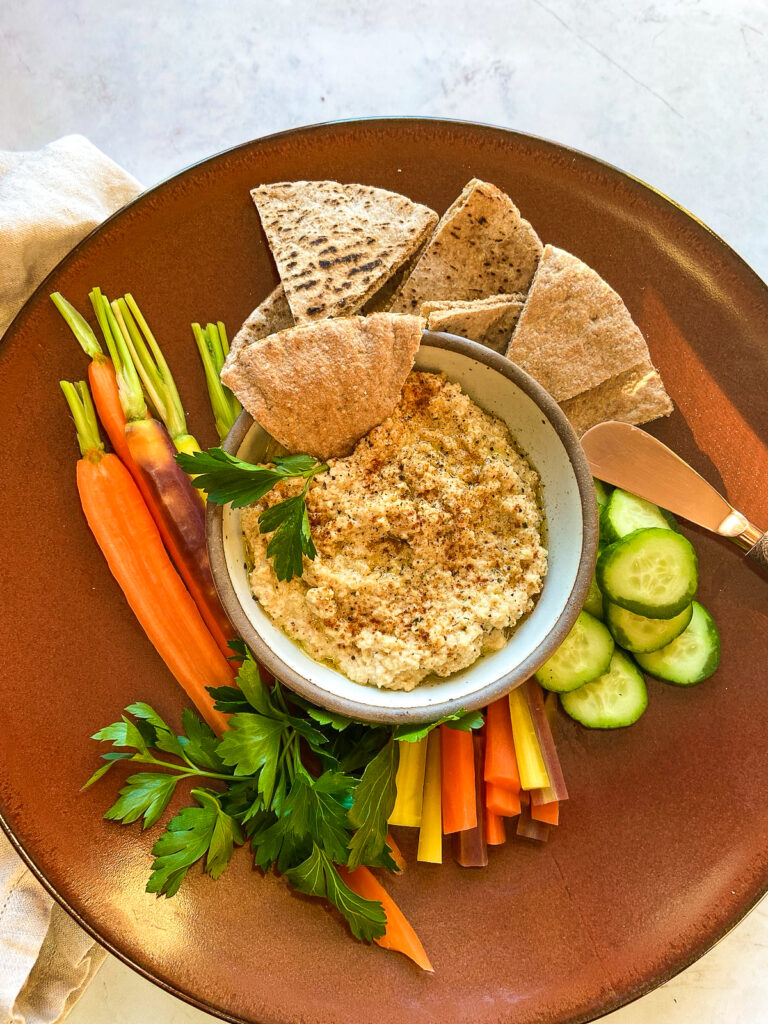 Place the cauliflower in the food processor. Slowly add the rest of the ingredients. You may need to adjust the water or add more tahini to get the right consistency. Also, adjust the spices according to your taste. Garnish with chopped Italian Parsley and some additional Smoked Pakrika.
I like to serve with pita wedges, sliced cucumber, and blanched multi-colored carrots!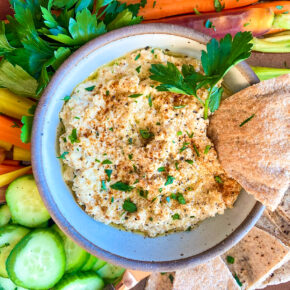 Smoked Cauliflower Hummus
Ingredients
1

Medium Size Whole Cauliflower – Trimmed and cut into 2" inch florets

4

Tbsp.

Extra-Virgin Olive Oil or Smoked Olive Oil*

1

Garlic Clove – Peeled and Minced*

1 1/2

tsp.

Smoked Paprika*

1

tsp.

Ground Cumin

1/8

tsp.

Cayenne Pepper

2

tsp.

Kosher Salt*

1/2

Cup

Water

1/4

Cup

Fresh Lemon Juice

1/2

Cup

Tahini – Well Blended

1

tsp.

Fresh Oregano or Dried Mexican Oregano

1

tsp.

Fresh Italian Parsley – Chopped

Salt to taste

Paprika for Garnish

Italian Parsley for Garnish
Instructions
Preheat the oven to 400 degrees. Put the cauliflower florets on a sheet tray. Add 1 tbsp. Olive oil, garlic, 1 1/2 tsp. Paprika, cumin, cayenne, and 1 tsp. Kosher salt. Toss the mixture with your hands and make sure the oil and spices are evenly distributed, making sure to spread evenly on the sheet tray.

Place in the preheated oven and roast, stirring once, until the florets are cooked through and sizzling, for 15 minutes or until ready. Cool to room temperature.

Place the roasted cauliflower in the food processor with the water, lemon juice, remaining oil, tahini, and remaining salt—pulse to blend and add more water if needed. Add the oregano and parsley and pulse the herbs in the mixture.

Taste and add more salt, lemon juice, and water, if needed.

Place in a bowl to serve garnished with pita bread, blanched multi-colored carrots, and sliced cucumber. Of course, other vegetables and crackers can be used.

Tip: 
Tip
If your garlic has any green sprouts and you'll be using it raw or just quickly cooked, you're better off removing the germ. It's easy to do: Just cut the clove in half and use a paring knife or your fingernail to pry the germ out. Here is a Garlic Twister that I use for easy prep.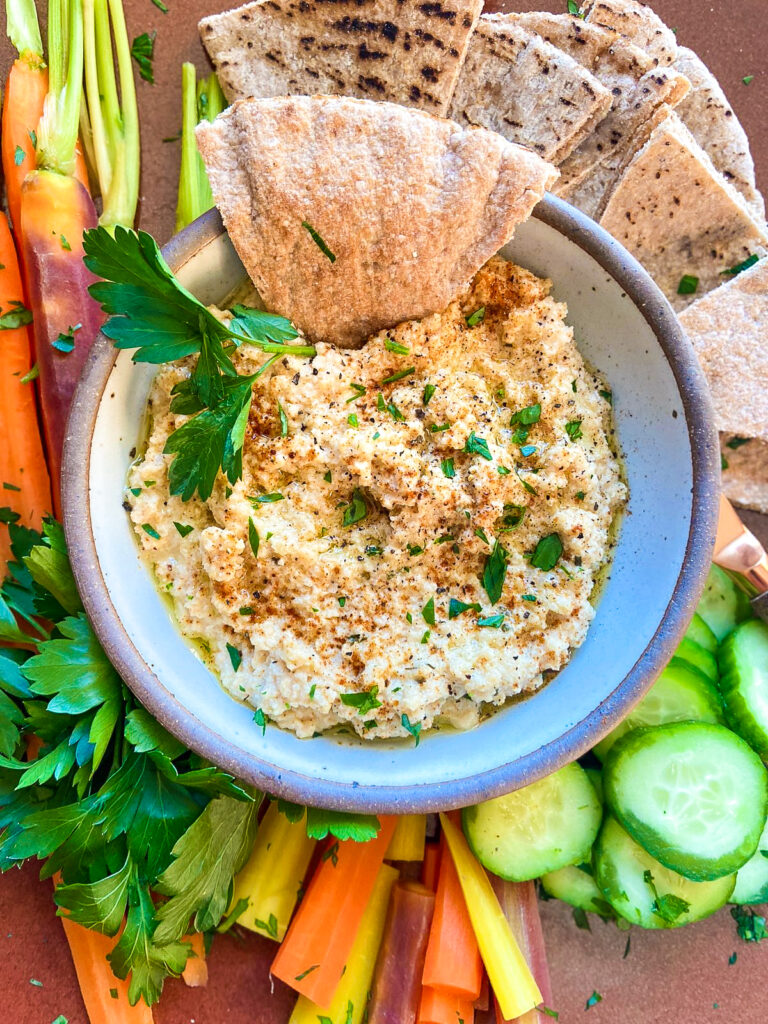 Other Posts The you May Enjoy…
Grilled Watermelon Mint Salad with a Lime, Honey Dressing
View my latest cooking videos, and please consider subscribing to my YouTube channel!
This post may contain affiliate links and I may earn from qualifying purchases.