Mexican-Style Grilled Corn is easy to prepare. Once you have your fresh corn and your friends and family have gathered, turn the grill on and enjoy a mouth watering delicacy that will melt in your mouth.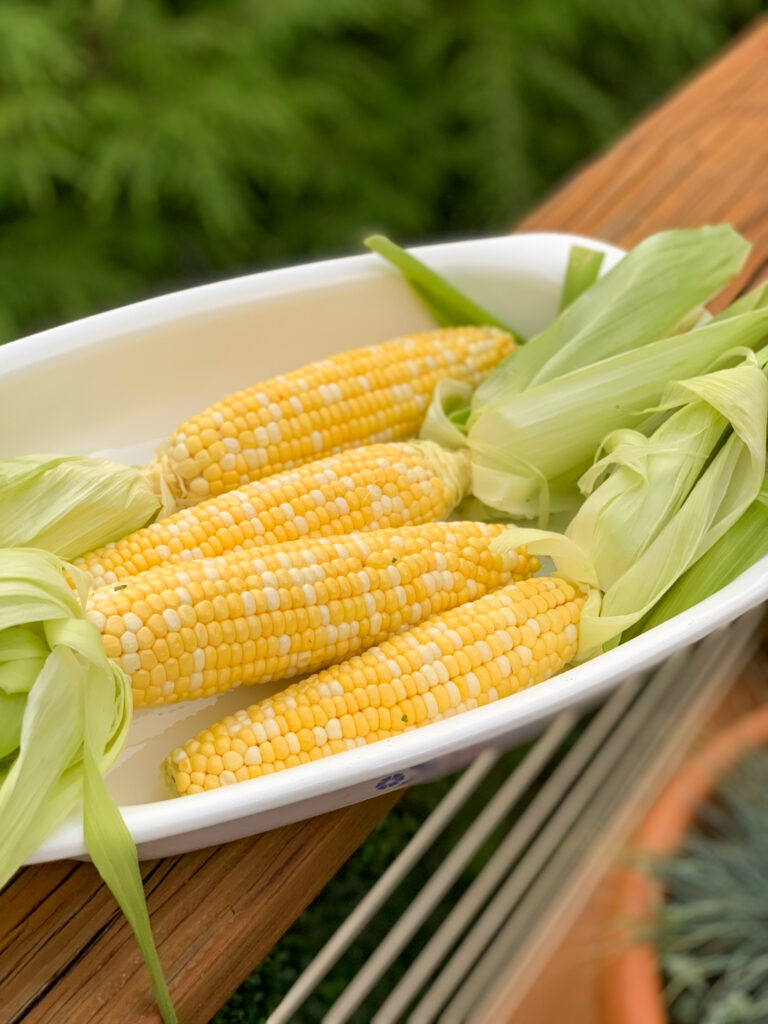 Corn comes to the table like a gift of summer. Eating corn brings back so many childhood memories using starting with the 4th of July and through the summer.
Mexican-Style Grilled Corn for the 4th of July is a wonderful twist on the classic style of boiling the corn.
Not only is this recipe easy, but it also results in a deep flavor associated with more Mexican cooking. The crunchiness is highlighted with a creamy sauce brushed on the corn to seal the juiciness of the corn. It is authentic, and a combination that brings out the grilled flavor, and balances the sweetness of fresh corn perfectly.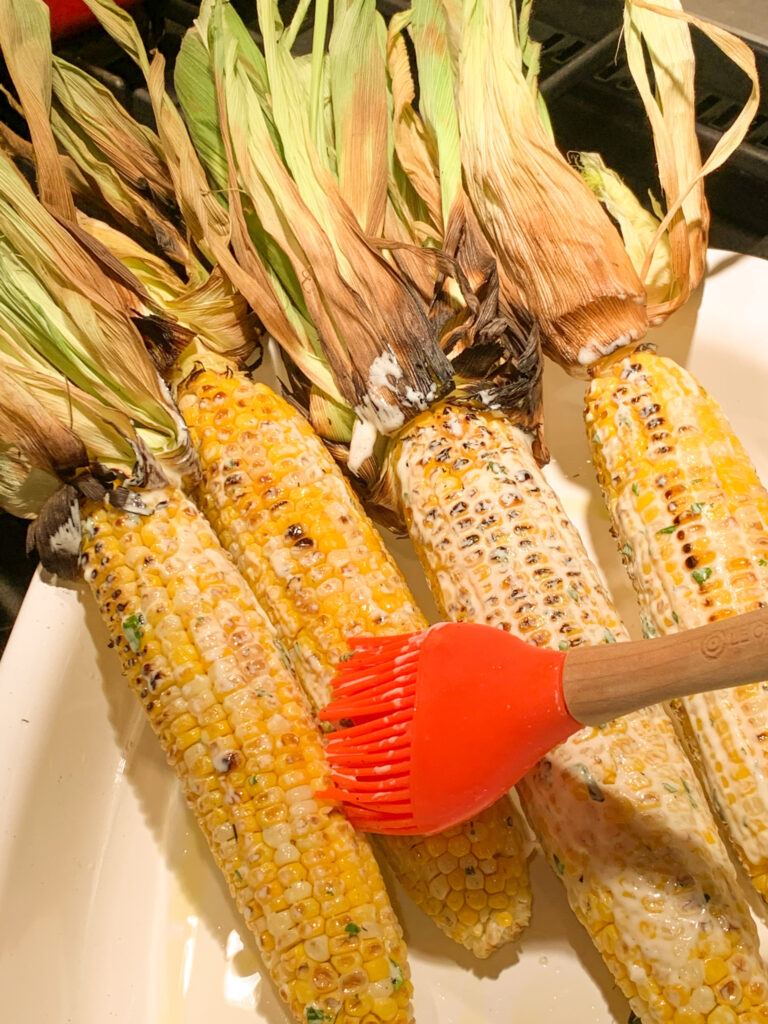 Fresh corn is a must. Corn should always be a fresh-picked if possible. The minute the corn is picked, the corn's sugar begins its gradual conversion to starch which, in turn, lessens the corn's, natural sweetness. Therefore, it's essential to buy corn as soon as it's picked. Look for ears with bright green, snugly fitting husks and golden brown silk. The kernels should be plump and milky and come to the ear's tip, and the rows should be tightly spaced.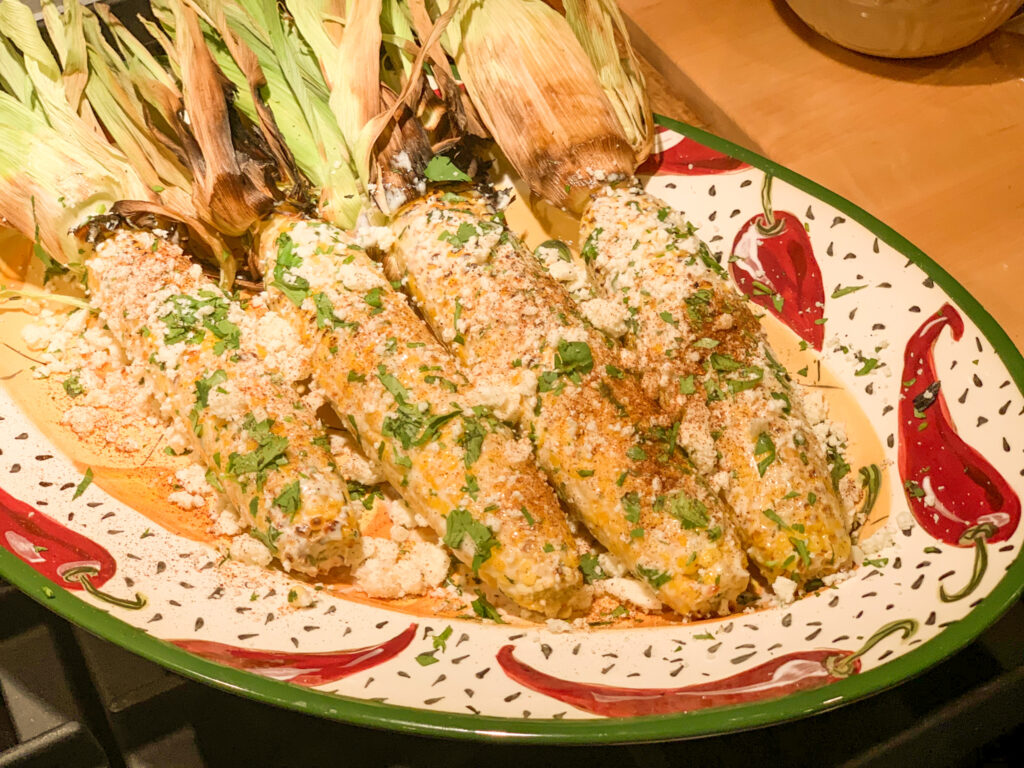 If you can buy fresh corn, it should be cooked and served the day it is purchased, but can be refrigerated up to a day.
Other Posts The you May Enjoy…
Roasted Strawberry and Beet Salad
Chewy Pecan Squares with Wildflower Honey
Gluten-Free Cherry & Pistachio Snack Cake
View my latest cooking videos, and please consider subscribing to my YouTube channel!
This post may contain affiliate links and I may earn from qualifying purchases.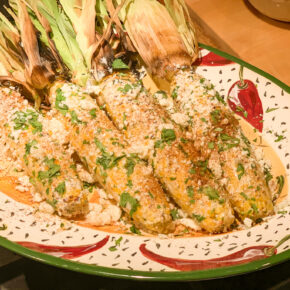 Mexican-Style Grilled Corn
Ingredients
4

Ears Corn on the Cob – in husks

1

Tbsp.

Extra-Virgin Olive Oil

¼

Cup

Butter – unsalted and softened

½

Cup

Mayonnaise

1

Garlic Clove – minced

½

Cup

Cilantro – freshly chopped – saving some for garnish

1

Lime – juiced

½

Cup

Cotija Cheese – crumbled

Red Chili Powder – to taste

Kosher Salt – to taste
Instructions
Remove the silks from the cob, but leave the husk intact. Brush the corn with the olive oil.

Heat the grill to medium-high. Grill the corn turning often on the hot grill until it starts to get slightly charred around the whole ear for about five minutes. Continue cooking and turning until corn is slightly softened.

In separate bowl, add the soften butter, mayonnaise, garlic, cilantro and lime juice until throughly mixed. When the corn is finished, brush with the butter mixture. Top with the cheese. Sprinkle with chili powder and salt. Garnish with the remaining cilantro. Serve immediately with extra salt