This is a complex soup.  Make sure to taste and adjust any seasonings.  If the soup has become too thick add more chicken broth or even a little water to thin out.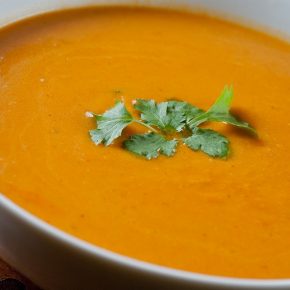 Indian Curried Roasted Butternut Squash Soup with White Beans and Italian Sausage
Ingredients
1

– Lb. Hot Turkey Italian Sausage – casings removed

2

Tbsp.

Olive Oil – extra virgin

1

Large Onion – small dice

4

Celery Stalks – small dice

2

Carrots – small dice

2

Tbsp.

Roasted Cumin – ground*

2

Tbsp.

Chili Powder

2

tsp.

Hot Curry Powder

2

tsp.

Roasted Ginger – ground*

2

tsp.

Coriander – ground

1

tsp.

Garlic Powder

½

C.

White Wine – dry

3

– 32 oz. Box Chicken Broth

2

Cans Coconut Milk

2

– 3 lbs. Butternut Squash – peeled

roasted and cut into 1-inch cubes – recipe to follow

1

Small Can Green Chilies – diced

2

– 14 ½ oz. Can Fire-Roasted Diced Tomatoes

2

tsp.

Tomato Paste Concentrate – Amore

2

– 19 oz. Can White Beans – drained and rinsed

I like Progresso Beans

½

C.

Fresh Cilantro – finely chopped

saving some for garnish

¼

C.

Lime Juice – freshly squeezed

1

Tbsp.

Sherry Wine Vinegar

Kosher Salt and Fresh Ground Black Pepper – to taste
For garnish:
Fresh Cilantro

2

Roma Tomato – small dice

Toasted Pumpkin Seeds
Roasted Butternut Squash:
The outcome is worth the effort for a soft caramelized flavor

1

Butternut Squash – choose the amount of squash according to how you are going to use it

Olive Oil – extra virgin – for drizzling

2

tsp.

Fresh Herbs of your choice– finely chopped

1

tsp.

Honey – for drizzling

Kosher Salt and Fresh Ground Black Pepper

----------------------

Preheat oven to 400 degrees.

Slice

the stem of the top of the squash and remove the bottom. With a strong vegetable peeler

remove and discard the squash's skin. Cut the squash in half down the middle. Remove and discard the seeds. Slice the flesh into 1-inch cube and place on a baking sheet.

Freely drizzle with olive oil

fresh herbs, salt, and pepper to taste and honey, if desired. Toss to combine.

If you plan to use the squash for a salad or in a soup

roast in the oven for 15-20 minutes (tossing once to rotate) until squash is tender. If you plan on pureeing the squash, roast for 40-50 minutes until its very soft and beginning to brown.

Makes 2-3 Cups
Chili-Crusted Toasted Pumpkin Seeds:
These are great to nibble on alone and terrific for cocktail parties

1

C.

Pumpkin Seeds – raw and hulled

1

tsp.

Vegetable Oil

1

tsp.

Chili Powder

½

tsp.

Mace – ground

½

tsp.

Kosher Salt

----------------------

Preheat a medium non-stick skillet over medium-high heat. Add the seeds

oil, chili powder, mace, and salt to the skillet. Toss and watch closely for 2-3 minutes or until lightly toasted. Remove from pan and pour into a bowl so the toasting will stop. Store in an airtight container.
Instructions
In a large stockpot over medium heat, add the turkey Italian sausage and begin to sauté. While sautéing, break the meat up into bite-size chunks and continue to turn to brown the meat on all sides. When finished remove from pan and set aside.

In the same stockpot, add the olive oil over medium-high heat. When hot, add the onion, celery, and carrots and sauté until the onion becomes soft and clear. At this point, while watching the temperature of the pan, begin to add the spices. Start with the cumin and the chili powder, curry powder, ginger, coriander, and garlic. At this point, let the spices toast and the heat be fairly hot, stirring constantly.

When the mixture is nice and hot, this is the time to deglaze the pan. First, add the white wine. The pan will sizzle when added and just keep stirring until the mixture is combined. The chicken broth can be added. The mixture should come to a slight boil and continue to simmer for about 3 to 4 minutes.

Next add the coconut milk, butternut squash, green chili, tomatoes and tomato paste. Add the salt and fresh ground pepper to taste. Let the mixture simmer for 30 minutes or until the flavors have melded together.

The soup can be slightly pureed at this point to give it a nice smoothness. Place a hand-held blender into the soup, begin to puree by pulsing the blender. You do not want to puree completely, but to leave the soup with a chunky yet silky texture.

Finally, add the Italian sausage, white beans, cilantro, lime juice and sherry vinegar. Once again, let the mixture simmer for the essence of the soup to come together for around 15 minutes.

When ready to serve, ladle the soup in large wide bowls. For the garnish, start with the chopped cilantro and finish with the diced tomato and toasted pumpkin seeds.
I have been reading the monthly magazines that I subscribe to. I can't live without them. Always cutting edge! I have been noticing some new spices from the McCormick line of Gourmet Collection of spices. They are very interesting and I am always looking for something new in the market. I decided to try some out. I bought the Roasted Ground Cumin and the Roasted Ground Ginger. I used both in the soup recipe and thought they really gave the soup a deeper flavor. Try them and let me know what you think.