Instead of tuna salad for lunch or a light dinner, I decided to try a simple salmon salad. I have been obsessed with salmon salad because it brings just a different edge for a light dinner. This was so delicious and a nice change from your everyday tuna or chicken salad. You can also use leftover salmon from a great dinner out and use it in this recipe.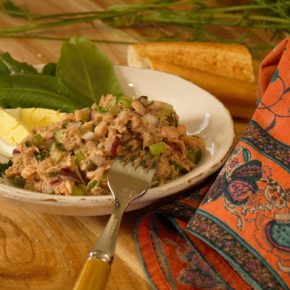 Horseradish Crusted Grilled Salmon Salad with English Cucumbers, Capers and Fresh Dill
Ingredients
2

lbs.

Salmon Filets - with the skin on - cut crosswise into 4 inch-wide slices

2

Tbsp.

Prepared Horseradish

3/4

C.

Olive Oil

Kosher Salt and Fresh Ground Black Pepper

1

C.

Celery - small dice

1/2

C.

Red Onion - small dice

1/2

C.

English Cucumber - skinned

seeded and medium dice

1/4

C.

Fresh Dil - chopped - saving some for garnish

2

Tbsp.

Capers

1/4

C.

Raspberry Vinegar

2

tsp.

Lemon Juice - freshly squeezed

2

Tbsp.

Grainy Mustard

Kosher Salt and Fresh Ground Black Pepper - to taste

Mixed Salad Greens

2

Eggs - hard boiled - quartered
Instructions
Turn the grill to medium high heat.

Place the salmon on a work surface, rub the fillets with olive oil, horseradish and sprinkle with salt and pepper. Spray the grill with a cooking spray to prevent sticking. Cook the fillets on the grill for 5 to 7 minutes on each side - until they are rare. Remove to a plate and wrap with foil and let cool. Then chill in the refrigerator until cold and firm.

Take the fillets out of the refrigerator and remove any skin that is still on the fillet. Break the fillets in medium-size pieces and place into a mixing bowl. Add the celery and the next 8 ingredients. Toss gently to mix. Adjust salt and pepper to taste.

Place the mixed salad greens on a plate and place a scoop of salmon salad on top of the greens. Garnish with quartered hard-boiled eggs and sprinkle the fresh dill over the salad.