I shared my recipe for Crunchy Toffee Covered Pecans on Bold Life magazine's website in November 2007. I'm sharing it again, because it is a timeless holiday recipe, and pecans are a natural holiday treat.
Are you looking for something special for the holidays? Then, look no further than the all-American nut–the pecan. It is so versatile in the kitchen, from using in salads, crusting for meats and vegetables, to topping in desserts or easily just used on its own.
Georgia grows the most pecans in the world by far, with substantial planting in Texas, Alabama, Louisiana, New Mexico, and Arizona, as well. The harvest is remarkably automated. With fall in the air beginning in mid-October, growers start shaking the ripe nuts from the branches and the season begins.
The pecan is a natural for something homemade for the holidays. They turn up in a thousand different delicious treats. The one that really sticks out is Crunchy Toffee Covered Pecans. These pecans can be packed in decorative containers for the holidays, and they can be given as gifts throughout the holidays. You can also enjoy them at home as a snack, on interesting salads, with a dessert buffet, or as toppings for crème brulee, coffee, caramel or chocolate ice cream.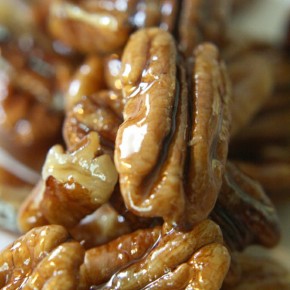 Crunchy Toffee Covered Pecans
Ingredients
1/2

pound

plus 2 tablespoons - Unsalted Butter

2-1/4 sticks

1-3/4

cups

plus 2 tablespoons - Sugar

1

Tablespoon

- Salt

3-1/2

cups

- Pecan Halves
Instructions
Line a baking sheet with parchment paper.

Place the butter in a small saucepan over medium-low heat and cook until melted. Add the sugar and salt and stir briskly until the mixture comes together. Add the nuts and cook, stirring the nuts evenly and constantly, until the sugar caramelizes and coats the nuts - about 5 to 10 minutes.

When the sugar has turned a beautiful oak brown, carefully pour the hot mass onto the prepared sheet and quickly separate the nuts with forks and tongs. When the nuts have cooled completely, transfer to an airtight container and store for 3 to 5 days or freeze up to 2 to 3 weeks.

Chef Tip: Making these takes time and effort but it is well worth it. This recipe makes an ample amount and with the time invested, I think it is best to make a large quantity and keep some in the freezer.
Photo Credit: Suzie the Foodie via Pinterest