This flavorful Grilled Watermelon Mint Salad with a Lime, Honey Dressing is a perfect balance of sweet and savory salad for any summer get together.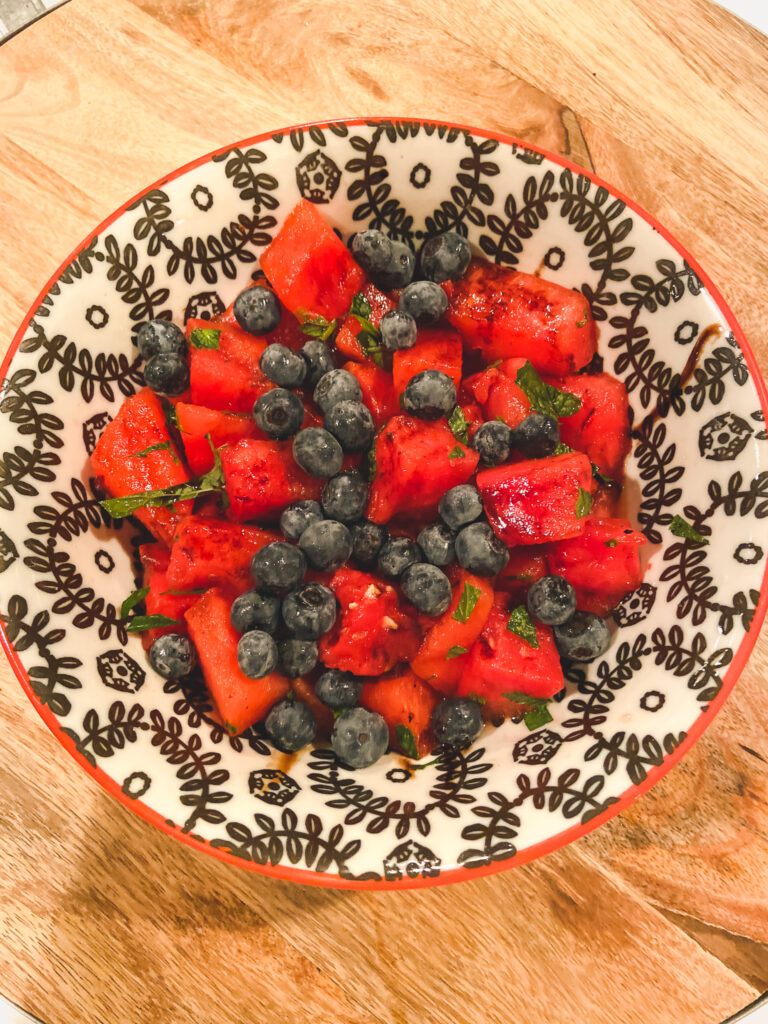 What says easy summertime than a watermelon? You can not beat eating a mouthwatering, juicy, and sweet watermelon on a hot summer day. When you add mint, a staple in any culinary garden, you bring out the real flavors. There are so many ways to prepare watermelon, whether in a fruit salad, on skewers, salsas, sorbet, smoothies, and cocktails, to name a few.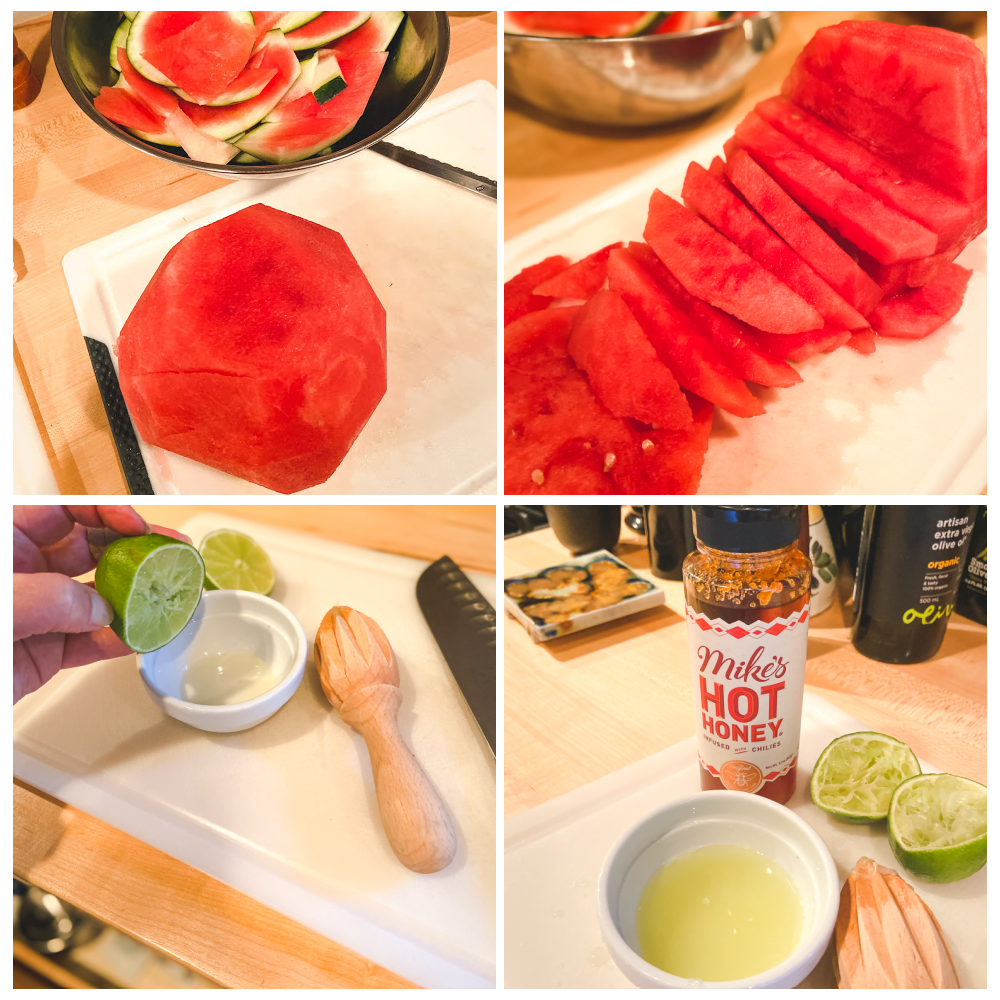 I am choosing an easy recipe with a small twist! How does Grilled Watermelon sound with Mint, Honey, and Salt? Blueberries? I think delicious! Maybe with an option to use feta cheese, if desired.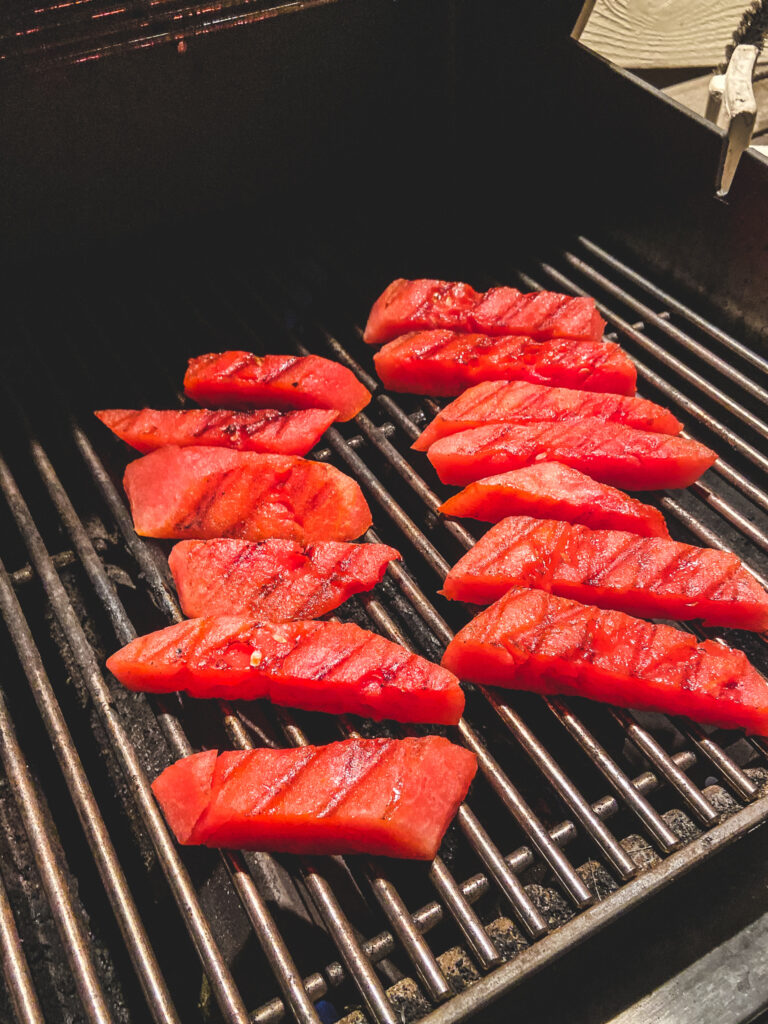 Let's get this recipe rolling, and the first thing to learn is how to cut a watermelon into different shapes and sizes. I could go through the step-by-step directions, but I have found the best articles with videos from the Food Network. It covers every aspect of cutting that juicy watermelon. Please see the link here: https://www.foodnetwork.com/grilling/grilling-central-how-tos/how-to-cut-up-a-watermelon.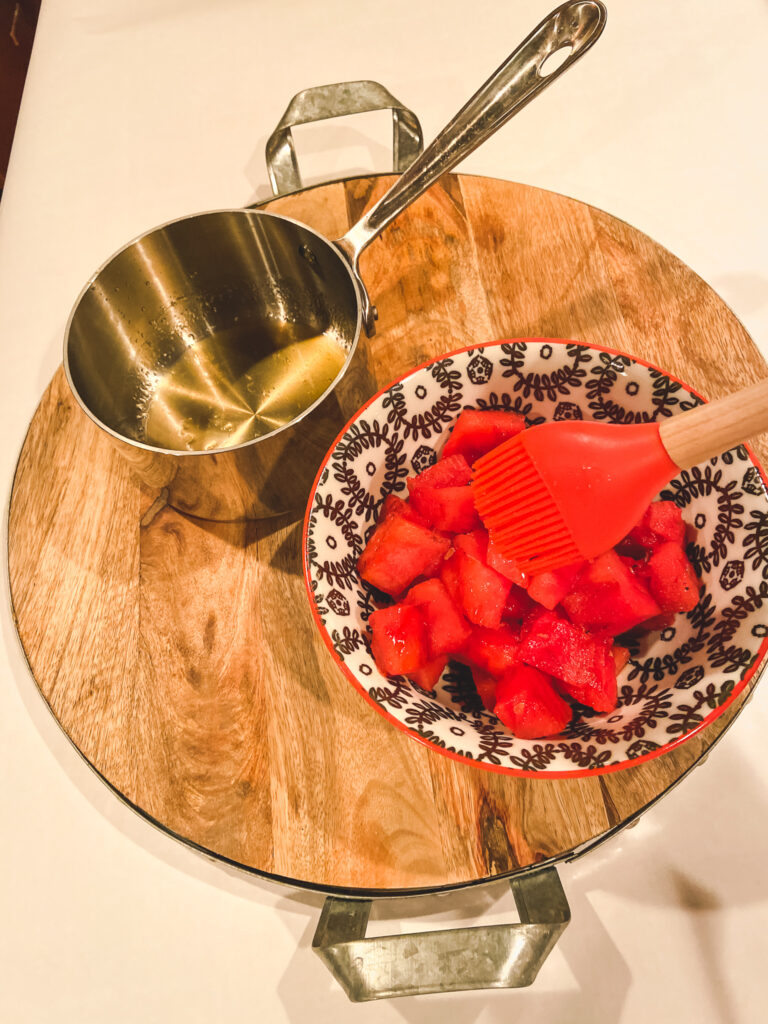 Now, with the watermelon cut, let's start an easy recipe. Preheat your grill or grill pan. While you are waiting for that to heat up, make your syrup. It will need to chill before brushing on the melon.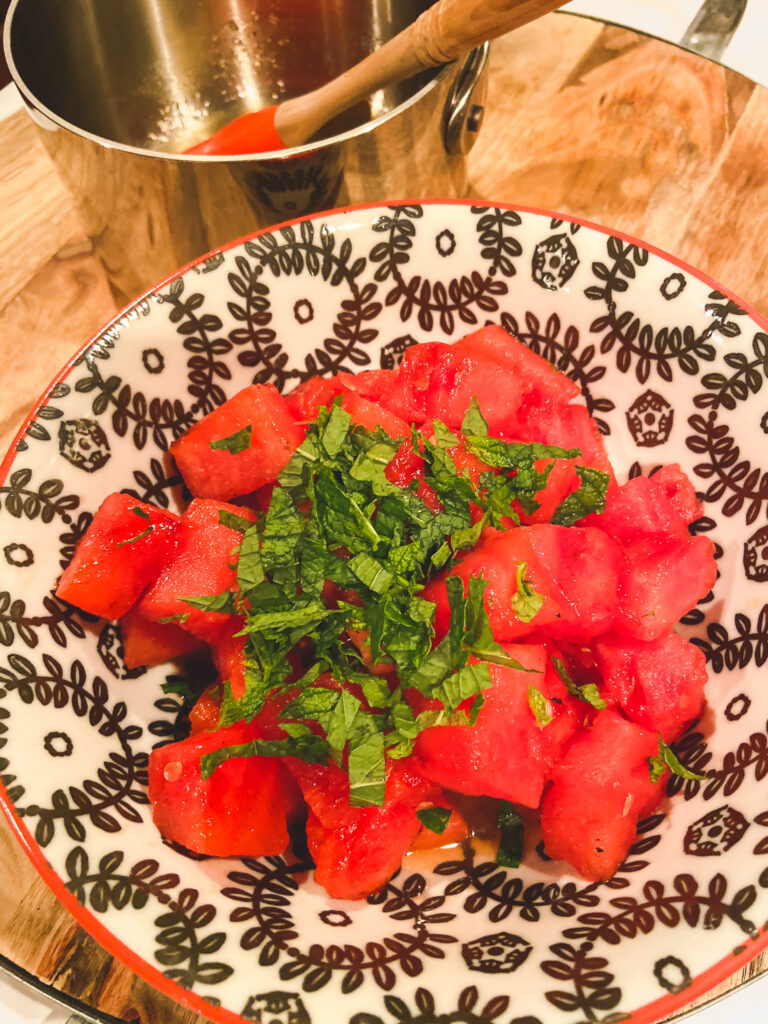 Next, brush the watermelon with the olive oil and place on the grill for two to three minutes aside. Then cool the melon slightly and cut into 1-inch cubes.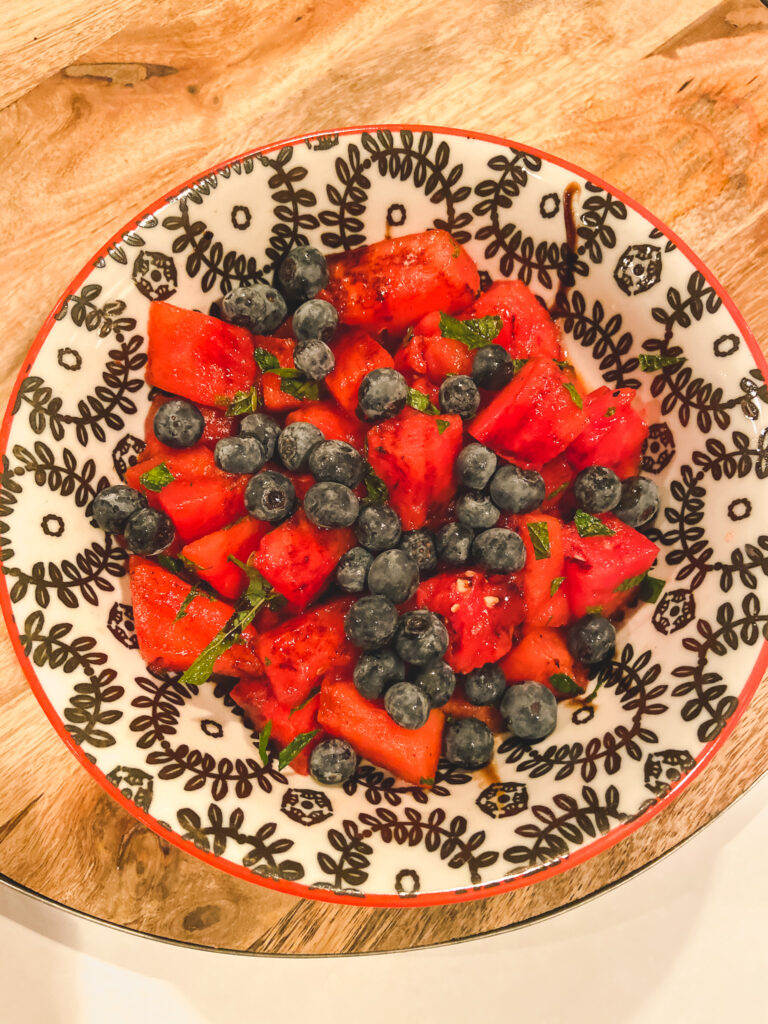 Add the cubes to a bowl. Next, add the reserved syrup and mix well. Add the blueberries, fresh mint, and basil. Add the vinegar and the crumbled feta cheese, if using. You can serve immediately or refrigerate until needed.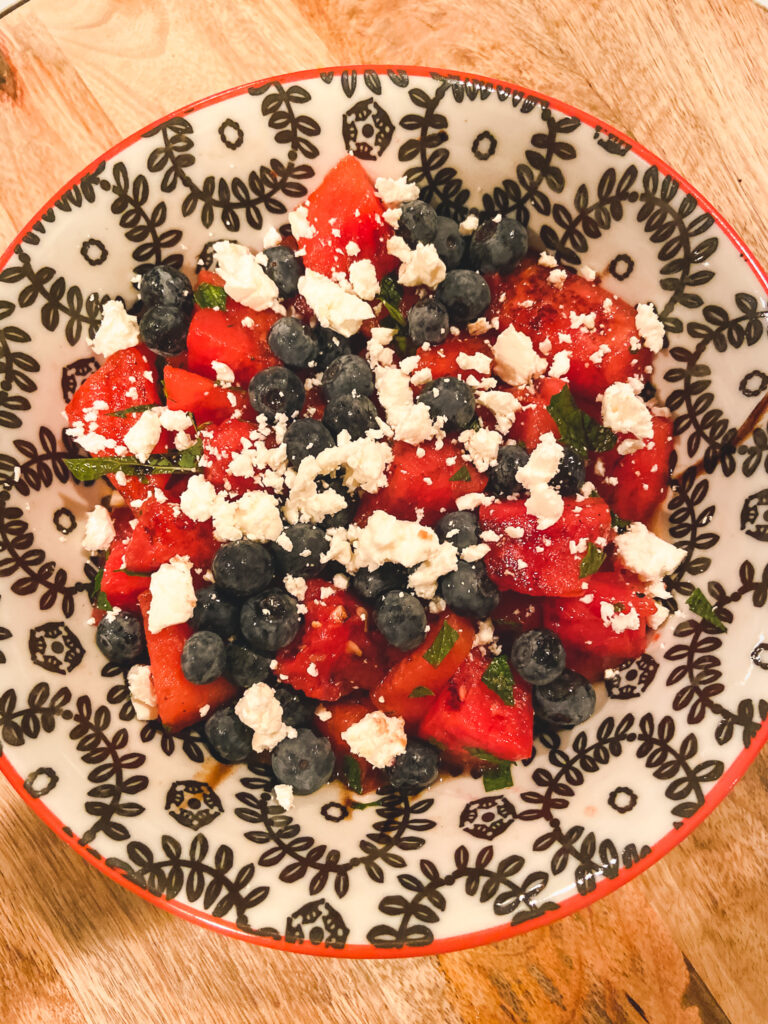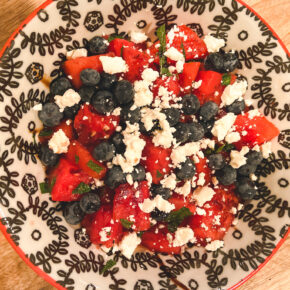 Grilled Watermelon Mint Salad with Lime Honey Dressing
You will love the sweet and salty notes in this salad. The recipe depends on the size of the watermelon you are using. I like to use a small, seedless melon.
Ingredients
1

Watermelon – ripe

cut into 1-inch slices

Extra-Virgin Olive Oil – for brushing

1/4

cup

Lime Juice – freshly squeezed

1/4

cup

Honey

1

cup

Fresh Blueberries

2

tbsp.

Fresh Mint and Basil – coarsely chopped

1

tbsp.

Balsamic

1

tbsp.

Kosher Salt

2

oz.

Feta Cheese – crumbled – optional
Instructions
Preheat the grill or grill pan to very high heat. Brush the watermelon slices with the olive oil. Grill two to three minutes per side or until there are grill marks. Cool slightly and cut in 1-inch cubes.

Place the lime juice and honey in a saucepan on medium- heat. Bring to a boil and let boil for two minutes. Remove from the heat and chill.

Place the watermelon cubes in a medium to a large serving bowl, depending on the size of the watermelon. Mix well. Add the blueberries, mint, and basil to the mixture. Add the balsamic and salt and mix gently. If using feta cheese, sprinkle over the watermelon salad.
Shopping Tip: Choose a watermelon that is firm and free of bruises, blemishes, and cuts. Store whole melons at room temperature for 7 to 10 days. Once you slice it, stash extras in the fridge for about three days; just cover the open surface tightly with plastic wrap to prevent it from drying out or absorbing other food odors.
Other Posts The you May Enjoy…
View my latest cooking videos, and please consider subscribing to my YouTube channel!
This post may contain affiliate links and I may earn from qualifying purchases.