The Grilled Red Snapper with Avocado Sauce is the perfect dinner to have for entertaining. This recipe can be prepared Gluten and Dairy-Free.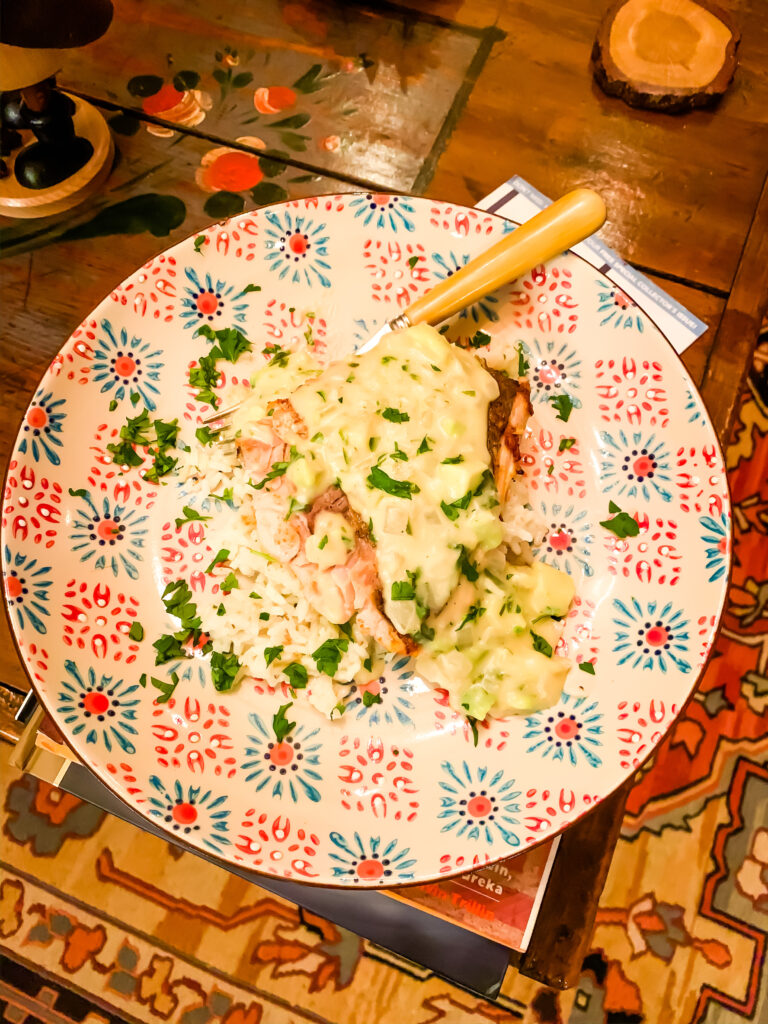 This recipe can be prepared with other types of fish, but choose the snapper. The Grilled Red Snapper with Avocado Sauce is the perfect dinner to have for entertaining or your weekend meals when you have more time.
I found the fresh red snapper on my way out of town from visiting friends on Edisto Island in South Carolina. My friends had told me about a place called Flowers Fish Market. When I saw the sign for it, I had to stop to see what they had.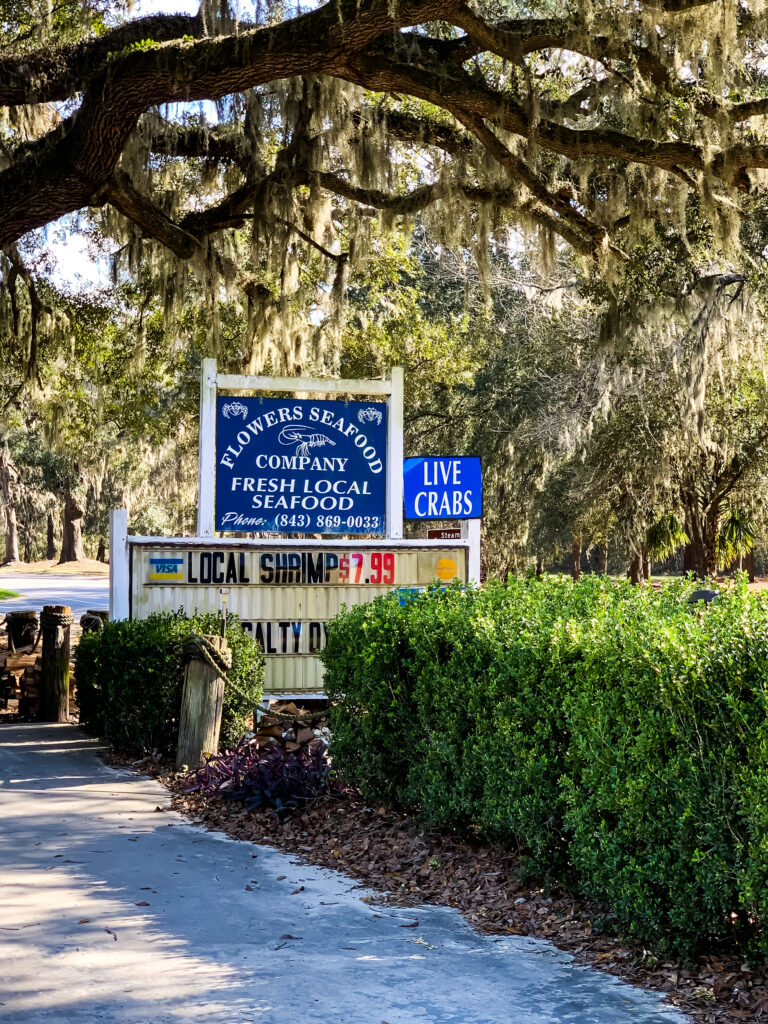 When I walked in and saw they had fresh red snapper. I immediately bought two filets for a recipe that I have been wanting to try for a while. Also, I knew that my husband, Paul, would enjoy this dish too.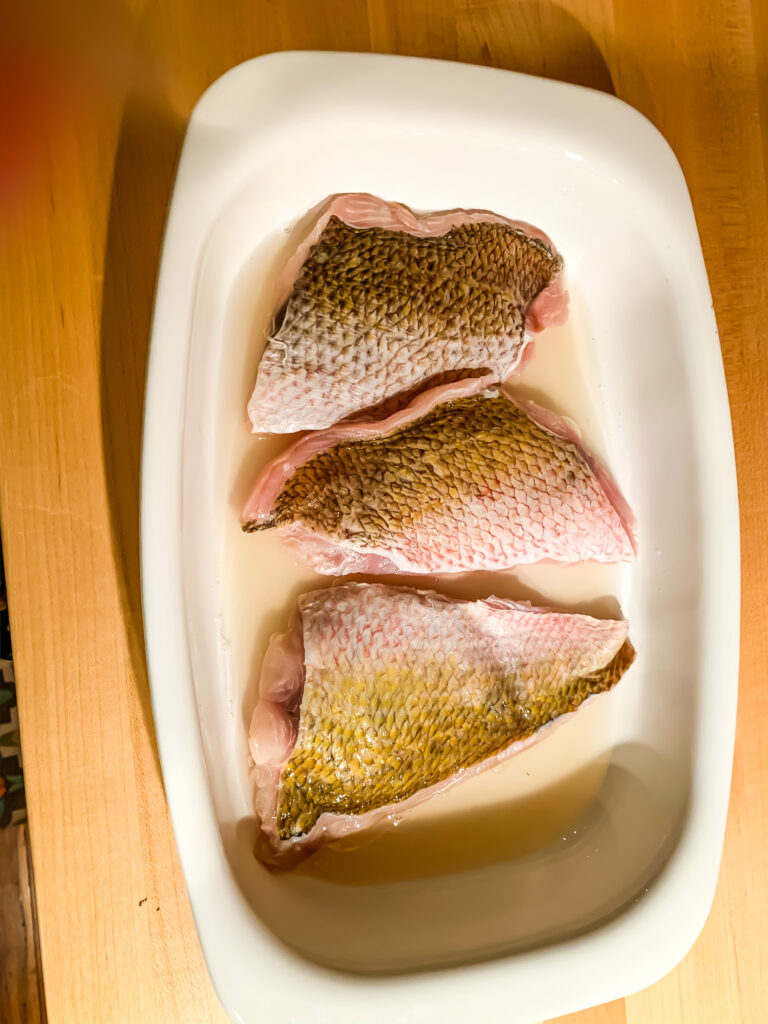 I have wanted to cooked Grilled Red Snapper with an Avocado Sauce for some time but as a gluten-free version. I have a current project going – Cooking Through My Cookbook Wall! When I saw the red snapper, I knew what my first recipe would be to begin this project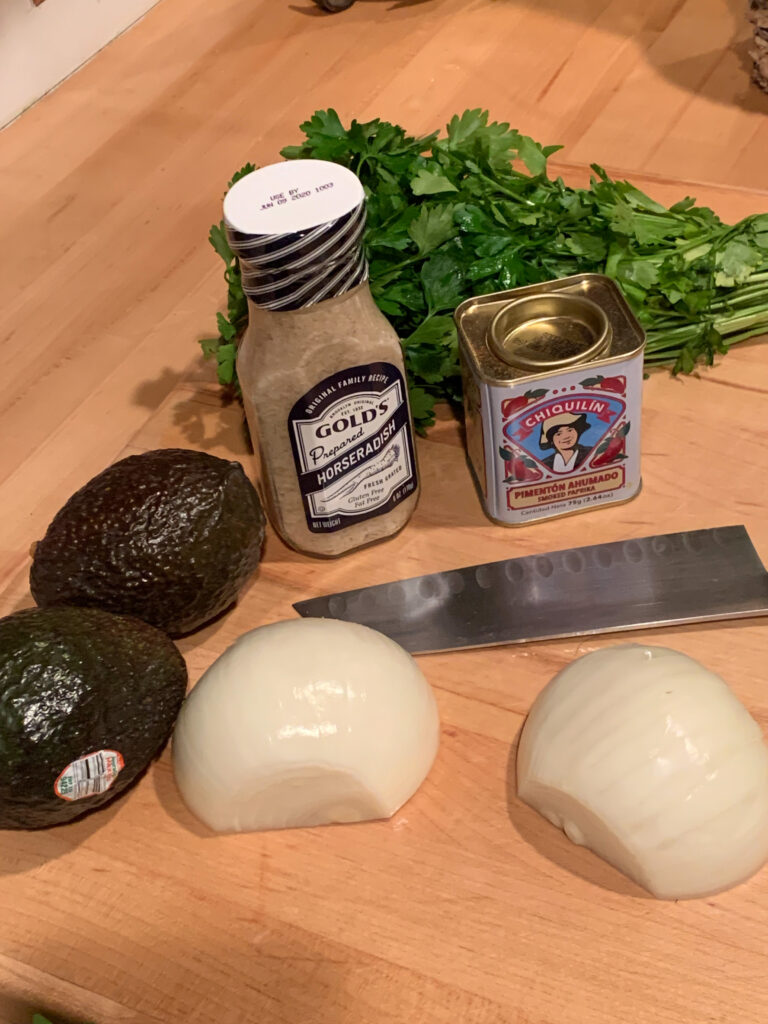 Here are links to items that I used to serve up this dish …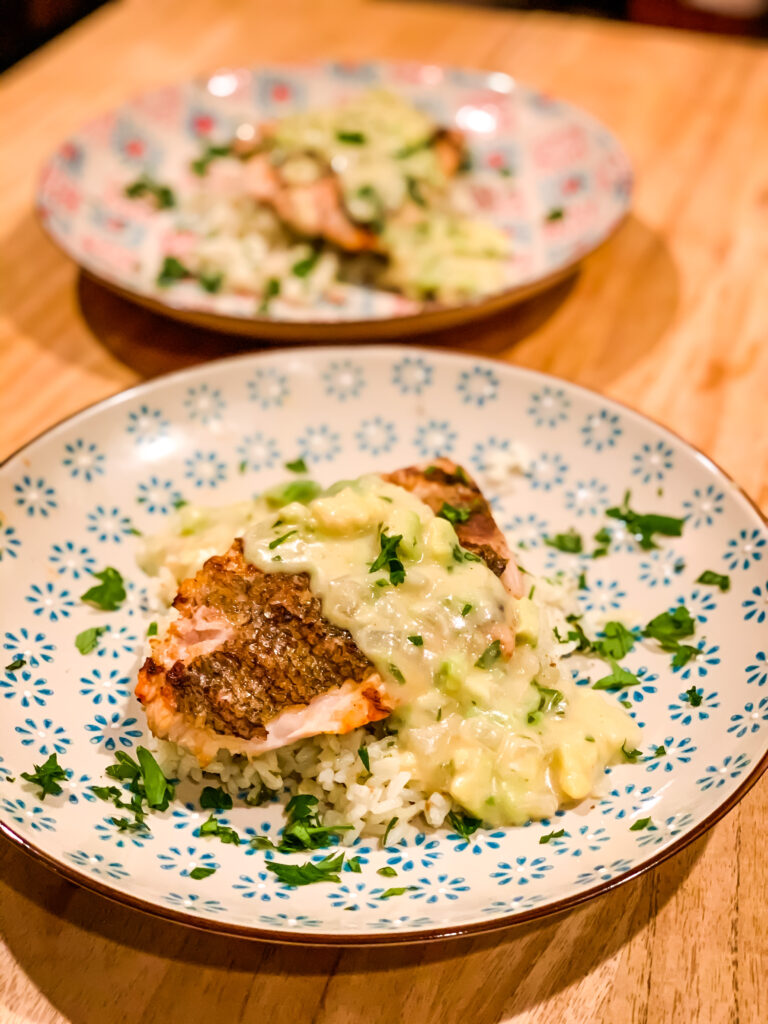 Grilled Red Snapper with Avocado Sauce
The Grilled Red Snapper with Avocado Sauce is the perfect dinner to have for entertaining.
Ingredients
2

Red Snapper Filets

1/2

Cup

Dry White Wine

2

Tbsp

Unsalted Butter – melted and divided or Ghee* – if desired

2

tsp

Smoked Paprika

2

Tbsp

Onion – finely chopped

1

Tbsp

Flour or Gluten-Flour*

1/4

Tsp

Borsari Citrus Seasoned Salt* or other desired season salt

1/2

Cup

Water

1/4

Cup

Real Sour Cream or Diary-Free Sour Cream

1

tbsp.

Horseradish – grated

1

Avocado – peeled and diced

1

Lemon – quartered

2

Tbsp

Fresh Italian Parsley – minced

1

Tbsp

Fresh Cilantro – minced
Instructions
Combine the fillets and wine in a shallow dish. Sprinkle and rub into the fish with half of the smoked paprika. Marinate for a least one hour. Drain the marinade off the snapper. Brush 1 Tbsp. on both sides of the filet. If needed, add more paprika.

Turn the grill to medium to medium-high heat, always watching not to get too hot.

Heat the butter in a medium skillet and add the onion and saute until tender. Whisk in the flour and salt. Stir contentiously to blend the mixture while slowly incorporating the water – cook for 2 to 3 minutes. If the mixture is too thick, add more water if needed. Remove the skillet from the heat. Stir in the sour cream, horseradish, avocado, and one tbsp. Parsley. Return skillet to low heat and warm until heated thoroughly.

In the meantime, grill the snapper 3 to 4 minutes a side or until done. Give fish time to rest before serving by covering loosely with plastic wrap.

When ready to serve, place the rice in the center of the plate. Place the grilled piece of snapper over the rice, then spoon a generous amount of sauce on top of the snapper. Sprinkle and garnish with the lemon, the remaining parsley, and cilantro.
Serve with Jasmine Rice – cooked according to package directions
Other Posts The you May Enjoy…
Rum and Orange Flavored Creme Caramel
View my latest cooking videos, and please consider subscribing to my YouTube channel!