This Delicious Slow-Roasted Salmon is perfect for dinner parties and brunch during the holidays and for newer fish cooks. Slow-roasted will be your favorite way to slow-roast salmon, mostly because the gentle cooking method makes it impossible to overcook the fish.
Potatoes from the cookbook are the perfect side for The Slow-Roasted Salmon
I am in a cookbook club titled The Adventure Cooks that meets once a month and cook from different cookbooks, authors, or cuisine. We chose the new hit cookbook, called Salt, Fat, Acid, Heat by Samin Nosrat. We all loved, loved this book, by the way. I decided to make this delicious Slow-Roasted Salmon for our October meeting.
Slow-roasting the salmon makes a beautifully tender, evenly cooked, not-one-bit-dry piece of fish. If you miss the 120° F, just-starting-to-flake mark and take it out late, it will still be right. Even carryover cooking after taking it out of the oven won't outrun you, because there isn't much velocity behind it.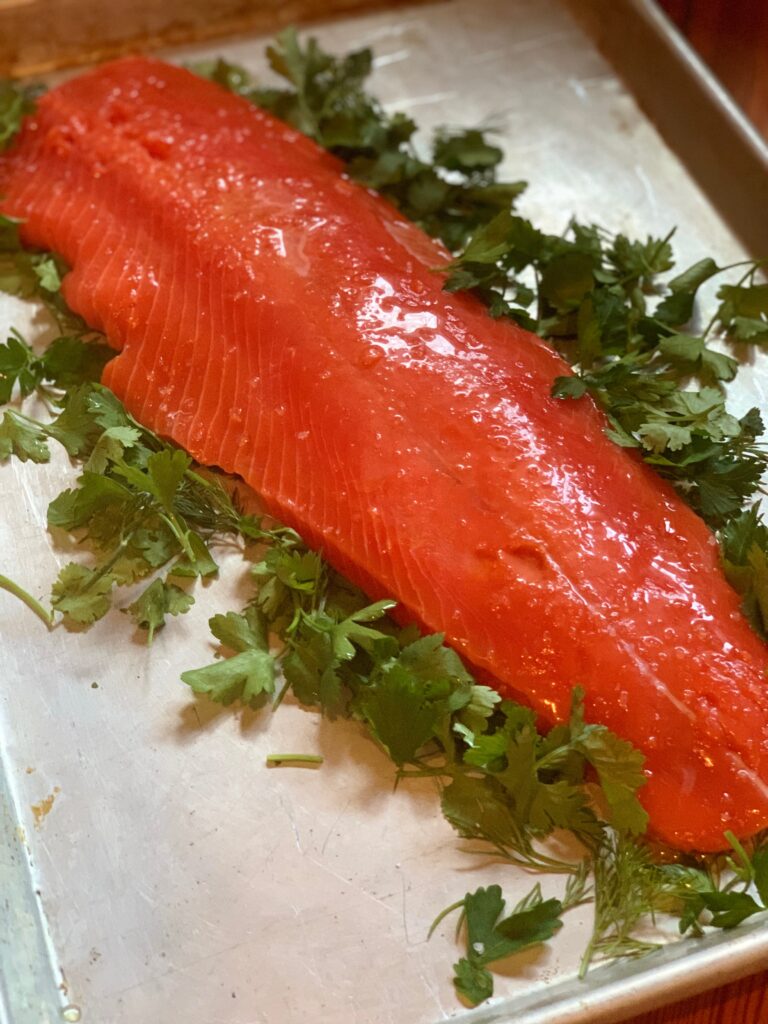 Salmon cooked at a higher heat for a shorter amount of time, the proteins coil up and are constricted. This causes the oils to secrete, making the fish dry, chewy, and chalky. When you cook salmon at a lower temperature, it coils the proteins more slowly. Allowing the fish to retain its moisture and oils, giving it that melt-in-your-mouth texture.
Ever since I started cooking salmon this way, Steve now requests it weekly. Seriously, once you try slow-cooking salmon, I can guarantee you won't be cooking it any other way.
If you are a fan of salmon, check out these recipes!
View my latest cooking videos, and please consider subscribing to my YouTube channel!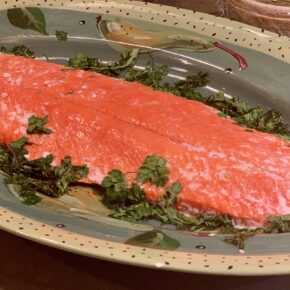 Slow-Roasted Salmon
This Delicious Slow-Roasted Salmon is perfect for dinner parties and brunch during the holidays and for newer fish cooks.
Ingredients
2

Pound

Salmon Filet

Skin removed and pin bones or have them removed by the butcher

Handful of fresh herbs such as parsley, basil, cilantro, dill, or fennel fronds

Salt

Extra-Virgin Olive Oil
Instructions
Preheat oven to 350 degrees. Make a bed of herbs, lay them out in the center of a baking sheet. Set Aside.

Season both sides of the fish with salt and tuck it into the bed of herbs. Drizzle a tablespoon of olive oil onto the fish and rub it evenly with your hands. Put the pan into the oven.

Roast for 40 to 50 minutes, until the fish begins to flake in the thickest part of the filet when you check it with a knife or your finger. Because the method is so gentle on its proteins, the fish will appear translucent even when it's cooked.

Once the salmon is cooked, break into large rustic pieces and serve.
I like to spoon this Herb Salsa on top in generous amounts on top of this Slow Roasted Salmon. Also, in combination with the Herb Salsa, I like to use a Meyer Lemon Salsa.