I took a week off and traveled to Charleston, SC and Tybee Island in Georgia, just outside of Savannah. The first part of the trip to Charleston began with my sister, Janet Jacobson.  We were looking for relaxation, good food, art galleries and time to read our books.  We took long walks through the city, including an historical walking tour, led by Tommy Dew's On the Market Walking Tour (864-853-8687), which I would highly recommend .  It was so interesting to hear the history dating back to the 1700s.  We also went to a highly acclaimed new restaurant on Queen St. in the French Quarters, named Husk.  The restaurant is all local and regional foods from the Carolina's to Virginia and more.  Click here to see for yourself.  It was a true experience.
After our few days there, we moved on to Tybee Island and met good friends, John and Kathy McCusker from Hendersonville, NC.  They have a large family house on the water that was one of the Captain's House dating back to World War I.  It was big and white with high ceilings, hardwood floors and many rooms.  So much fun.   The first night we had fresh stone crabs claws, brought in by Glenn Cockburn from Florida.  Glenn owns a restaurant in Juniper named, Juno Beach Fish House.
I took pictures because I could not get over how beautiful they were against the platter.   It was a gourmet delicacy and treat for all of us!!   I was so intrigued that I decided to write a post about the stone crab claws. I started researching how to cook the claws. When I talked to a friend,  he said, "Oh no, they are cooked immediately after being brought to the dock, usually by placing them in salted boiling water for seven to eight minutes.  The claws are then stored on ice until ready for transport."
Stone crabs claws are a renewable resource because the crabs can re-grow claws.   With the season running from October 15 to May 15, Florida is the top supplier of the world-renowned delicacy. Hundreds of thousands of pounds will make their way across the nation to diners waiting for the tender and sweet meat.
To ensure the freshness when serving the claws, run cold water over the cooked claws to keep the meat from sticking to the shell. For the cracking process, the secret is to use the back of a spoon. Gently smack the shell and it will crack cleanly.  Serve on a large platter with the mustard sauce in the middle.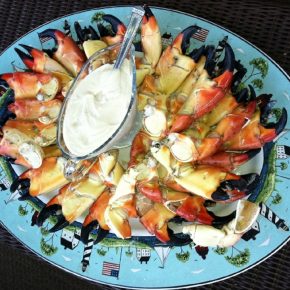 Stone Crab Claws with Mustard Sauce
Ingredients
1

cup

s mayonnaise

1/2

cup

s spicy brown mustard

2

tablespoon

s light brown sugar

2

tablespoon

s dry sherry

1

tablespoon

s Worcestershire sauce

1

teaspoon

s dry mustard
Instructions
Stir together all ingredients in a bowl until well blended.

Cover and chill.

Serve with stone crab claws.