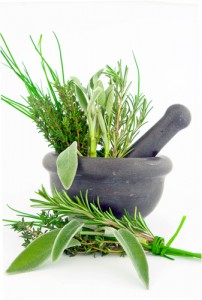 Rosemary is a lovely evergreen perennial herb with culinary, aromatic, and medicinal uses, and it's a favorite in herb gardening around the world.  Not only is it a beautiful herb that is easy to grow, but also it tastes great in lots of different recipes, especially Mediterranean-style meals.
It has been used for thousands of years in cooking, medicine, and it is famed for its ability to stimulate the mind, enhance memory and improve concentration.  Just the smell of rosemary when rubbed between your fingers is enough to know that it is a unique and exceptional herb.
The love of rosemary continues!  Its Latin name means "dew of the sea," because in many locations it needs no water – other than the humidity carried by the sea breeze – to live.  However, you don't need perfect sunshine, sea mist or even a never-ending summer to successfully grow rosemary. If you have never tried fresh rosemary, you are in for a treat.  And, if you've never grown rosemary in your garden, plan to plant it in 2012.  You will want to!
Now that we have reviewed its history and growing possibilities, it is time to explore the culinary aspect of rosemary.  With its pungent, resinous flavor, rosemary, one of the true kitchen indispensables, subtly enhances many foods, especially roast meats, duck chicken, potatoes, sauces, focaccia, stews, ragouts, marinades, stuffings, teas and, of course, desserts, cookies and more.
Ideas for using rosemary in the kitchen:
Rosemary is typically used as a seasoning for meat and poultry dishes, however, there are plenty of other wonderful cooking possibilities with rosemary. Below are a number of ideas.
Use to make homemade stuffing.
Add to soups, stews and ragouts to flavor.
Mix with garlic and use as a seasoning for lamb or chicken.
Add to melted butter and pour over boiled potatoes and vegetables.
Add chopped rosemary to an omelet, scrambled eggs or a frittata.
Wrap rosemary leaves around pieces of chicken, pork or lamb and roast.
Use to season grilled or roast fish.
Add to tomato-based sauces and soups.
Add to olive oil and served on toasted bread.
Use to flavor homemade breads and biscuits.
Add to lentils, beans or stews.
While there are so many recipes for rosemary, I like to keep the recipe posts to seasonal ingredients.  This is a light entrée with loads of flavors to serve in the winter months. This recipe takes advantage of seasonal citrus, herbs and spices. The acidity of the orange juice cuts the richness of the salmon.  Great to serve the salmon with a simple rice pilaf and sauteed snow peas.   Try it for your next dinner party or a cozy night in front of the fire!
The recipe: 
[your-recipe-will-show-here "Marinated and Grilled Salmon with Orange, Fennel and Rosemary Sauce" 11]
Photo Credit: la Madeleine Country French Cafe
la Madeleine Country French Cafe