These are a healthy and popular version of pita chips that flew out the door of the cafe. They are a great snack to go with smoked trout dip, hummus, salsa and more.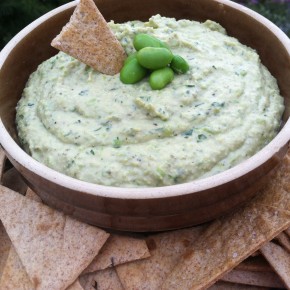 White Bean Hummus with Edamame, Arugula Pesto and Fresh Basil with Honey Wheat Pita Chips
Ingredients
1

Package Whole Wheat Tortillas - 9-inch

very thick and hearty

Extra-Virgin Olive Oil - good quality

Kosher Salt
Instructions
Preheat oven to 350 degrees.

Remove the tortillas from the package and place on a cutting board. With a pastry brush, brush the olive oil on both sides of each tortillas. The oil needs to be applied very evenly, so as not to have hot spots. At this point, the tortillas can be stacked on top of each other and then proceed to the next step.

WIth a sharp knife, cut the tortillas in half, and then cut each half in half. The cut each quarter into three wedges. You will end up with 12 wedges from each tortilla.

Place the pieces on a baking sheet. Sprinkle lightly with kosher salt. Bake 10 to 20 minutes. Remove from oven. Let cool on baking sheet.

Serve immediately or store in an air-tight container. They stay fresh for a long time.