This hearty Chicken and Three Bean Chili Verde is a one-pot Mexican-style wonder. The tomatillos, along with the fresh lime juice, give it a zesty flavor that is out of this world.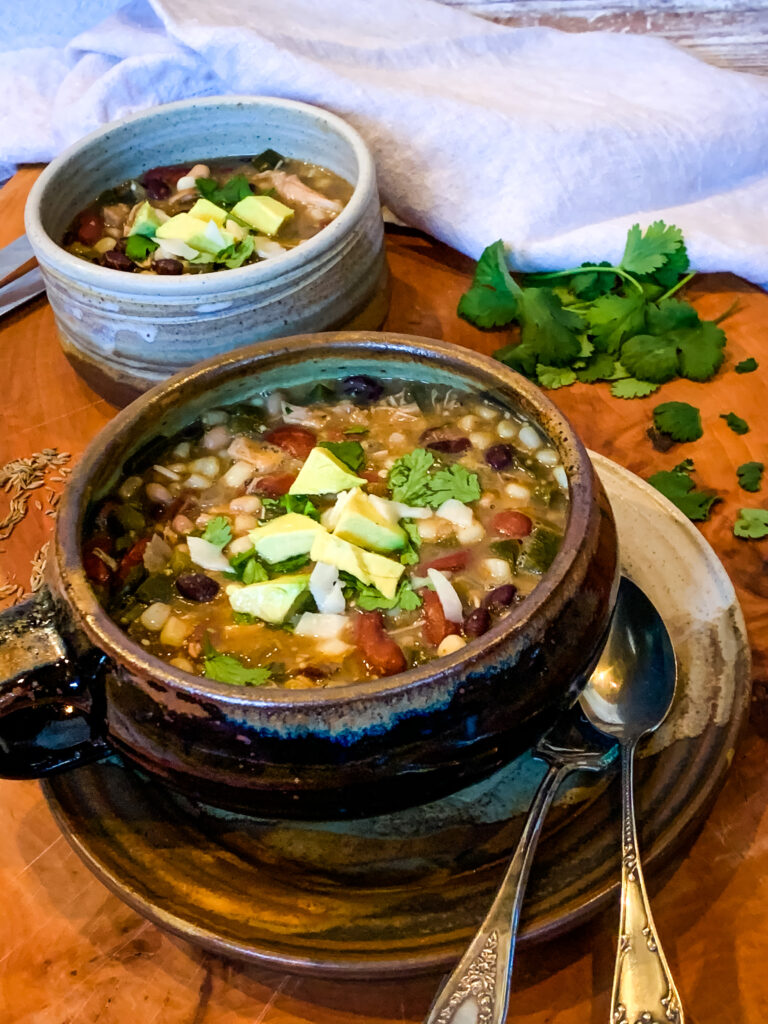 The soup turns into this rich tomatillo and green chili mixture that is much faster to cook than your red-based chili. However, it tastes like it cooked all day.
Tomatillos are a fruit (technically, a berry), containing many tiny seeds and wrapped in a papery husk called a calyx. Tomatillos are part of the nightshade family, along with tomatoes, potatoes, and peppers.
If you have never cooked with tomatillos, you are ready for a surprise. They look like smallish green tomatoes and are even called, 'Tomato Verde" in Mexico or known as the Mexican Husk Tomato. Local tomatillos are in season from early spring to fall around our area. They look like little green lanterns hanging for the plants. While both are members of the nightshade family, green tomatoes are hard, unripe tomatoes that can come from any variety of tomato. Tomatillos are not tomatoes and come from a completely separate plant. Although, Tomatillos have a slightly more acidic, somewhat less sweet flavor than ripe and unripe tomatoes. Overall the flavor is more vegetal and bright, with the interior texture denser and less watery.
The color of the fruit is a bright green, which fades a bit once cooked. If you want to keep the flavor bright and play with the acidity, use them raw, for example, salsa verde. If you want to mellow out the flavor a bit and access the fruit's deeper, more savory qualities, you can boil, grill, or roast them whole or chopping in a saute.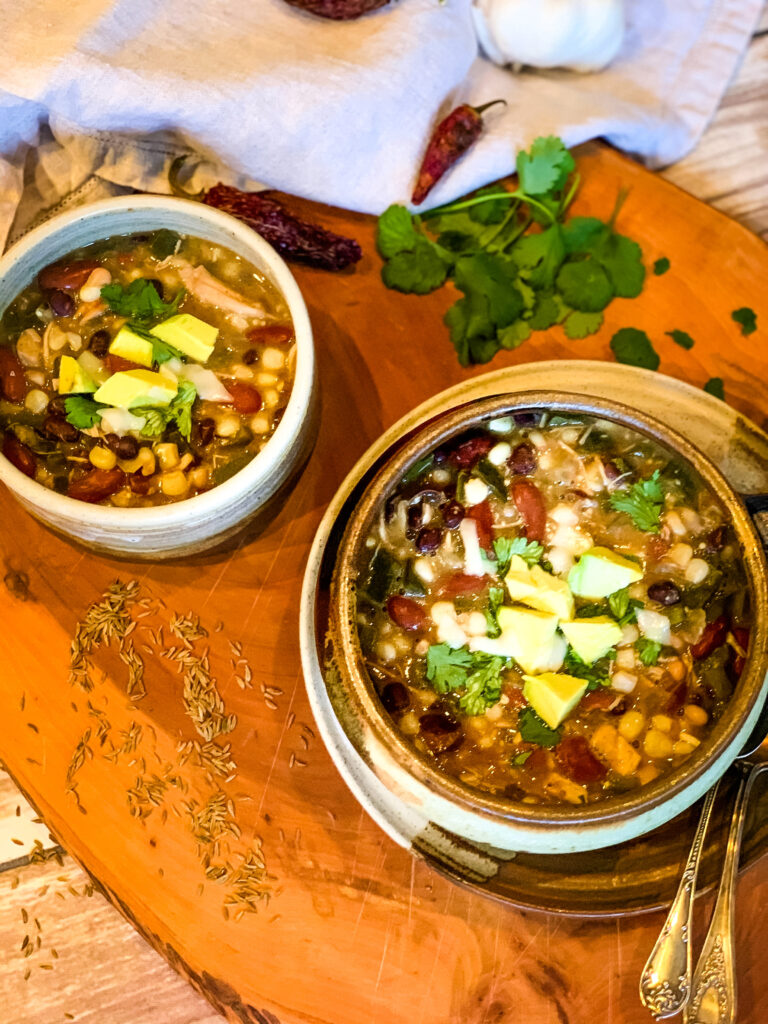 Serve it in bowls topped with avocado, your choice of cheese, sour cream, fresh cilantro, crushed tortilla chips. 
Below are items that I used for this recipe..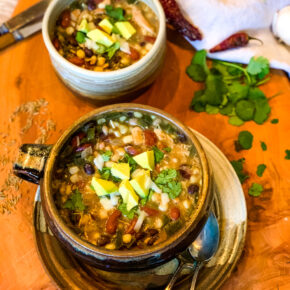 Chicken and Three Bean Chili Verde
Ingredients
14

Fresh Tomatillos – about 3 lb. – husks removed

3

Garlic Cloves – minced

48

Oz.

Box Chicken Broth – organic

if possible

2

tbsp.

Smoked Olive Oil

1

Large Onion – chopped

3

Poblano Peppers – seeded and chopped

2

tsp.

Kosher Salt – my favorite* link below

2

tbsp.

Chili Powder – ground* link below

2

tsp.

Cumin Seeds – ground in a spice grinder * link below

1

tsp.

Coriander Seeds – ground in a grinder * same1 tsp. Mexican Oregano – leaves – link below

1 16

oz.

Package Frozen White Corn

3

Cups

Cooked Chicken – chopped

1 15-

oz.

Can Black Bean – drained and rinsed

1 15-

oz.

Can Navy Bean – drained and rinsed

1 15-

oz.

Can Small Kidney Beans – drained and rinsed

1/2

Cup

Fresh Cilantro – chopped

3

tbsp.

Fresh Lime Juice1 tsp. salt or to taste

1/2

tsp.

Smoked Ground Pepper

Toppings: avocado slices

shredded jack cheese, and fresh cilantro sprigs
Instructions
Bring the first three ingredients to a boil in a 3-qt. saucepan. Add water if the tomatillos are not covered. Boil for 10 minutes and turn the tomatillos over to get cooked on both sides. Set aside.

Meanwhile, saute the onions and peppers in hot oil in a large Dutch oven over medium-high heat for 4 minutes or until tender. Add the salt and spices to the onion/pepper mixture about 2 minutes into the cooking, continually stirring to get the salt and spices heated up so the oils will release. Add the corn and saute for about 4 minutes.

Process the tomatillo mixture in an immersion blender* or a blender until smooth. Add the tomatillo mixture to the Dutch oven and stir until mixed. Add the chicken and beans. Cook stirring occasionally, 15 minutes or until the soup has thickened. Add additional chicken stock if the soup needs thinning out. Stir in the chopped cilantro, fresh lime juice, and additional salt to taste and freshly ground black pepper.
Other Posts The you May Enjoy…
Instant Pot Corned Beef and Cabbage
Fudgy Avocado Brownies with Fudgy Chocolate Frosting
Easy Chicken Sausage and Veggie Saute Dinner
View my latest cooking videos, and please consider subscribing to my YouTube channel!
This post may include amazon links. As an Amazon Associate I earn from qualifying purchases.