These brownies are a rich, chocolate, almost flourless, brownie that will melt in your mouth!
Jump to Recipe
Cafe Laurie adapted this recipe for The Ultimate Outrageous Brownies from Ina Garden. Her first cookbook, The Barefoot Contessa came out the year I opened, Cafe Laurie. I took one look at the recipe and thought this is our signature brownie. We always gave credit to Ina for her incredible brownie recipe.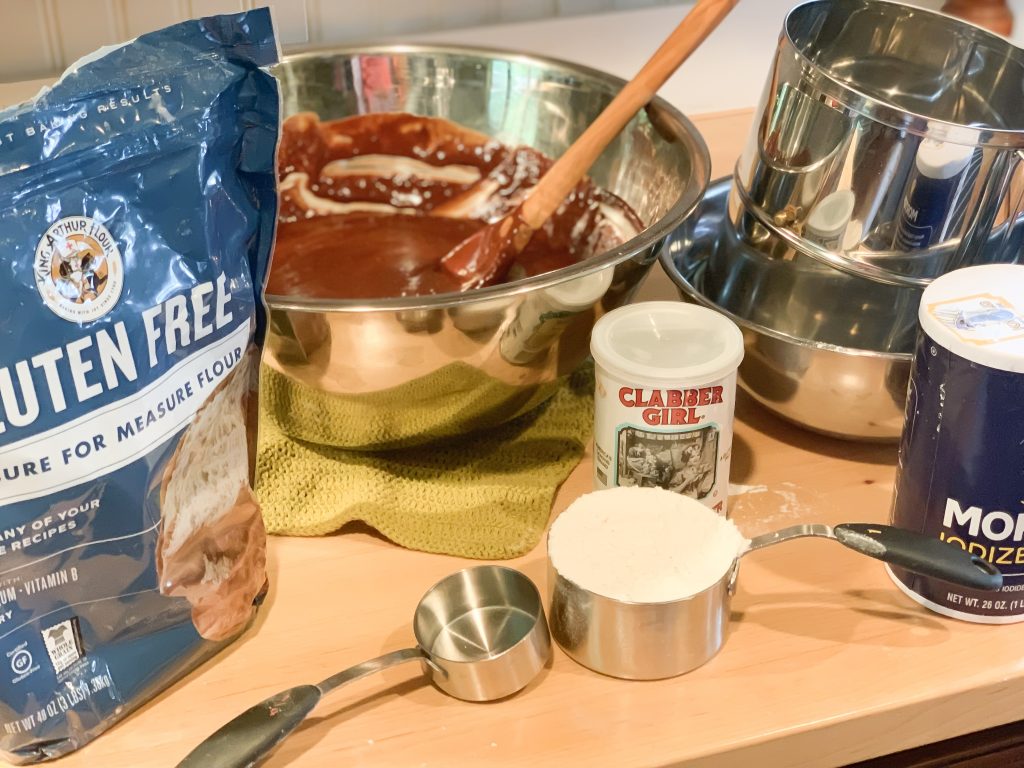 I made the first batch, and, we are all so excited to taste that first bite. Enthusiastically, I cut, and tested the deliciousness around the kitchen with each taste being better than the last. The staff loved everything about the brownies. From the two kinds of chocolate to one cup of flour, to espresso powder, it is the perfect brownie.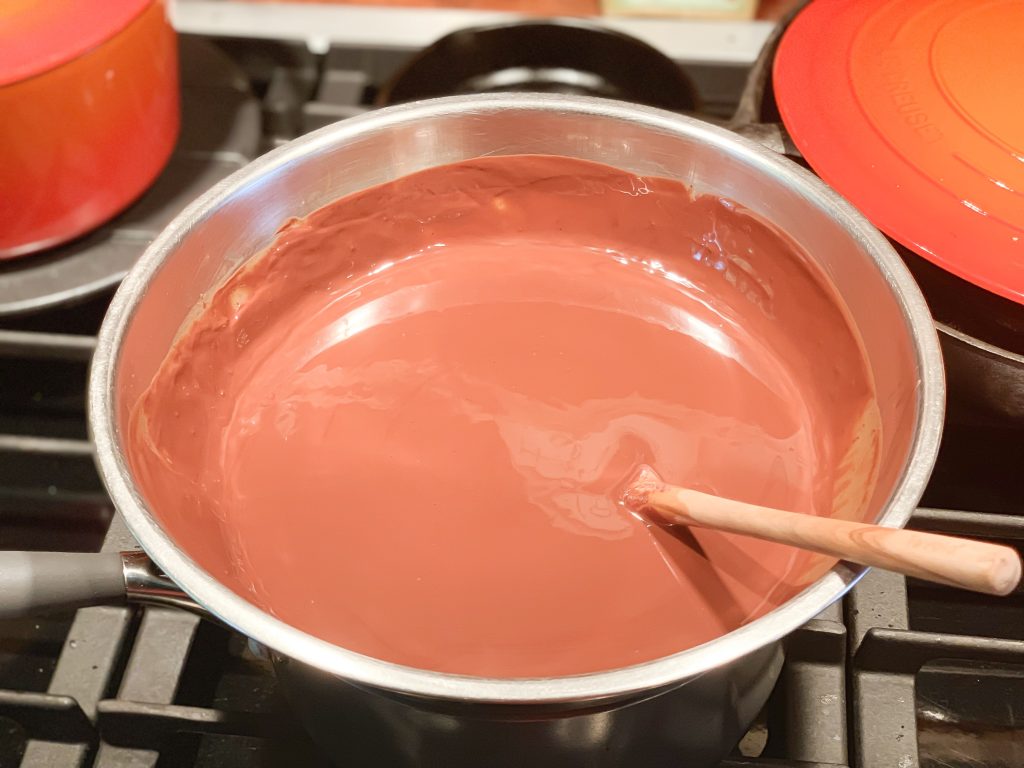 After weeks of testing, Cafe Laurie opened. From day one, The Ultimate Outragous Brownies were wrapped, priced and ready to sell. Thirty-six sold out before the day was over. Cafe Laurie and the staff made these countless times for years. These brownies, without a doubt, arethe best brownies recipe known to man.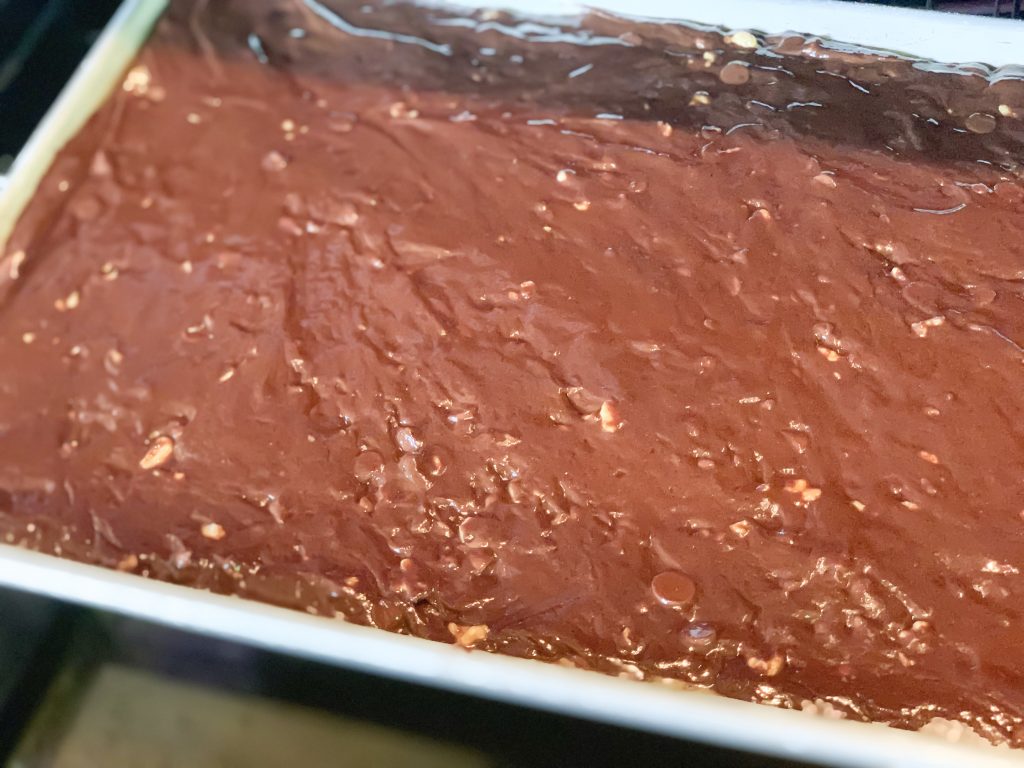 The recipe makes an entire sheet pan, and you will want everyone last brownie. They are full proof and the perfect pick-up dessert. However, I like to keep things straight forward when I make Ina's brownies. With there richness, so chocolatey, and honestly, so perfect that there isn't much more you can add to them to make them better.
I stopped by a friends house with extra brownies from a catering event.  I told her she should try one. She looked at me and asked, "So what is the different with these brownies??" I said, "To take one bite." All the sudden, she said, "On my, Laurie, what have you made. You made these?!" I was happy to say, yes! My dear friend always reminds me, if you are making those brownies, keep a few aside for me. Think about it: has Ina ever steered you wrong? No. She hasn't. She's a brownie queen.
Looking for more delicious chocolate recipes? Then you will want to check out these decadent recipes below!
Chocolate Mint Brownies with Walnuts
Handcrafted Chocolate Truffles
Flourless Glazed Chocolate Tart with Lavender Creme Anglaise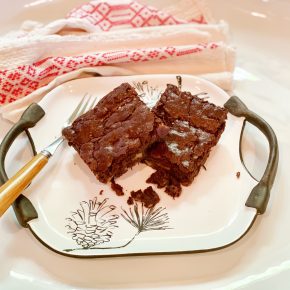 The Ultimate Outrageous Brownies
These brownies are a rich, chocolate, almost flourless, brownie that will melt in your mouth!
Ingredients
1

Lb.

Butter – unsalted

1

lb.

plus 12 Oz. Semisweet Chocolate Chips

6

Oz.

Unsweetened Chocolate

6

Large Eggs

3

Tbsp.

Instant Coffee Granules

2

Tbsp.

Pure Vanilla Extract

2 ¼

Cups

Sugar

1 ¼

All-Purpose Flour

1

Tbsp.

Baking Powder

1

t.

Salt

3

cups

– Chopped Walnuts
Instructions
Preheat the oven to 350 degrees.

Butter and flour a 12 x 18 x 1-inch baking sheet.

Melt together the butter, 1 pound of chocolate chips, and the unsweetened chocolate in a medium bowl over simmering water. Set aside and allow to cool slightly. In a large bowl, stir (do not beat) together with the eggs, coffee granules, vanilla, and sugar. Stir the warm chocolate mixture into the egg mixture and allow to cool to room temperature. In a medium bowl, sift together 1 cup of flour, the baking powder, and salt. Add to the cooled chocolate mixture. Toss the walnuts and 12 ounces of chocolate chips in a medium bowl with ¼ cup of flour, and then add them to the chocolate batter. Pour into the baking sheet.

Bake for 20 minutes, then rap the baking sheet against the oven shelf to force the air to escape from between the pan and the brownie dough. Bake for about 15 minutes, until a toothpick comes out clean. Do not overbake! Allow to cool thoroughly, refrigerate, and cut into 20 large squares.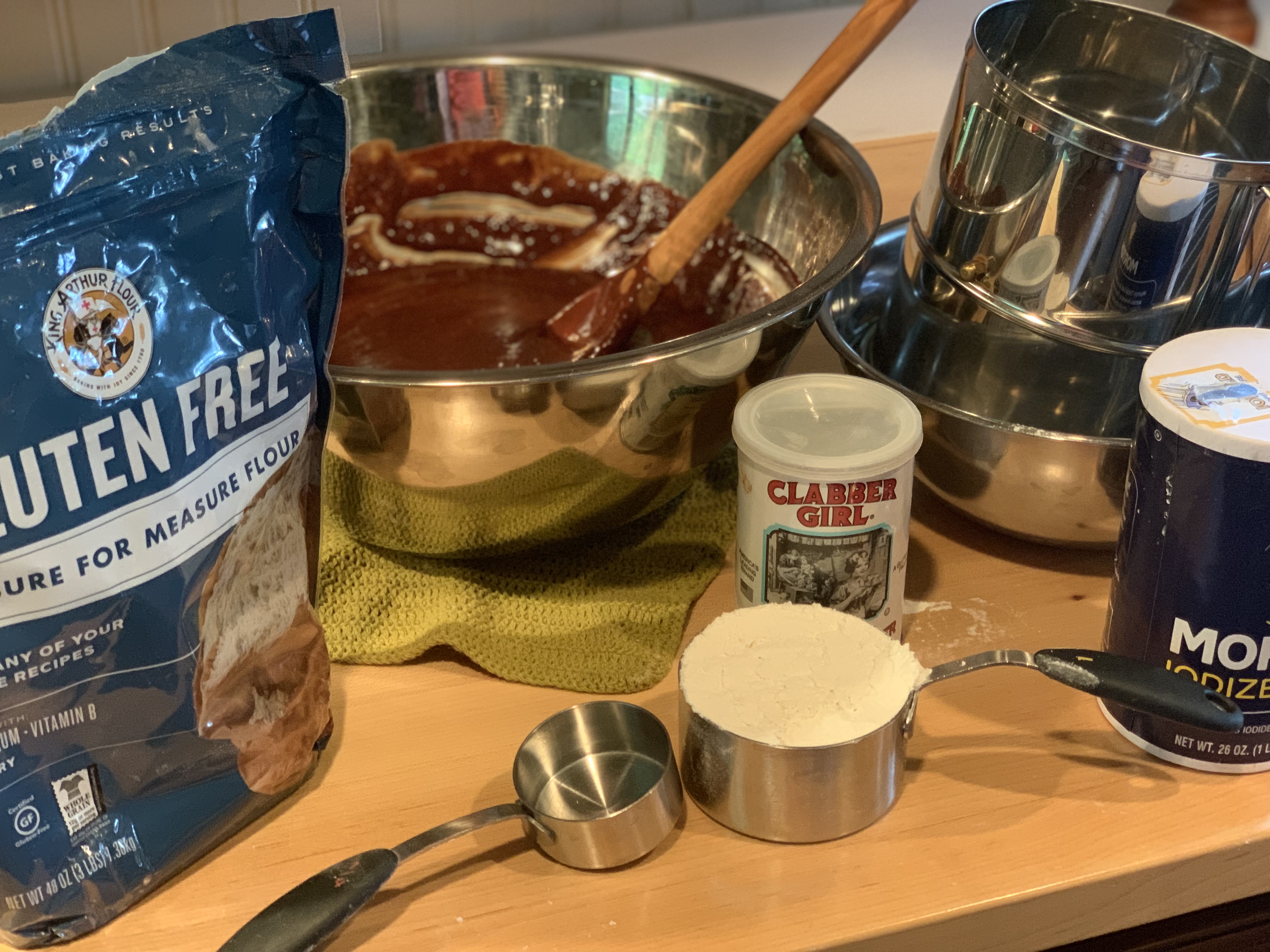 I am preparting all my ingredients (or mise en place) to begin making The Ultimate Outfragous Brownies. Note: I used gluten-free flour, but regular AP flour can be used.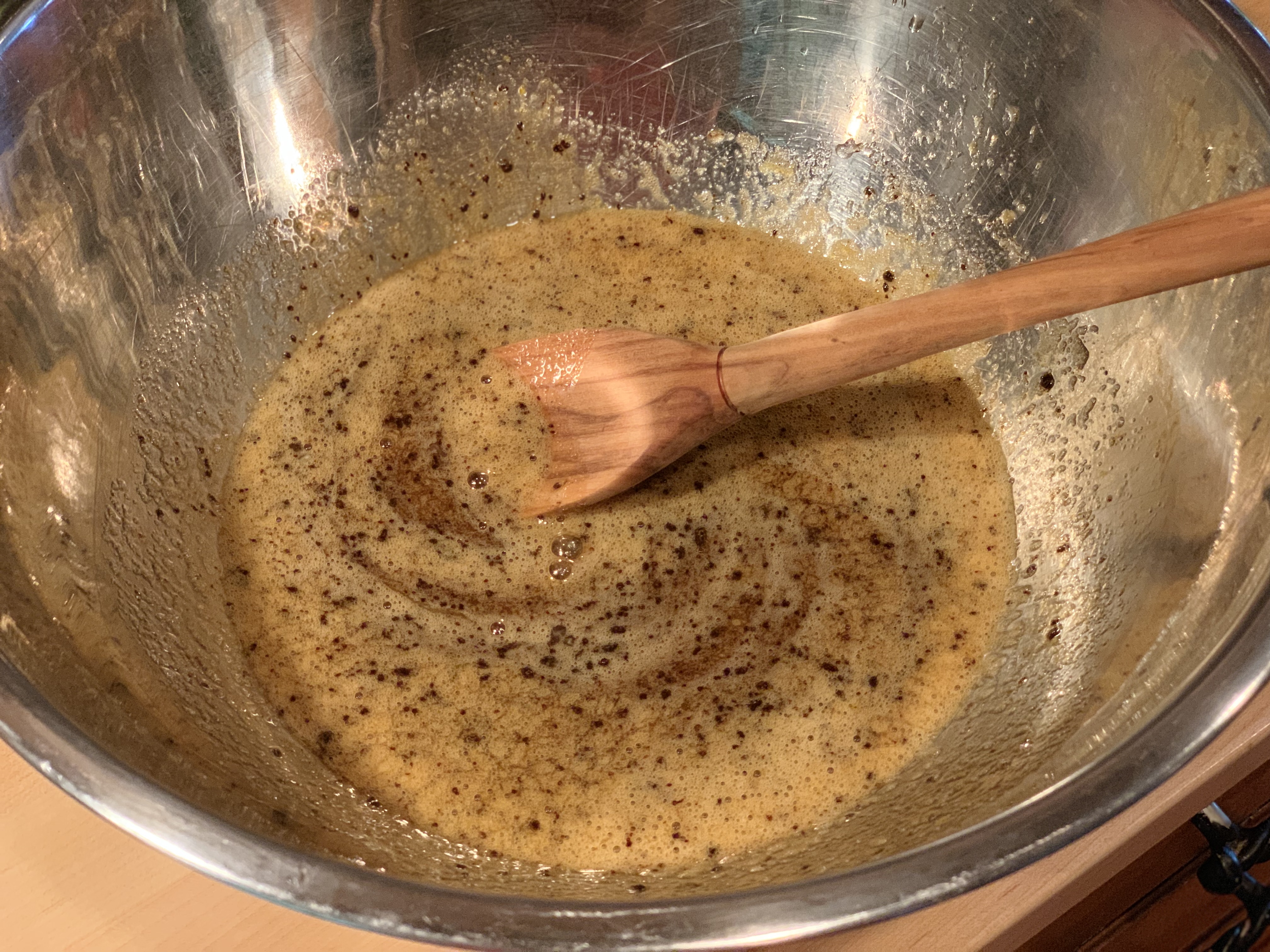 I have stirred the eggs, espresso powder, vanilla extract and sugar together. It is very important not to over-stir at this point.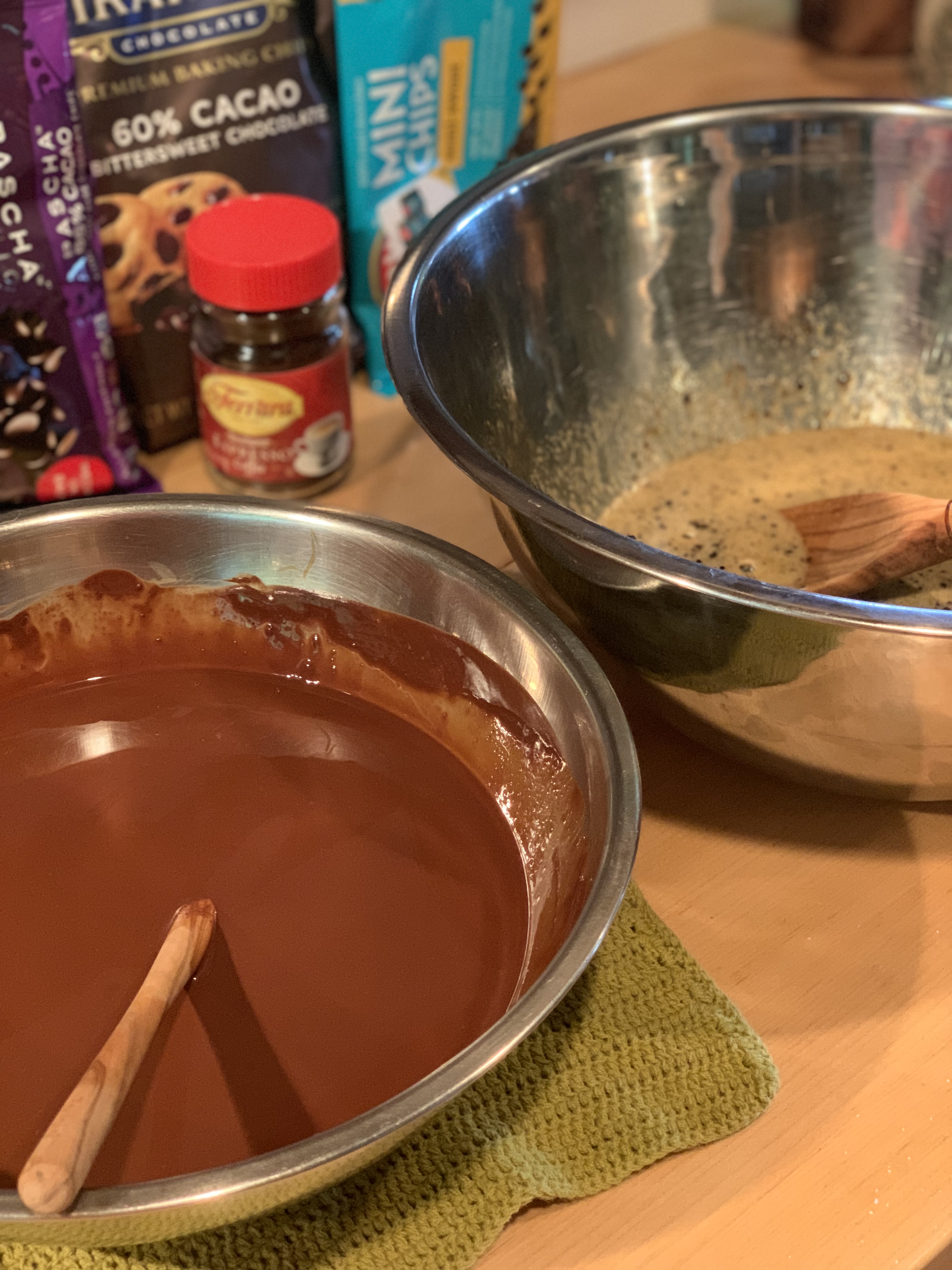 The chocolate mixture had cooled, and is ready to be temperted together. A brief explaination of tempering can be explained by clicking on the word tempering from the Spruce Eats.
Are the brownies done?

For cake-like brownies, take them out of the oven when the brownies begin to pull away from the sides of the pan. A toothpick inserted near the center of the brownies will come out clean when brownies are at a cake-like consistency.
For fudgy brownies, bake within the suggested baking time. A toothpick inserted into fudgy brownies will come out with a few moist crumbs attached.
For very fudgy brownies, remove from the oven at the minimum baking time. A toothpick inserted into very fudgy brownies will come out covered in moist crumbs, but not batter.
Helpful tips on storing and freezing the brownies:
Store cut brownie squares in an airtight container at room temperature; they're best eaten within 1 to 2 days. Uncut brownies, wrapped well with plastic wrap or foil will keep for 2-4 days at room temperature.
To freeze brownies, cool brownies completely, but do not cut into individual servings. Wrap tightly in plastic wrap, then wrap again with foil. Brownies can be frozen for up to 3 months.