Summertime Gazpacho soup is a refreshingly cold, summertime soup perfect for Labor Day weekend.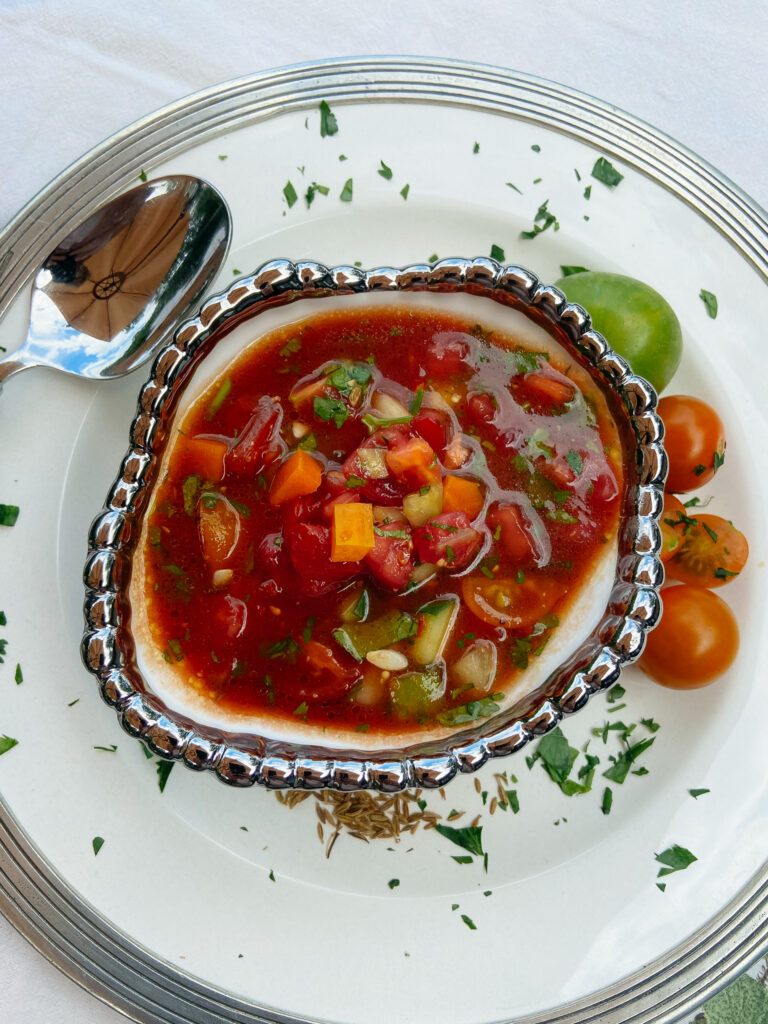 Gazpacho hauls from the Andalusia region in Southern Spain. As we head into the Apple Festival, which is very different this year, you may be heading out to visit a few Henderson County Apple farms. Make the Gazpacho before heading out, and you will return to a very refreshing meal ready to be served.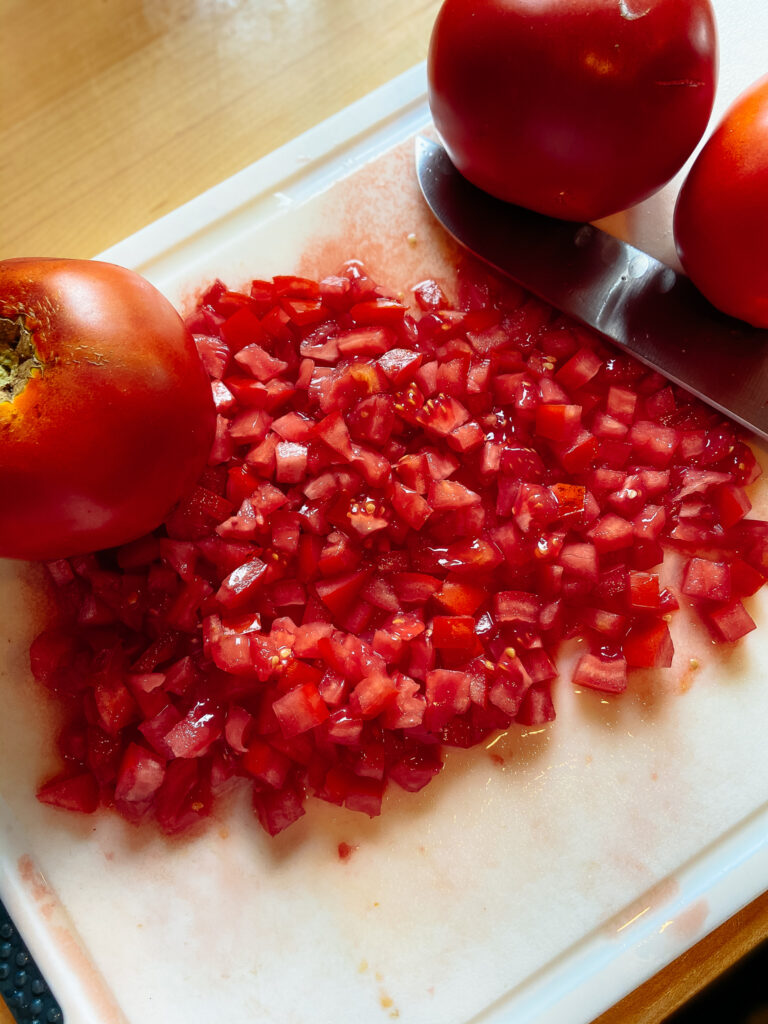 This Summertime Gazpacho soup is a perfect starter for Labor Day when serving with the Lamb Burger found on the website. To finish the evening off, make the Blackberry Cobbler, also on the website, with cooling ice cream(dairy-free, if desired).
I know it is truly summer when everything at the father market's or my garden says make Gazpacho. I realized I have been making this recipe since the summer of 1990 when we lived in Chicago, and the twins were just born in January of 1989.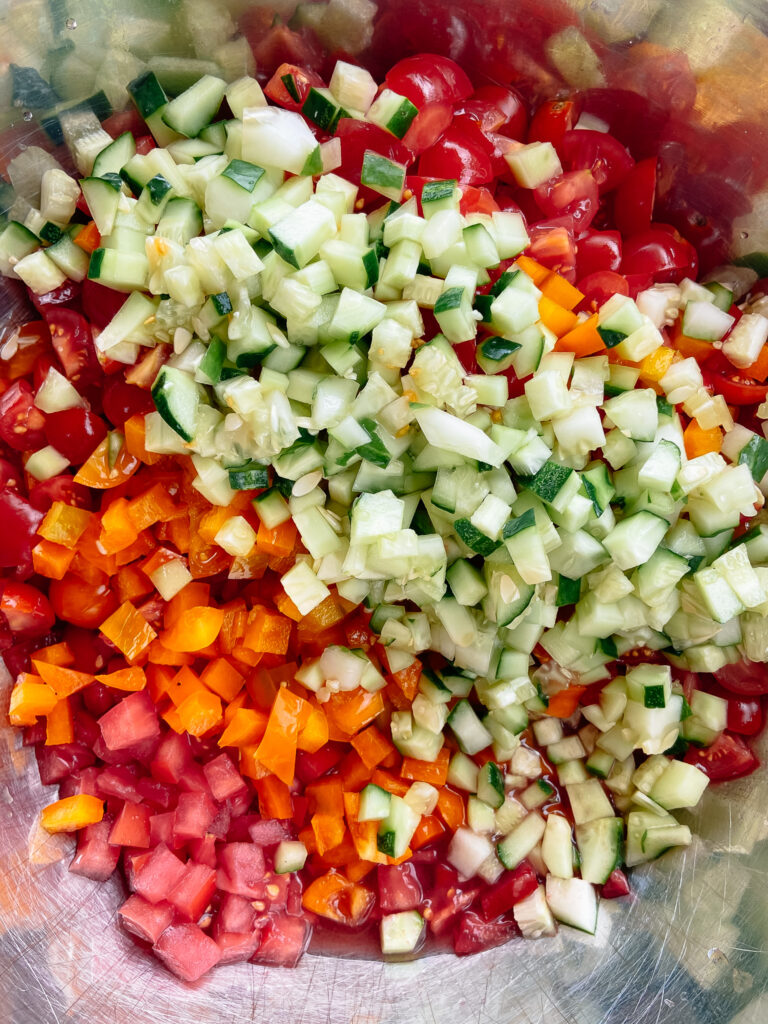 This is an uncooked soup that is usually made from a mixture of garden-fresh tomatoes, sweet bell peppers, onions, cucumbers, garlic*, olive oil, vinegar, cumin, fresh herbs, etc.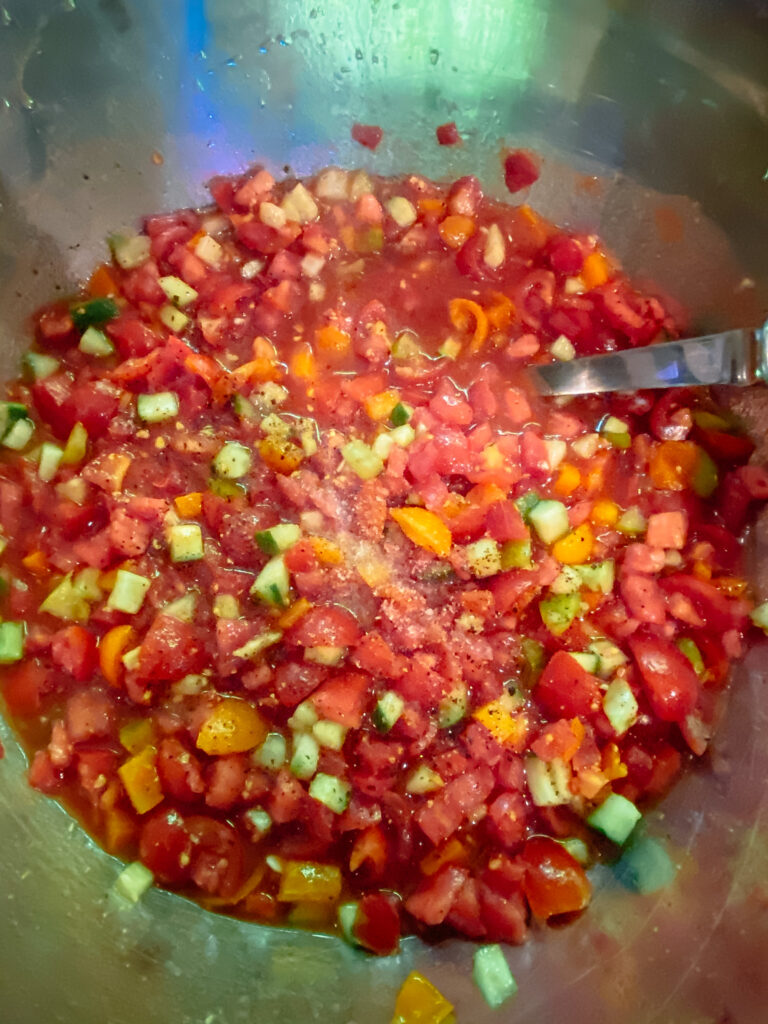 The chef in me makes me always want to tinker with the recipe. It has had many adaptations, but I think it has evolved in the perfect chilled soup. 
I do like to dice my own tomatoes instead of putting them in a food processor. I also leave the tomato's skins and seeds on because it all just melds together with a giant flavor. If you are a purist, remove the skins and seeds.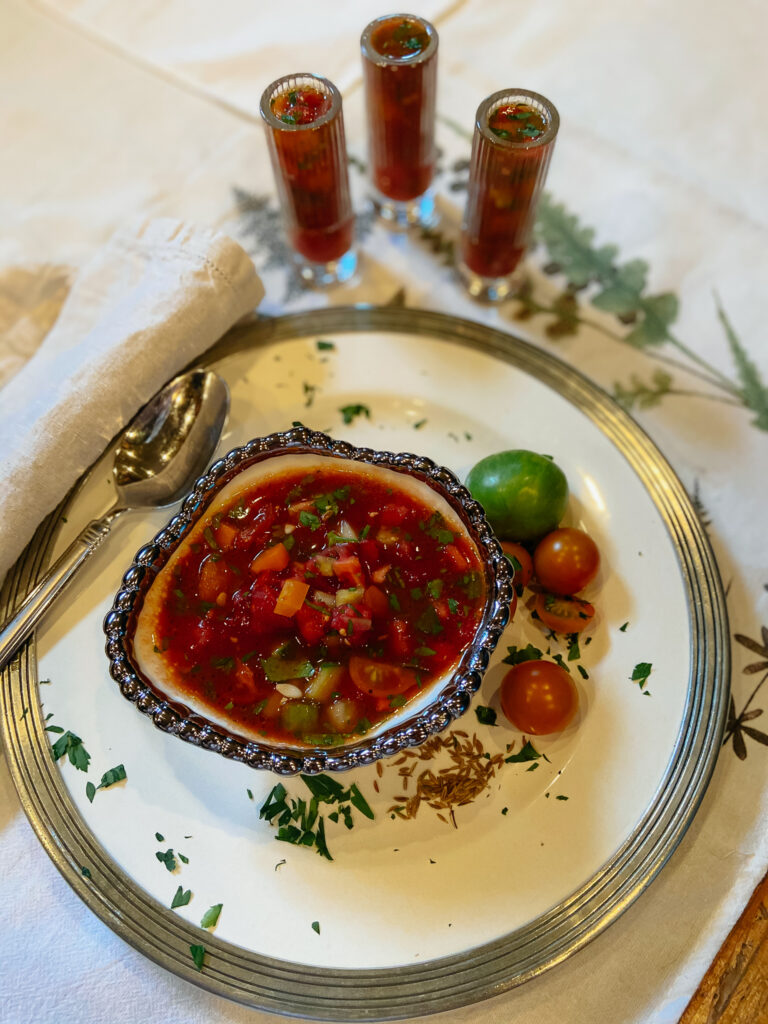 Gazpacho can be a meal in itself, particularly with all the vegetables that are added. You can add freshly cooked shrimp, crabmeat, hard-boiled eggs, avocado, and many more toppings to make it a meal.
The recipe does not use any bread, but feel free to use it if desired.It will bring a real richness to the soup. It calls for sour cream, but if you are dairy-free, you can leave it out.Let the soup chill for four hours if you have time. The soup can also be added to an ice bath that will help the soup chill much more quickly. Leave some of the herbs for garnish when ready to serve.
*Tip: For a smoother garlic taste, remove the green root often present on a garlic clove. With a small pairing knife, cut the clove in half, and you will see a green shoot that you can cut out.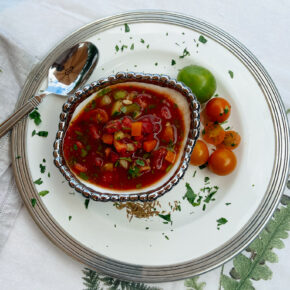 Summertime Gazpacho Soup
A Southern Classic, Gazpacho is refreshing, chilled summertime soup.
Ingredients
2 1/2

Pounds

Tomatoes – Peeled, seeded and finely chopped

(use caned tomatoes if needed)

1/2

Pound

English Cucumber – 1/2 inch dice

1/4

Cup

Red Onion – peeled and finely chopped

1

Large

Red Pepper – Cored, seed and finely chopped

1

Large

Yellow Pepper – Cored, seed and finely chopped

1/4

tsp

Garlic – minced

1/4

Cup

Extra – Virgin Olive Oil

1/4

Cup

Red Wine Vinegar

1

Cup

Tomato Juice

1

Cup

Beef Broth

1

Tbsp

Tomato Paste

1

tsp

Cumin Ground

1

tsp

Coriander Ground

1

Tbsp

Worcestershire Sauce

6

Dashes

Tabasco Hot Sauce

1/2

Cup

Fresh Cilantro – Minced

1/2

Cup

Fresh Italian Parsley – Minced

Kosher Salt and Fresh Ground Pepper to taste

Sour Cream for Garnish

optional
Instructions
In a food processor or with a stick blender, puree the tomatoes lightly, leaving somewhat chunky.

In a large stainless steel bowl, combine the tomatoes with all the ingredients except the cilantro and parsley. Stir until well blended and all ingredients are mixed together.  Add the cilantro and parsley and mix. Adjust all the seasoning if needed.

Chill the soup with it covered for at least four hours or overnight.

Garnish with sour cream and extra herbs.
Other Posts The you May Enjoy…
Grilled Watermelon Mint Salad with a Lime, Honey Dressing
View my latest cooking videos, and please consider subscribing to my YouTube channel!
This post may contain affiliate links and I may earn from qualifying purchases.