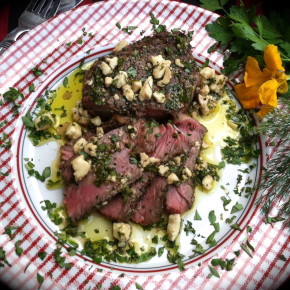 Black Pepper Steaks with Red-Wine Vinegar, Lemon and Feta Vinaigrette
Ingredients
2

Steaks - your choice: Filet Mignon

Ribeye or NY Strip

2

Tbsp.

Extra Virgin Olive Oil*

1

tsp.

Balsamic Vinegar*

1

Tbsp.

Applewood Smoked Peppercorns*

For Vinaigrette:

1/4

Cup

Red -WIne Vinegar

3

Tbsp.

Extra-Virgin Olive Oil - use Lemon Oil*

1

Tbsp.

Fresh Garlic - peeled and minced

2

Tbsp.

Fresh Italian Parsley - minced

1

Tbsp.

Fresh Lemon Thyme - minced

1

Tbsp.

Fresh Basil - minced

1

tsp.

Fresh Dill - minced

1

Tbsp.

Worcestershire Sauce

1

tsp.

Honey - nice quality*

Juice of a 1 Lemon

Zest of 1/2 Lemon

1/2

Cup

Feta Cheese - crumbled

Kosher Salt and Freshly Ground Black Pepper
Instructions
Turn on gas grill or light a charcoal grill.

Place the steaks on a plate and pour the olive oil and balsamic vinegar over the steaks. Sprinkle the pepper over the steaks and begin to work the oil, vinegar and pepper into the steaks. Use more pepper, if desired. Set aside.

In the meantime, prepare the vinaigrette. In a medium size bowl, combine all ingredients except the feta cheese. Once mixed, add the feta cheese and let stand at room temperature.

Once the grill or fire is ready, place the steaks on the grill on medium-high heat. Sear for 2 to 3 minutes on first side and then flip the steaks and cook for 2 to 3 more minutes, for medium-rare. With a thermometer, place the tip in the largest part of the steak. For medium rare, the steaks should be pulled at 125 degrees.

At this point, the steak should be allowed to rest for 5 minutes covered with foil. This allows time for the temperature to adjust and meat to settle down from the grill.

When ready, transfer the steaks to serving plates, and spoon the vinaigrette over the steaks. Garnish with additional herbs, if desired.
* The olive oils and vinegar are from The Tree & Vine in Asheville, NC and Knoxville, TN.
* The honey is from the Savannah Bee Co. Grill Honey.
* The apple wood smoked peppercorns are from the s.a.l.t. sisters.