I am back. I took the month of May and some of June off to recharge, rethink and take care of family happenings. My children have graduated from college and heading off to their new adventures in life. Times are changing in the Bakke household and it takes time to figure out where you land once you get through the changes. But through all these busy days of spring and early summer starting, I have been selling cookbooks, cooking and gardening my way along.
With the arrival of spring and early summer, the world of food opens up and the creativity starts pouring out along with the new items that are available at the grocery stores and farmer's / outdoor markets.
I will start with some links to recipes that I think are divine. Then on to salad recipes that I have created in these months and finally to highlight recipes from the cookbook – Laurie Bakke's Cookbook.
The first recipe is from Sunset Magazine, which I love to subscribe to, in order to see what is happening in the western part of our beautiful country. It is Grilled Chicken and Nectarine Salad with chicken, pecans, walnut oil, goat cheese and more. I have made this so many times and just wanted to share this easy recipe. Peaches can be substituted. Try this on a hot summer night and it will sure satisfy your dinner for a light meal.
Grilled Chicken & Nectarine Salad
The second recipe is my favorite recipe at the moment. The name is Arugula Salad topped with Fresh White Corn, Roasted Red Peppers and Fresh Thyme. It is a refreshing salad that goes wonderfully with any grilled meats. This recipe can be found under The Recipe Section of the blog.
Finally, I will highlight a recipe from my cookbook – Laurie Bakke's Cookbook. Keeping in tune with salads and summer, I will feature the Mediterranean Orzo Salad with Basil, Mint and Sherry Vinaigrette. This is so full of flavor and punch, but really very delicate with the orzo pasta.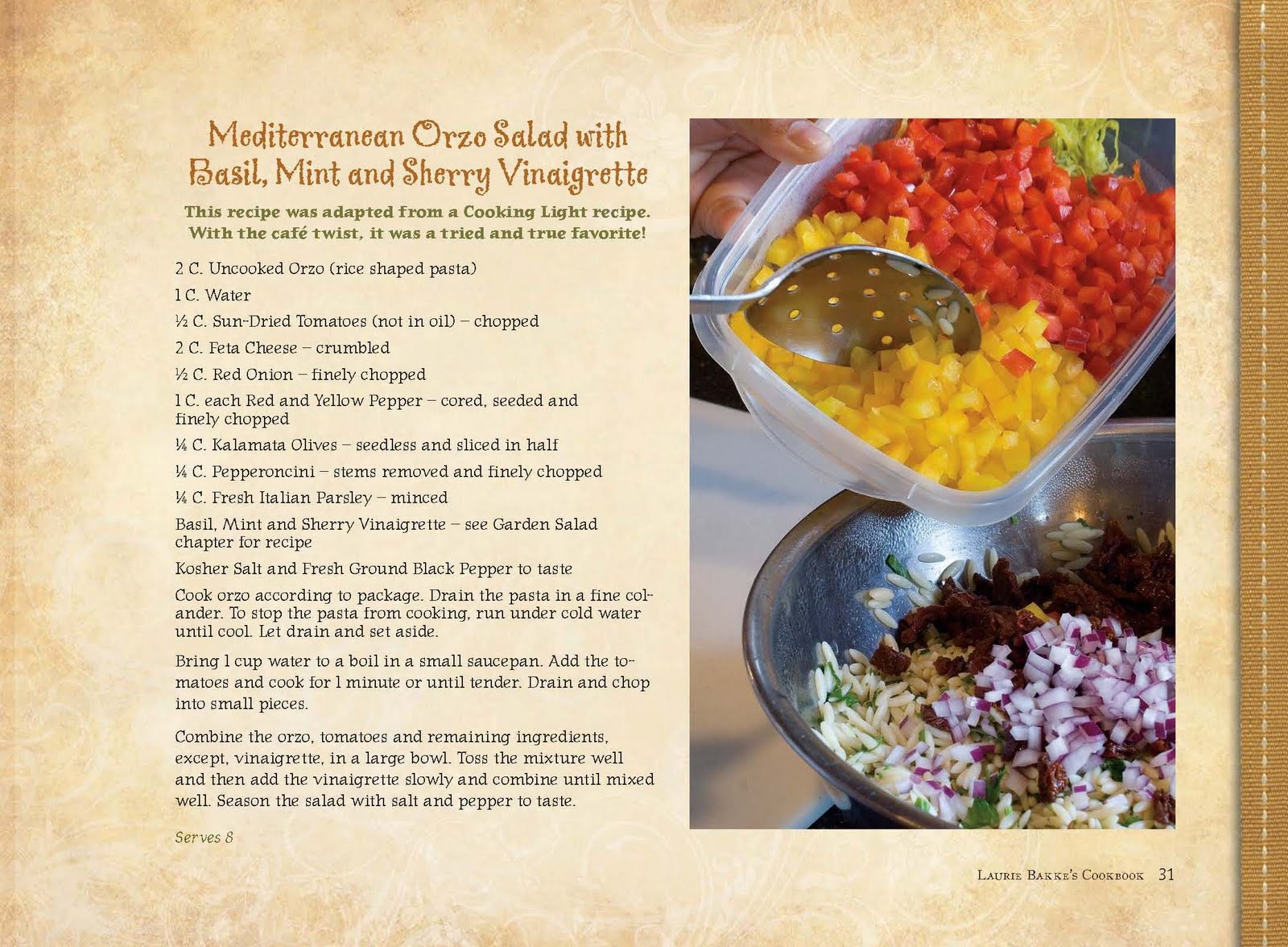 This recipe started during my early cooking years and really came into its own during the days at Cafe Laurie. I served the orzo as the side salad. When you start with the perfectly cooked orzo pasta and add all the fresh crisp vegetables, feta cheese and pour over the homemade dressing (recipe to follow) you will have a salad to swoon over.
It is funny that most people aren't even sure what orzo pasta is but loved it from the first bite. Great for family dinners, picnics and pot-lucks, it is sure to hold up. The recipe is quick, easy and can be adapted to your personal tastes. I hope you give this recipe a try as we head into summertime and let me know what you think. I love hearing any comments or questions. Have a great weekend!
Oh, the salad dressing!!! I hope everyone makes this vinaigrette and uses it for this recipe, but also use it as a marinate for meats, grilled veggies, mixed with beans etc. I will post more ways to use this very versatile recipe in future blogs. But for now – enjoy!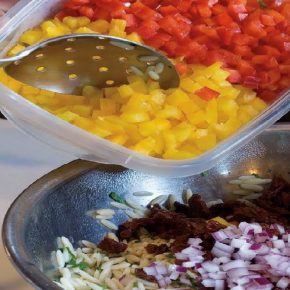 Cafe Laurie - Basil, Mint and Sherry Vinaigrette
Ingredients
1

C.

Fresh Basil - packed

1/2

C.

Fresh Mint - packed

2

T.

Honey

2

T.

Dijon Grainy Mustard

1/2

C.

Sherry Vinegar

3/4

C.

Extra-Virgin Olive Oil

1/2

C.

Canola Oil

Kosher Salt to taste
Instructions
In a food processor, place the basil and the mint with the honey on the top.

Turn the machine on high and process until the mixture is combined. If there are herbs stuck to the sides, stop and scrape down the sides and then process until combined.

At this point, add the Dijon mustard and the sherry vinegar.

Process until the mixture is completely mixed and there are not any chunks of herbs.

With the machine running, add the olive oil slowly until the mixture starts to thicken. Then slowly add the canola oil. The vinaigrette will be thick and emulsified.

Season the vinaigrette dressing with salt to taste.