What spice is deliciously complex — sweet, mellow, and woodsy, with a warming kick? If you said star anise, kudos for culinary know-how!
Star anise is a pointed seedpod that has been used in Chinese cooking for centuries. The spice amplifies the flavor of everything it is added to. Gourmets all over the world are exploring the spice and how to use it.
Try a touch with your favorite chili, meatloaf or meatballs to add spicy warmth to a dish. On the sweeter side, give poached pears an Asian flair by dropping a few star anise pods into the poaching liquid. Also, instead of cinnamon or nutmeg, try ground star anise in your favorite bread pudding recipe.
For the month of January, mini star anise scones seem like the right recipe to test for a sweet treat to enjoy with a hot cup of coffee or tea.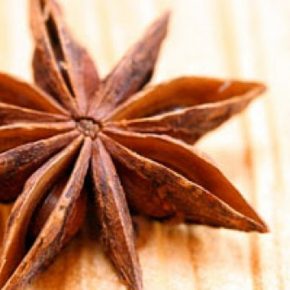 Spicy Time with Star Anise
Ingredients
2/3

cup

- heavy whipping cream - divided

1

large egg

2

tsp.

finely grated lemon peel

2-1/2

cups

flour

3-1/2

Tbsp.

sugar

1

Tbsp.

baking powder

2

tsp.

freshly ground star anise

1/2

tsp.

baking soda

1/2

tsp.

coarse kosher salt

6

Tbsp.

unsalted butter - chilled

1/2

cup

raisins

Topping:

2

Tbsp.

heavy whipping cream

2

Tbsp.

raw sugar
Instructions
Preheat oven to 400 degrees. Whisk 1/2 cup cream, egg, and lemon peel in medium bowl. Whisk flour and next 5 ingredients in large bowl. Cut butter into small cubes and add to dry ingredients. Using fingertips, blend until coarse meal forms. Add cream mixture and raisins. Stir until moist clumps form, adding more cream by tablespoons if dough is dry. Turn out onto floured surface; knead just until dough comes together.

Pat out dough to 1/2-inch thickness. Cut scones out using a 2-inch cutter. Gather dough scraps; press out to 1/2-inch thickness and cut out additional scones. Transfer to baking sheet.

Brush tops of scones with the cream; sprinkle with raw sugar.

Bake until golden and tester inserted into center comes out clean -- about 10 minutes. Transfer to rack to cool. Serve warm or at room temperature.

When adding the additional cream, be careful not to add too much or the dough might get sticky. If this does happen, pat with a small amount of flour.

Chef Tip: Get the freshest ground star anise by making your own. Place a few pods in a spice mill or a coffee grinder. Buy from a grocery that has high turnover, to be sure the spice is as fresh as possible.
Note: I shared this recipe on Bold Life magazine's website in December 2007.
Photo Credit: The Perfect Pantry