A delightful and easy recipe originally adapted from Sunset Magazine.
A delicious savory shrimp soup topped with avocados, cilantro and sour cream, which results, in a hearty meal in a bowl. So consequently, when all the flavors meld together, you will, undoubtedly, have a mouth-watering soup. Therefore, it will soon become a favorite for entertaining friends or family. Usually, the shrimp soup is the first course, but, also will become a dinner favorite.
Vermicelli pasta, always loved in Mexico, will form the basis of thick, delicious soups. Also, called "little worms." It is like thin strands of spaghetti. In Italy vermicelli is slightly thicker than spaghetti, but in the United States, it is somewhat thinner.
When buying your chilis, above all, remember that good dried chiles should be soft, flexible, and smell a bit like prunes. Avoid hard, brittle specimens—they're old and less flavorful.
How hot are your chiles? To assess a chile's heat, slice off its top through the ribs and seeds. The heat-producing compound capsaicin is most concentrated. Touch the slice to your finger and touch your tongue. If you want your food to be milder, split the chiles and scrape out all or some of the ribs and seeds. If your skin is sensitive, wear kitchen gloves or hold the chiles with a fork—and don't touch your eyes.
When preparing this wonderful soup, take the time to gather all your ingredients together before beginning the soup. The recipe cooks quickly. In France there is a term for this called mise en place; Mise en place means"set in place," refers to having all your ingredients prepped and ready to go before you start cooking. You will have your onions diced, spices all measured, the broth portioned out. And it's not a bad idea to have your pans and ladles laid out, too!
Prep and Cook Time: about 35 minutes.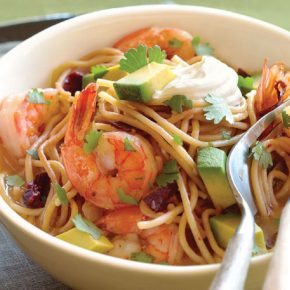 Shrimp, Ancho Chili and Vermicelli Pasta Soup with Avocado, Sour Cream and Cilantro
Ingredients
2

Dried Ancho or Pasilla Chiles

each 4 to 5 inches long

3

T.

Extra-Virgin Olive Oil

6

Oz.

Dried Vermicelli – broken into thirds

gluten-free can be substituted

½

t.

each anise seeds and cumin seeds

1

Small Onion – finely chopped

2

Garlic Cloves – minced

Kosher Salt and Freshly Course Ground Black Pepper

1 - 32

Oz.

Box Chicken Broth

1

Lb.

Shrimp

30 to 35 per lb. – peeled and deveined

½

C.

Sour Cream

1

Avocado – peeled

seeded and medium diced

¼

C.

Fresh Cilantro - roughly chopped
Instructions
Break stem off chiles and shake out seeds. In a small bowl, cover the chiles with hot water and let stand until softened, 5 to 10 minutes. Drain and coarsely chop.

Meanwhile, pour olive oil into a 12-inch nonstick sauté pan over medium-low heat. Add pasta; stir and turn often with tongs until almost golden, 3 to 5 minutes. Stir in the anise, cumin seeds, onion, and garlic. Season with salt and pepper to taste.

Slowly lift the pasta, with tongs, so it mostly sits on top of onion mixture, and then cook onion mixture, stirring often, until softened, 4 to 5 minutes.

Stir in chiles and chicken broth. Bring to a simmer over high heat, then reduce heat to medium and simmer, 3 minutes; add shrimp and simmer until pasta is tender to the bite, 3 to 4 minutes. Add more liquid (water or broth if needed). Season the soup to taste with salt and pepper to taste, if more is needed.

Spoon the soup into wide, shallow bowls. Top each serving with a spoonful of sour cream, some avocado, and garnish with cilantro.