This dish is great served warm or at room temperature, but remember that it full of flavor and not for the faint of heart. Great served with grilled meat, fish or steamed rice. It is gluten-free all the way!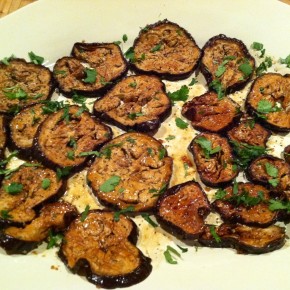 Sesame Sweet & Sour Aubergines
Ingredients
2

lbs.

Eggplant – sliced into 1/2 thick slices

Kosher Salt or Sea Salt

1

oz.

Sesame Seeds – lightly toasted

2

oz.

Fresh Ginger – peeled and small dice

½

Cup

Mirin

8

fl. oz. Rice Wine Vinegar

1/2

Cup

Tamari – gluten free soy sauce

2

oz.

Honey

Sea Salt and Fresh Ground Pepper – to taste

Fresh Cilantro – lightly chopped for garnish
Instructions
Preheat the oven to 350°. Spread about 3 pinches of sea salt over the base of a baking sheet with at least a 1-inch edge that will hold the eggplant slices tightly.

Score the top of each eggplant ( not all the way through the piece) and lay them flat in one layer on the salt. Sprinkle over another couple of pinches of salt and leave them for about 20 minutes.

Lightly toast the sesame seeds in the oven for a few minutes.

Put the ginger, oil, mirin, vinegar, tamari and honey into a saucepan and bring to a simmer for about 3 to 5 minutes. Turn off the heat, and when the sesame seeds come out of the oven add those to the pan.

Pat the eggplant slices dry with a paper towel and wipe out the baking sheet. Pour the contents of the sauce and place the eggplants slices in the sauce, flat, so the liquid comes about half to two-thirds of the way up the eggplant. Cover the dish with foil, sealing the edges as much as possible so that the eggplant will steam some, and then put in the oven. After 30 minutes throw away the foil, turn the eggplant over and put them back in the oven for another hour, turning again halfway through.

Lay the eggplant out on serving platter and garnish with the chopped cilantro.