It's January, and we are all looking for healthy, satisfying, and tasty meals. Moroccan Red Lentil, Sweet Potato, and Chickpea Stew will leave you happy, and it's vegetarian, gluten-free, and dairy-free all in one.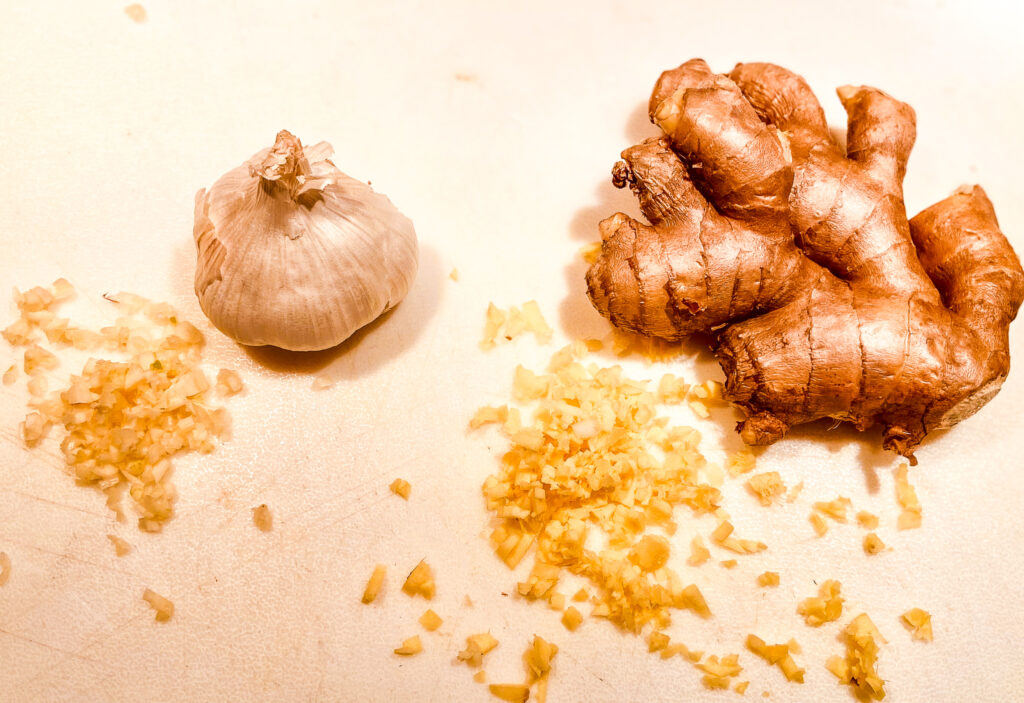 The stew uses simple ingredients that are full of flavor and texture. It is a quick soup to make and trust me, and your family will be thrilled.
These simple ingredients that you can keep on hand are what we are all doing during this time in our life. Chickpeas, coconut milk, red lentils, broth, and produce like onion and potatoes. They all add up to an incredible soup!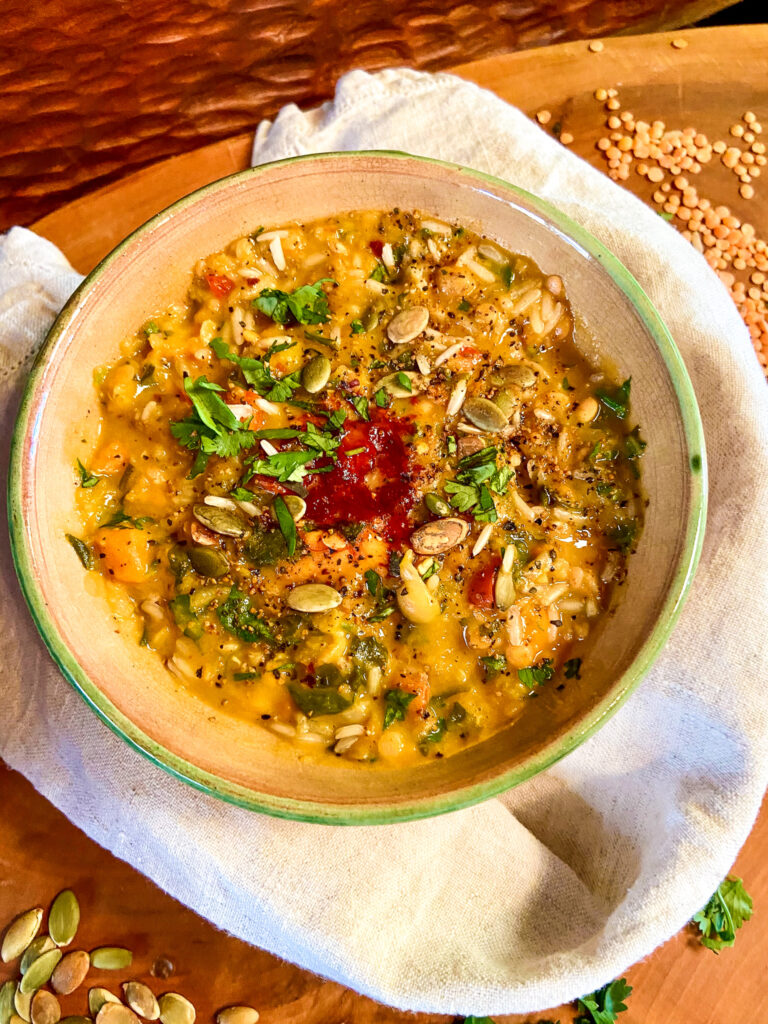 It is full of flavor with all the Moroccan spices used in the soup. I have left some spices as optional but would encourage you to buy them and use them in the recipe.
My Dutch Oven
First and foremost, start with a great dutch oven. You will notice from all the pictures that my favorite is from Le Creuset. I have the flame orange, which is the first color they had. I love it!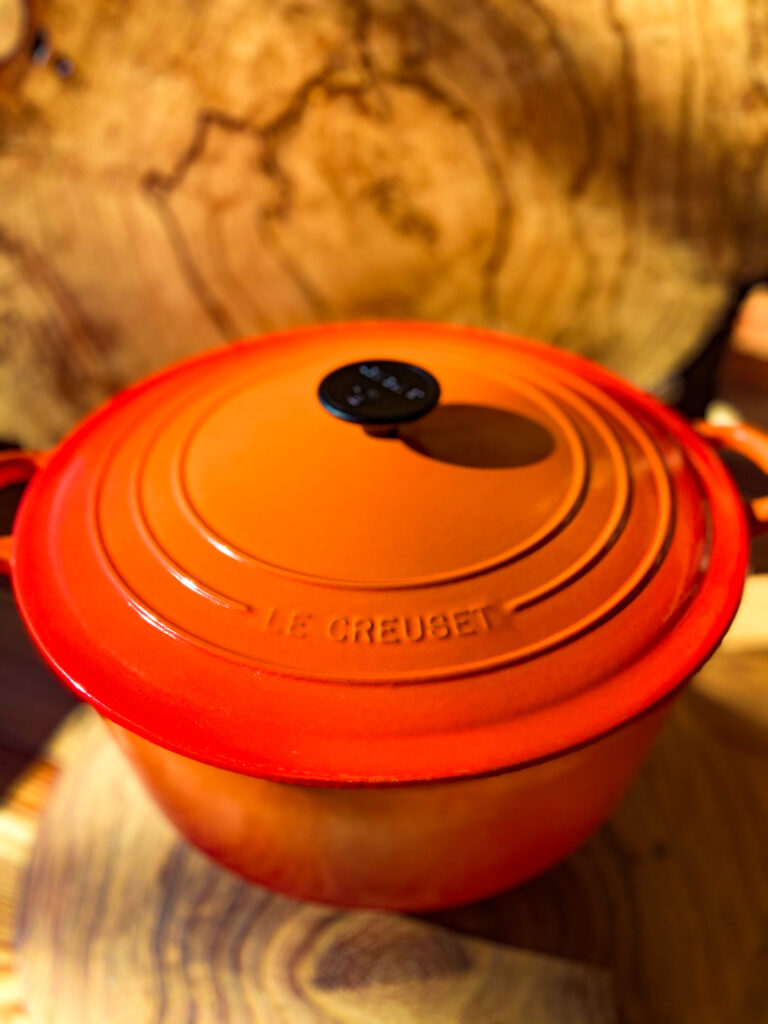 The stew starts with sautéing a diced onion in some olive oil. I have been experimenting with using two or sometimes three different oils to begin with. For example, I used Sesame Oil, Pumpkin Seed Oil, and Lemon Oil. I love doing this! Remember that you can use a good extra-virgin Olive Oil if you don't have all these on hand.
Another thing I am making myself learn is salt the onions at the beginning of the cooking process. I have learned this through, Samin Nosrat, the renowned cookbook author of Salt, Fat, Acid, Heat. If you don't own this book, I would highly suggest that you go buy it. It is the most interesting cookbook I have ever read.
Start with sautéing the diced onion, then add the garlic and ginger. Next, add the sweet potatoes, red pepper, and all the delicious spices. When it's all sizzling, add the chicken broth or vegetable broth to deglaze the pan. Add the lentils. The smells will be fantastic!
Finally, it's time to add the star of the stew. The coconut milk, full-fat, of course. I am obsessed with coconut milk. It's rich and creamy, and can bring so much to soups, stews and sauces. Time to finish the stew with adding chopped arugula and cilantro.
Serve the stew with fluffy rice or your favorite Naan or flatbread, or both!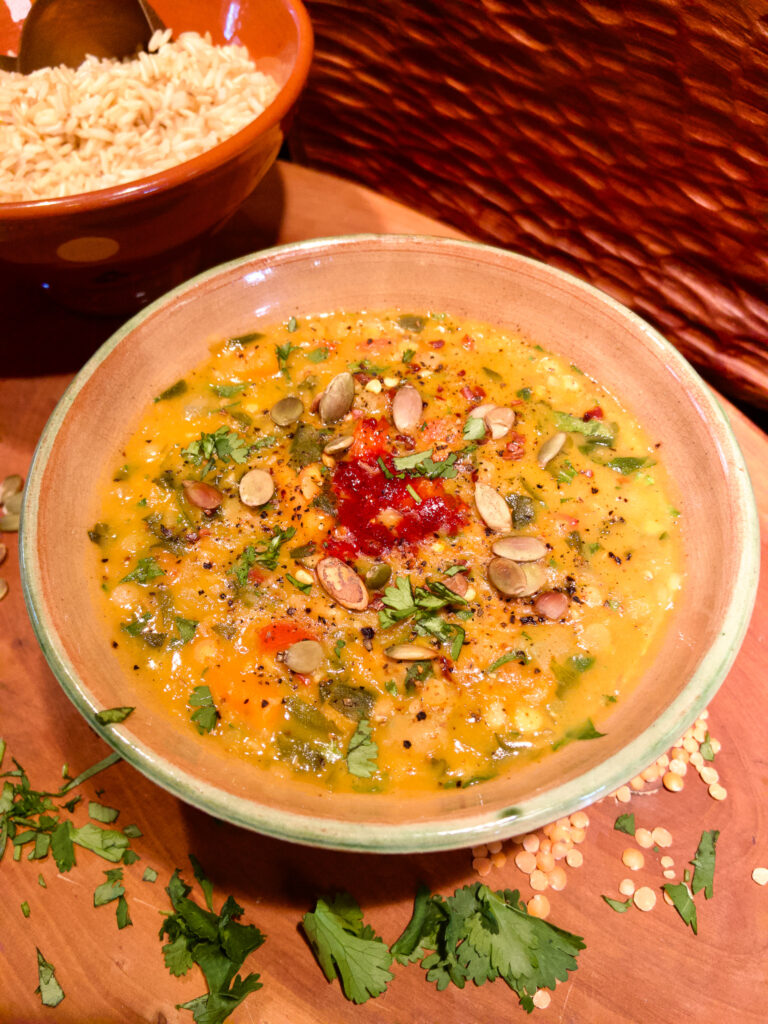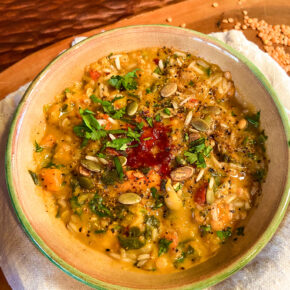 Moroccan Red Lentil Stew
Moroccan Red Lentil, Sweet Potato, and Chickpea Stew will leave you happy, and it's vegetarian, gluten-free, and dairy-free all in one. 
Ingredients
1

Tbsp.

Toasted Sesame Oil

1

Tbsp.

Meyer Lemon Olive Oil

1/2

Sweet Yellow Onion – medium diced

1

tsp.

Kosher Salt – more for finishing

1

Tbsp.

Ginger – peeled and minced

2

Garlic Cloves – peeled and minced*

1

Large Sweet Potato or 2 small – peeled and diced

1

Red Bell Pepper – medium diced

1

Tbsp.

Madras Curry Powder

1

tsp.

Cinnamon

1

tsp.

Cumin

1-2

Tbsp.

Red Harissa* – optional

6

Cups

Chicken or Vegetable Broth – depending on if you want the soup strictly vegan

1

Cup

Dried Red Lentils

1 14

oz.

Can Chickpeas – rinsed and drained

1 14

oz.

Can Full Fat Coconut Milk

2

Cups

Arugula or Baby Spinach – roughly chopped

1/2

Cup

Cilantro – chopped

2

Cups

Jasmine Rice – cooked according to the package – until fluffy

Red Pepper Flakes

Freshly Ground Black Pepper – to taste
Instructions
Heat the oils in a large dutch oven over medium heat. When the oil heats, add the onion and cook for 3 to 4 minutes or until soft. Add the ginger, garlic, sweet potatoes, and red peppers and cook until fragrant, about 2 minutes.

Stir in the curry powder, cinnamon, and cumin. When the mixture is sizzling, add the chicken broth and or vegetable broth and the red lentils. Season with additional salt and add the red harissa. Bring the mixture to a boil over high heat, then reduce to a simmer.

Cover and simmer for 15 to 20 minutes, or until the lentils are soft and the sweet potatoes are tender. Add more broth if the mixture gets too thick.

Stir in the coconut milk, chickpeas, and arugula and cook for 5 minutes. Remove from the heat and add the cilantro. Finish with the red pepper flakes and ground pepper.

To serve, divide the fluffy rice among bowls and ladle the stew over the top. Garnish with the cilantro.
Other Posts The you May Enjoy…
Grilled Watermelon Mint Salad with a Lime, Honey Dressing
View my latest cooking videos, and please consider subscribing to my YouTube channel!
This post may contain affiliate links and I may earn from qualifying purchases.