Oh, creamy fudge!! Does it not bring back tasty memories from childhood?? When I was growing up and making fudge, this recipe was called Fantasy Fudge. We made it all the time, and I decided this Christmas I would make this recipe again for my family and friends!
It is still that dense, rich chocolate that we all love and melts in your mouth with every bite!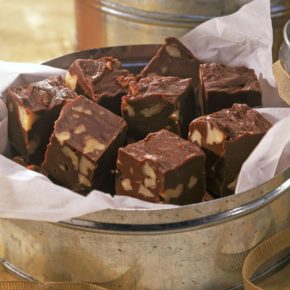 Marshmallow Creme Fudge
Ingredients
3

cups

sugar

3/4

cup

butter

5 1/3

ounce

can evaporated milk

not sweetened condensed milk

2

cups

semi-sweet chocolate chips

7

ounce

jar marshmallow creme

1

teaspoon

vanilla extract

1

cup

pecans or walnut - lightly toasted
Instructions
Line a 9x13 pan with foil and spray the foil with nonstick cooking spray.

Combine the sugar, butter, and milk in a large saucepan over medium heat.

While stirring constantly, bring the sugar, butter and milk to a boil. Continue to boil the sugar mixture for 5 minutes on medium heat. If you have a candy thermometer, you can use that instead. Insert it when the fudge starts boiling, and cook until the candy thermometer reaches 234 degrees F. Don't stop stirring during the entire process.

Remove the pot from the heat. Stir in the chocolate chips until they are melted and the mixture is velvety and smooth. Add the marshmallow crème, and stir until it is completely combined. Finally, add the vanilla and the nuts, and stir until the nuts are evenly distributed throughout the fudge.

Spoon the fudge into the prepared pan and use a spatula to smooth the top of the fudge. Allow the fudge to completely cool at room temperature. Once the fudge is cool, cut it into small squares to serve.

This fudge can be stored in an airtight container on the kitchen counter for one week. This fudge can also be kept for up to two weeks in the refrigerator.