Jamaican Carrot Soup is a colorful soup that is full of flavor and is perfect for entertaining during any time of the year.
Just the kind of thing for this almost-spring in between time we find ourselves in now. Temperatures are beginning to consider being more moderate  – but it's not warm yet. But that doesn't mean we're not craving everything still warm and winter. Leaves are shaking in the breeze, chilly mornings, the sound of basketball on tv in the background and one day… short sleeves! I don't know about you, but I could use some of that. It's like a big sigh of relief after the intensity of the winter weather.
This soup will feed your winter-starved appetite without weighing you down. A perfect start to your Valentine Day dinner. The natural sweetness of the carrots is enhanced by tropical chiles and lots of spices…nutmeg, ginger, and allspice. Top it off with a very quick pear relish and it rocks. Don't even think of making this soup without the relish. The relish is what takes it beyond to the next level. Beeeeeyond. I've been making this soup for years and it always still surprises me how delicious it is.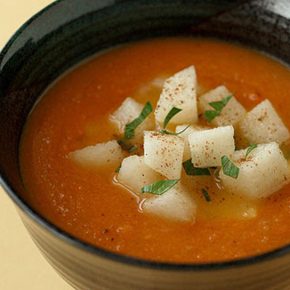 Jamaican Carrot Soup with Pear Relish
Ingredients
Soup

5

T.

Butter – unsalted

2

Lbs.

Carrots – peeled and thickly sliced

1

Medium Sweet Potato – peeled and thickly sliced

1

Large Onion – thinly sliced

½

tsp.

Fresh Garlic - chopped

Salt and Fresh Ground Pepper

4

Large Scallions – thinly sliced

¼ to ½

Scotch Bonnet Chile – seeded and thinly sliced

1

t.

Soy Sauce

2

t.

Fresh Thyme – chopped

½

t.

Ginger – ground

¼

t.

Cumin – ground

¼

t.

Cinnamon – ground

¼

t.

Nutmeg – freshly grated

6

Cups

Chicken Broth – canned

1

Bay Leaf

1

T.

Lemon Juice – fresh

Pear Relish

4

Bartlett Pears – peeled

cored and cut into ½-inch dice

1

T.

Smoked Extra-Virgin Olive Oil or Extra-Virgin Olive Oil

4

t.

Lemon Juice – Fresh

¼

Cup

Italian Parsley – chopped

¼

t.

Allspice – ground

¼

t.

Nutmeg – freshly grated
Instructions
Melt the butter in a large heavy saucepan. Add the carrots, sweet potato, onion, garlic, salt, and pepper. Cook over moderate heat until vegetables are softened and golden. Add the scallions, chile, soy sauce, and all spices and stir until fragrant – about 4 minutes. Add the stock and bay leaf and bring to a boil. Cover and simmer on low heat until vegetables are tender.

Remove the soup from the heat and let stand for 10 minutes – remove bay leaf. Puree the soup in batches with a hand-held blender or blender and return to the saucepan. Season the soup with lemon juice, salt, and pepper.

In a medium bowl, toss the pears with the lemon juice. Fold in the remaining ingredients and chill until ready to use.

Reheat the soup. Ladle into shallow bowls and garnish with cold pear relish.

Makes 10 Servings
Source: http://tastytype.blogspot.com