Jump to Recipe
Grilled Vegetable Torte is the perfect meal for entertaining, either serving it as an entree or a side dish, hot or at room temperature!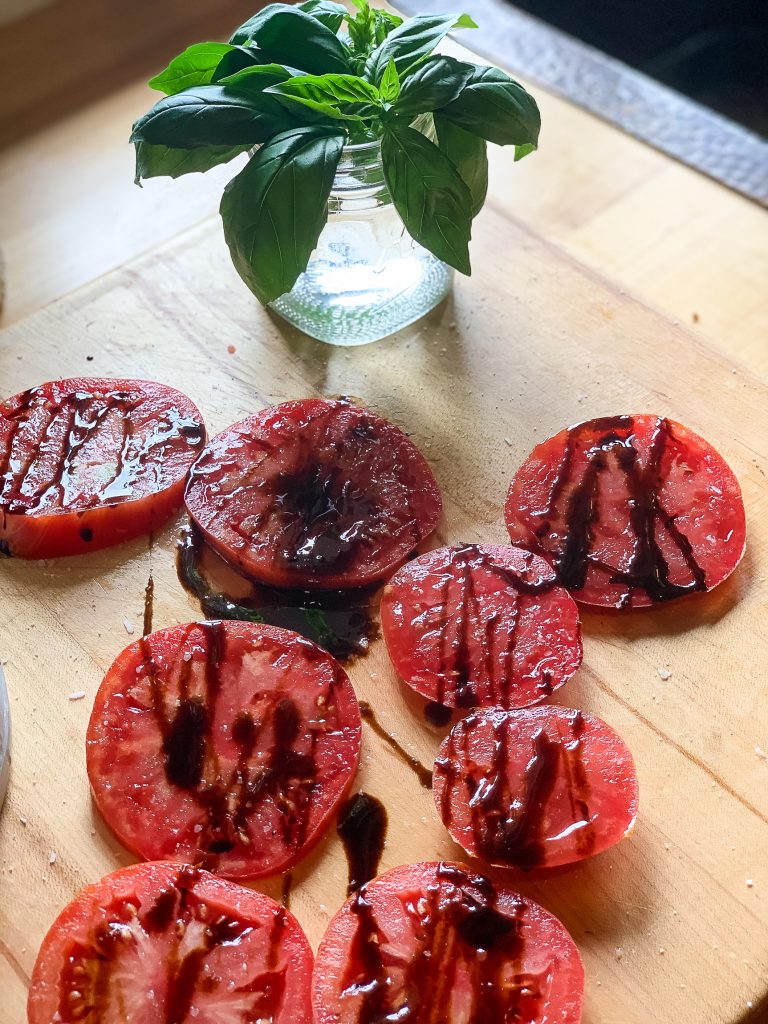 Making the Grilled Vegetable Torte, and getting it right takes a little time. You really must grill (or pan-grill) or roast all the vegetables well — they have to become quite tender — before assembling the torte. Ultimately, you want the vegetables to almost melt together. Grilling is the technique of choice because it gives the vegetables a hint of smokiness.
You can use whatever vegetables you have on hand. Eggplant, summer squash, mushrooms, bell peppers, make a perfect combination and are easy to grill, but I've added layers of caramelized onions, leftover cooked spinach (squeezed dry) and lightly grilled tomato. The Grilled Vegetable Torte recipe is a set of loose guidelines you can tweak at will.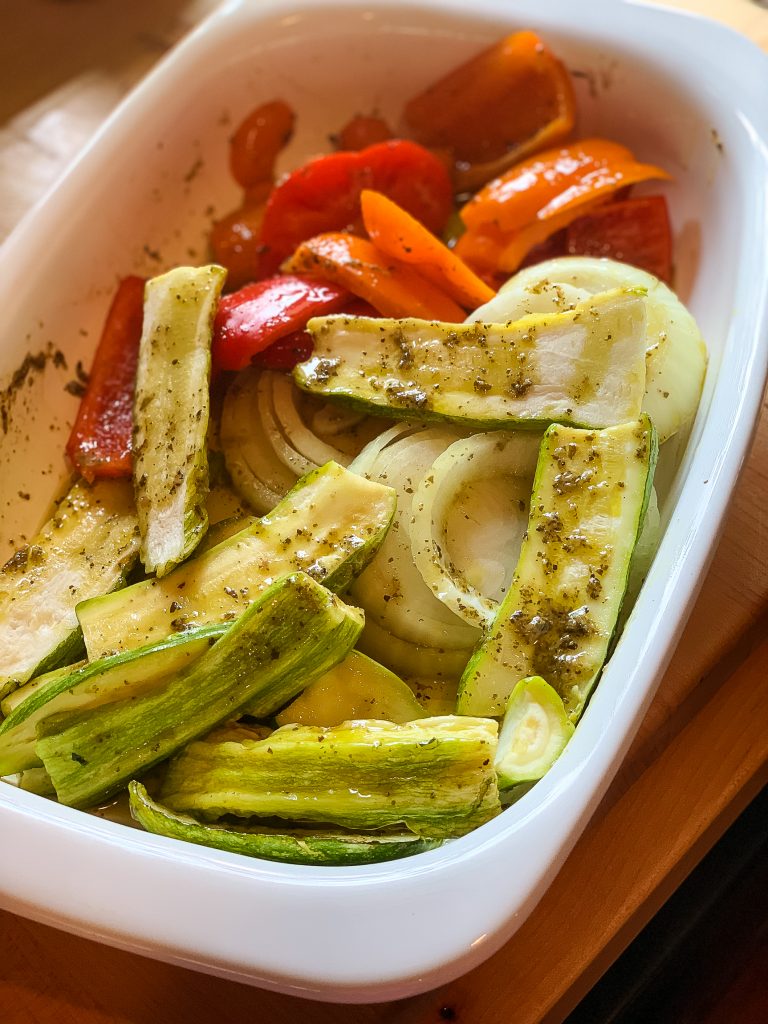 The assembly is fun. Start with the eggplant, which provides a meaty base, then add the other vegetables in repeating layers. Be sure to press down a bit with a spatula now and then to keep the torte compact. If you don't have fresh basil, use thyme or oregano. Top the torte with bread crumbs and Parmesan — not a thick, gooey layer, but enough to season the crumbs and create a crisp top. Not the fastest but its somewhat of an easy recipe, but worth the work.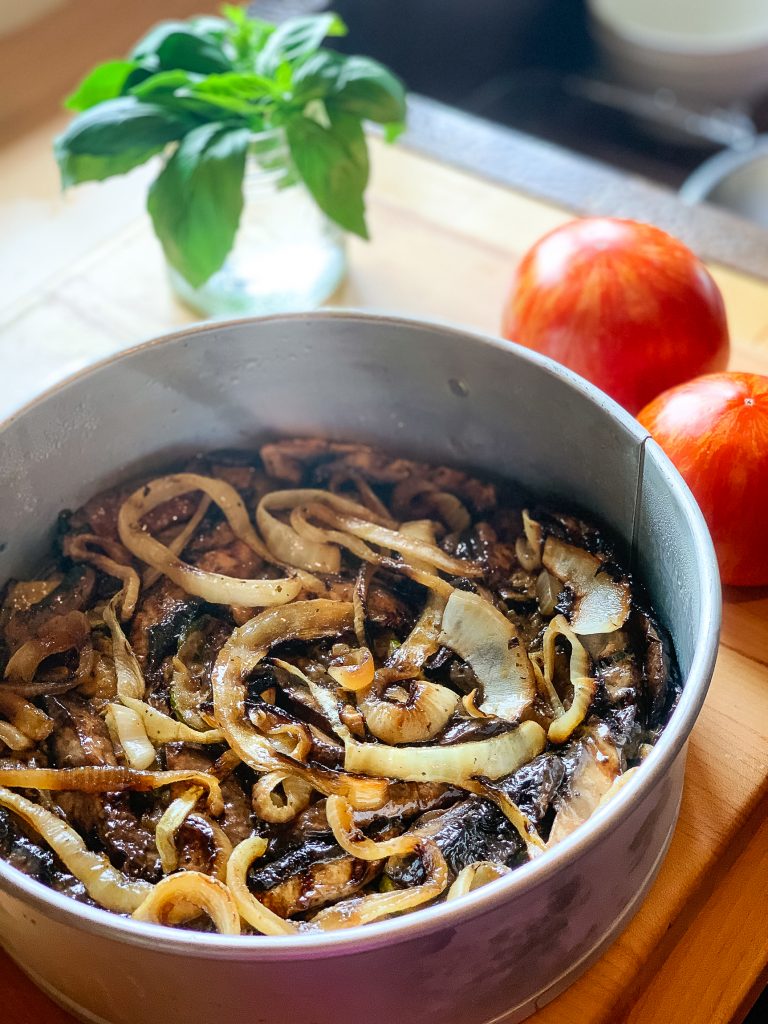 Early fall is the perfect time of year to make this recipe with all of the fresh vegetables available at farmers markets. However, it will be delicious any time of year. The recipe is easily adapted to be gluten-free and vegan…just leave out the Parmesan topping and use gluten-free bread crumbs.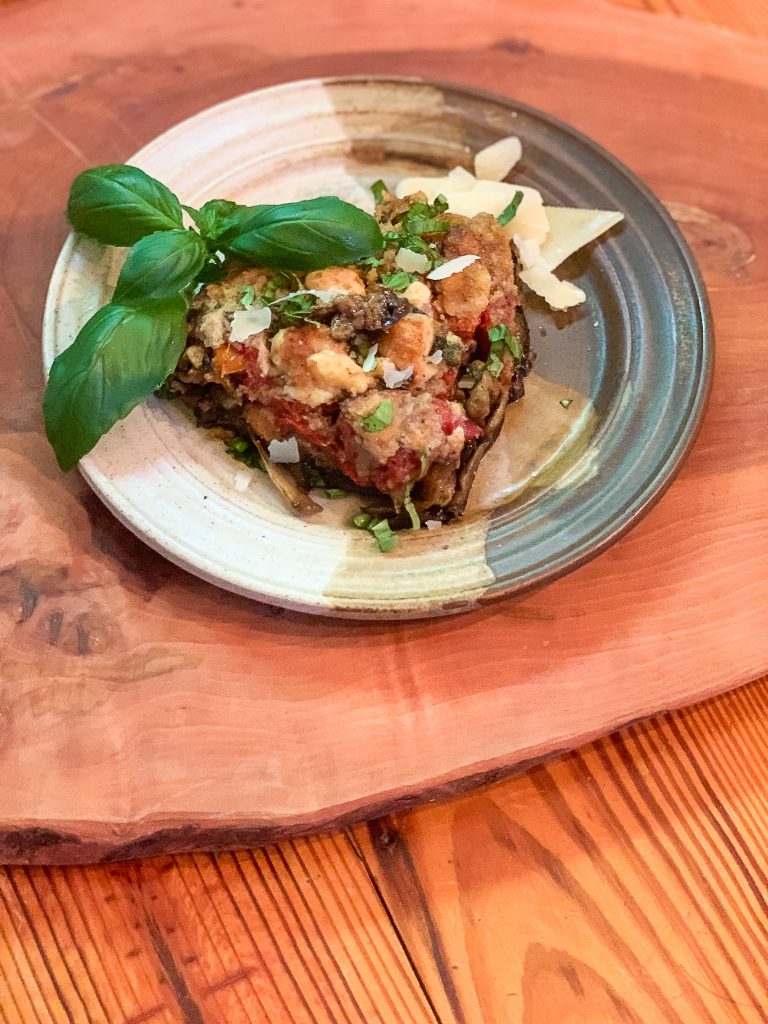 This a dish that is the perfect addition to your next gathering with friends. Because in the words of Julia Child's, "People who love to eat are always the best people."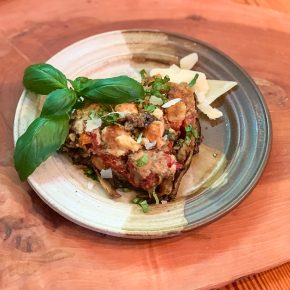 Grilled Vegetable Torte with Goat Cheese and Fresh Basil
Grilled Vegetable Torte is the perfect meal for entertaining, either serving it as an entree or a side dish, hot or at room temperature!
Ingredients
1

Cup

Prepared Pesto

2

Tbsp.

Balsamic Vinegar

½

Cup

Extra-Virgin Olive Oil – or more as needed

4

Fresh Garlic Cloves – minced

Kosher Salt – to taste

Fresh Ground Black Pepper – to taste

2

Large Eggplant – cut into ¼ inch-slices

5

Medium Zucchini or Yellow Squash – cut into 1/4-inch slices

2

Packages Portobello Mushrooms – cut into 1/4-inch slices

1

Red and Yellow Pepper – halved

cored and seeded, cut into 2-inch sections

1

Large Sweet Onion – cut in half lengthwise and sliced

4

Fresh Tomatoes – cut into 1/4-inch slices

¾

Cup

Fresh Basil – chopped basil

1

Cup

Goat Cheese Crumbles

1

Cup

Fresh Parmesan and Romano – grated

1

Cup

Bread Crumbs – fresh
Instructions
Heat oven to 400 degrees.

In a medium-size bowl, place the pesto and balsamic in a mixing bowl and stir until combined. Slowly drizzle the olive oil into the pesto until blended. Add the salt and pepper to taste. Depending on the size of your vegetables, you may need to make more of the pesto mixture. Set aside.

Place a grill pan over medium-high heat, or turn on the grill to medium-high heat. Brush the eggplant, zucchini, mushrooms and peppers and onions with the pesto mixture. Grill the vegetables on both sides until soft.

Coat the bottom and sides of an 8-inch springform pan with oil a spray oil. Layer about a third of the eggplant slices on the bottom, then layer in half the zucchini, mushrooms, peppers, onions, tomato, and basil, sprinkling each layer with the goat cheese crumbles, salt, and pepper to taste. Press the down on each layer. Repeat each layer until all the vegetables are used, finishing with the eggplant.

Sprinkle the top with the Parmesan, Romano and bread crumbs. Drizzle with two tablespoons oil.

Place the torte and a baking sheet. It will help if there are any leaks. Bake the torte until hot throughout and browned on top, about 30 minutes. Let it sit for 5 minutes in the pan. Remove the outer ring of the pan. Let cool about 10 minutes before cutting into wedges.