As we are staying at home with quarantine in effect, it is tricky to make meals that are high in nutrition, but my recipe for Greek Tri-Color Quinoa Salad with Feta Cheese fits the bill. It is easy to have the ingredients on hand. You can also make substitutions for what you have on hand.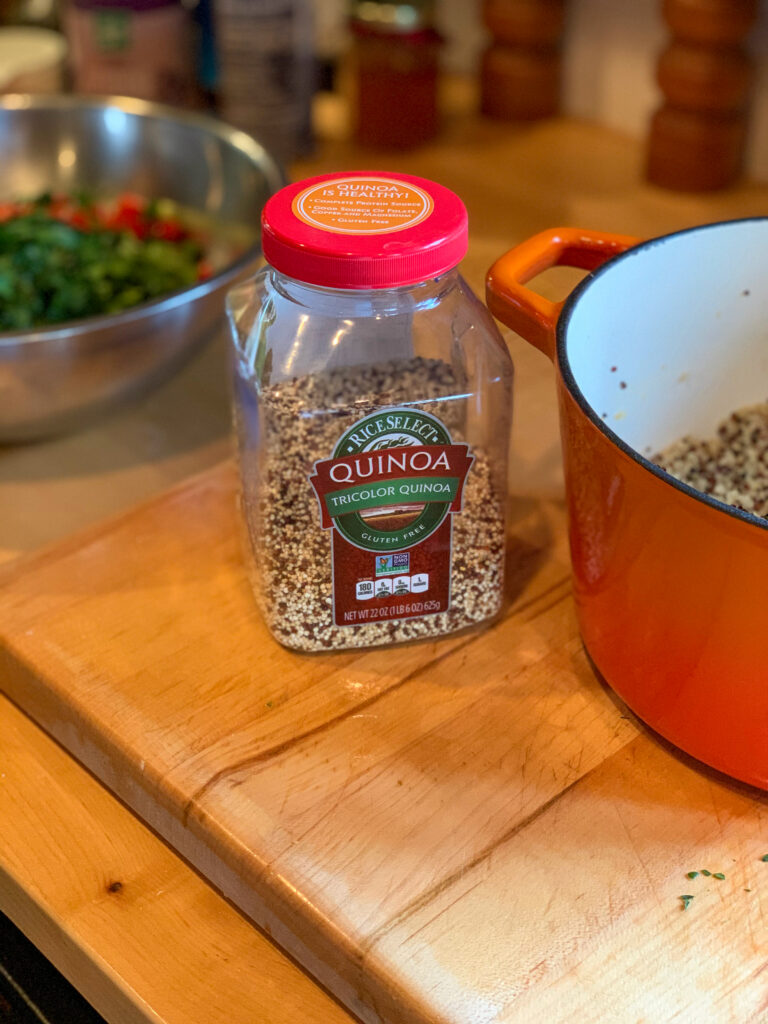 This healthy vegetarian quinoa salad makes for a simple lunch or dinner, thanks to staples like roasted red bell peppers, kalamata olives, cucumbers, and feta cheese for your refrigerator and pantry.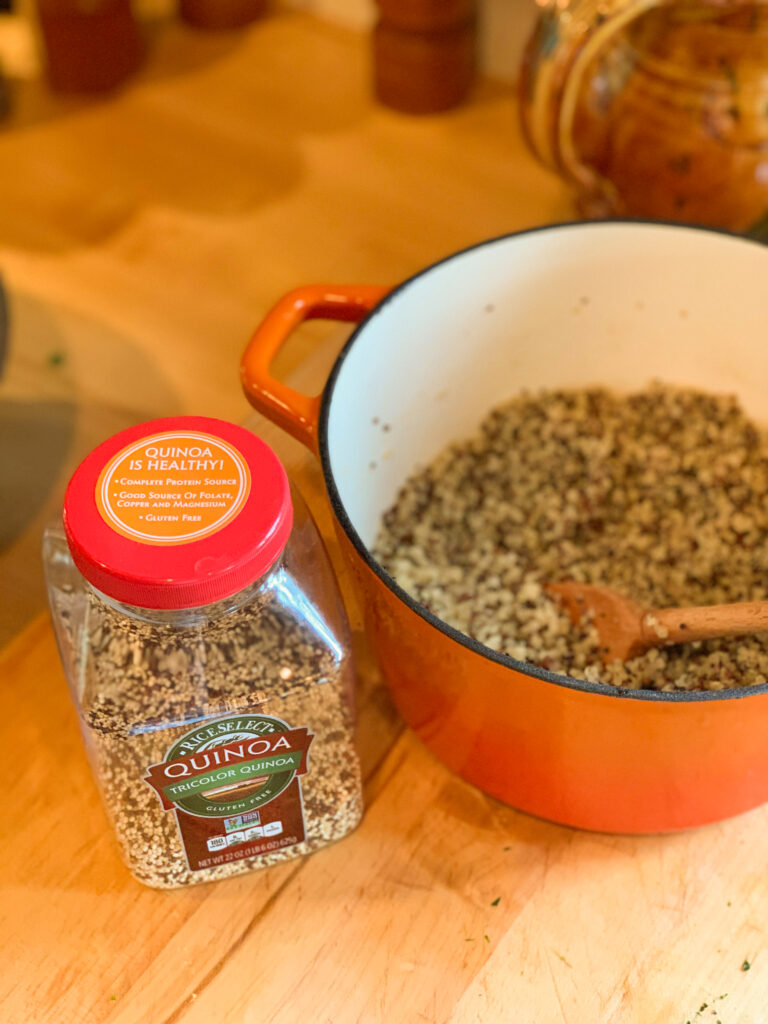 Let's begin making this delicious and nutritious recipe—cook the Quinoa according to the package instructions, allowing it to cool completely. When preparing the Quinoa, I like to add about a 1/2 tsp. of kosher salt to the water to flavor the grains as it cooks. Always bring the water to a boil before adding the salt, so it does not pit and ruin the bottom of the pan.
In the meantime, make the yummy lemon dijon vinaigrette that is full of lemon, garlic, and dijon. Go ahead and pour half over the Quinoa and mix thoroughly. Add the chopped vegetables and toss together gently with the remaining dressing.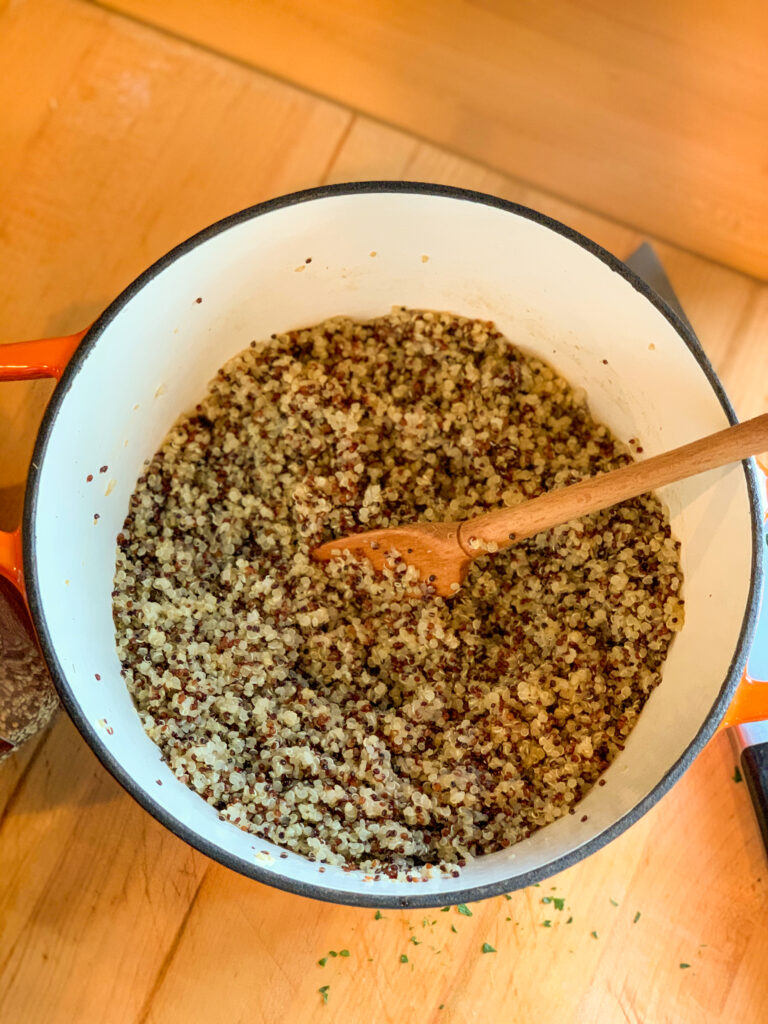 Now it's time to finish the salad by adding crumbled feta cheese (goat cheese can be substituted) and Italian Parsley. Basil or mint can be used in place of the Italian Parsley or together for added flavor as well.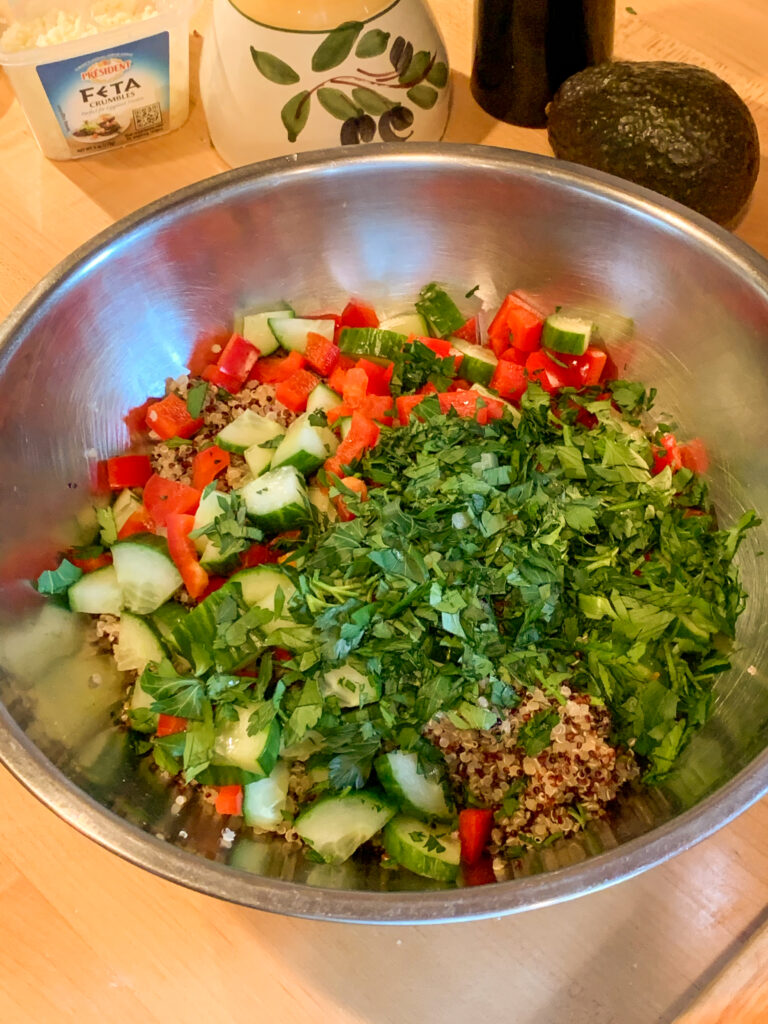 Quinoa
You may have heard of Quinoa, but it is considered a "superfood." If you add any beans to Quinoa, it becomes a "Powerful Superfood." They are a terrific pairing for your taste buds. Quinoa has a taste and texture of nutty brown rice, and the beans add that rich and creaminess to any recipes.
Quinoa is a gluten-free complete protein. It's high nutritive value, as one cup of Quinoa is packed with essential nutrients. Just one cup contains protein, fiber, iron, magnesium, folate, and omega-3 acids. Quinoa has anti-inflammatory benefits, along with lowering cholesterol, diabetes, and heart disease.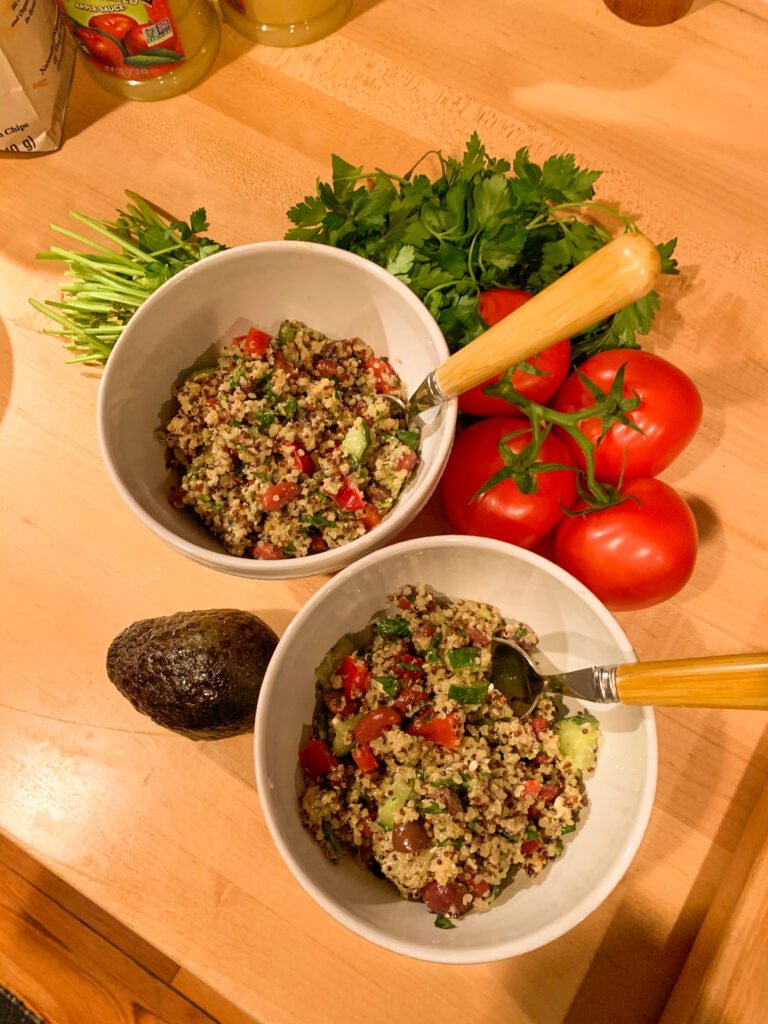 Quinoa and beans are a match made in heaven and together, there is no better way to prevent many diseases and get fiber and protein added to your diet.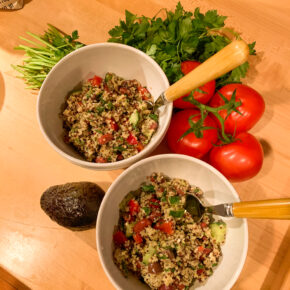 Greek Tri-Color Quinoa Salad with Feta Cheese
Ingredients
Lemon Dijon Vinaigrette:
1/2

cup

Extra-Virgin Olive Oil

1/2

cup

Lemon Juice – freshly squeezed

2

tbsp.

Champagne Vinegar or White Wine Vinegar

2

Small Garlic Cloves – peeled and minced

1

tsp.

Dijon Mustard

1

tsp.

Kosher Salt

1/2

tsp.

Fresh Ground Black Pepper
For the Salad:
6

cups

Tri-Color Quinoa

from 2 cups uncooked quinoa

1 1/2

Cups

Cherry Tomatoes – Multi-color if available

1/2

cup

Red Bell Pepper – cut into small dice

2

cups

English Cucumber – cut into small dice

3/4

cup

Pitted Kalamata Olives – roughly chopped

1/2

cup

Green Onions – white and green parts

2

cans

15 oz. Chickpeas – drained

1

cup

Feta Cheese – crumbled

1/2

cup

Italian Parsley – roughly chopped

1/2

cup

Fresh Basil – roughly chopped

1/4

cup

Fresh Mint – roughly chopped

Red Pepper Flakes – to taste

optional
Instructions
Start the vinaigrette. In a small bowl, combine the olive oil, lemon juice, champagne vinegar, garlic, Dijon mustard, salt, and pepper. With a whisk, stir the mixture until emulsified.

Place the cooked quinoa in a large mixing blow and drizzle with half of the dressing. Add the tomatoes, peppers, cucumbers, Kalamata olives, chickpeas, and green onions. Toss together with the remaining dressing.

To finish the salad, at the feta cheese and the herbs. Toss all together, taste for seasonings, and add more if desired. If desired, add a sprinkle of red pepper flakes and gently mix.
Links to products that I used in this recipe:
Dijon Mustard or this Dijon Mustard
Other Posts The you May Enjoy…
Gluten-Free Cherry & Pistachio Snack Cake
Easy Chicken Sausage and Veggie Saute Dinner
View my latest cooking videos, and please consider subscribing to my YouTube channel!
This post may include amazon links. As an Amazon Associate I earn from qualifying purchases.