This Easy Strawberry Smoothie and ready in 5 minutes! Perfect for a satisfying start to your morning or an afternoon sweet tooth craving!
You know spring is here when strawberries at the farmer's market are abundant. I ordered strawberries from Johnson Farms in Hendersonville, NC.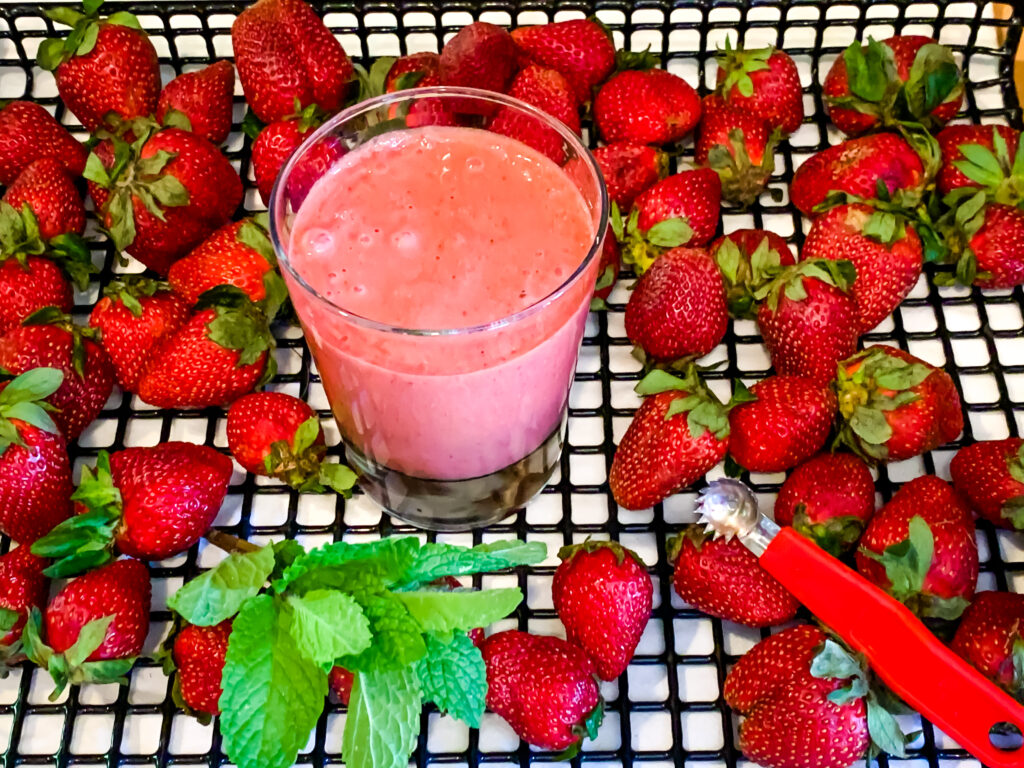 Here is their link for on-line ordering with curbside pick-up.I thought I was receiving one gallon, but I got two when I picked up in the back of their facility for safe social distancing. What was I going to do with all these beautiful, plump ready to eat berries?
First, upon the request of my husband, Paul, was a strawberry smoothie. I have fresh mint, so I added that pop of flavor to the smoothie (another sign of spring).
Awwww, the lovely strawberry. We know spring is here when the strawberries are at the curbside markets. They are an excellent source of Vitamin C, manganese, folate, and potassium. Strawberries are rich in antioxidants and have benefits for heart health and blood sugar control. My next post for the website will be how to freeze strawberries.
I am a lover of Pistachio Milk by Tres Three. It just feels like you are drinking a bowl of pistachios. The milk has a rich and buttery flavor that is like no other plant-based milk you would have tried. It's excellent over cereal, pistachio hot chocolate, chai tea, coffee, or smoothies!
Next, I used Young Living's NingXia Red.  It is a daily drink I take in the morning to get so many many antioxidants; it will fill your quota for the day. I wanted to add this to the strawberry smoothie for color and so many more health benefits. The main ingredient is the wolfberry (or more commonly called Goji berries). The red drink will help with energy levels, normal cellular function, and whole-body and eye health.
Step By Step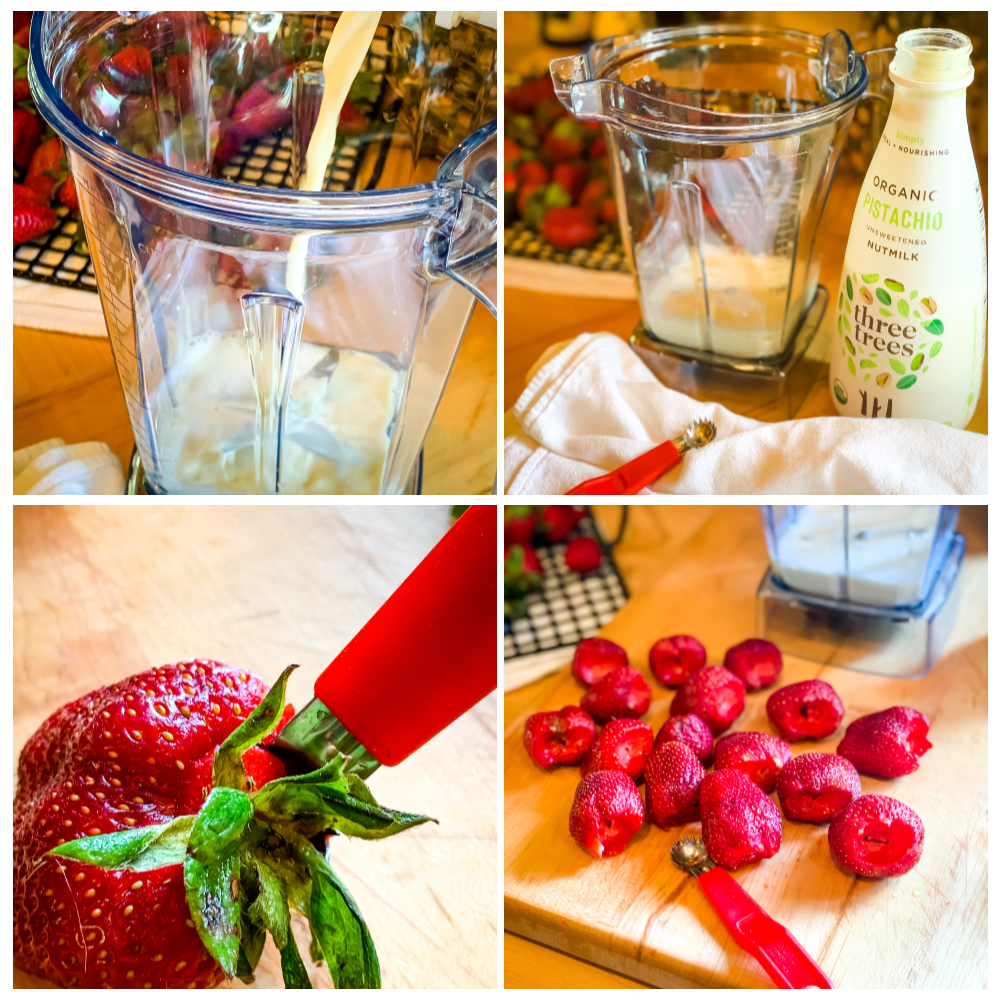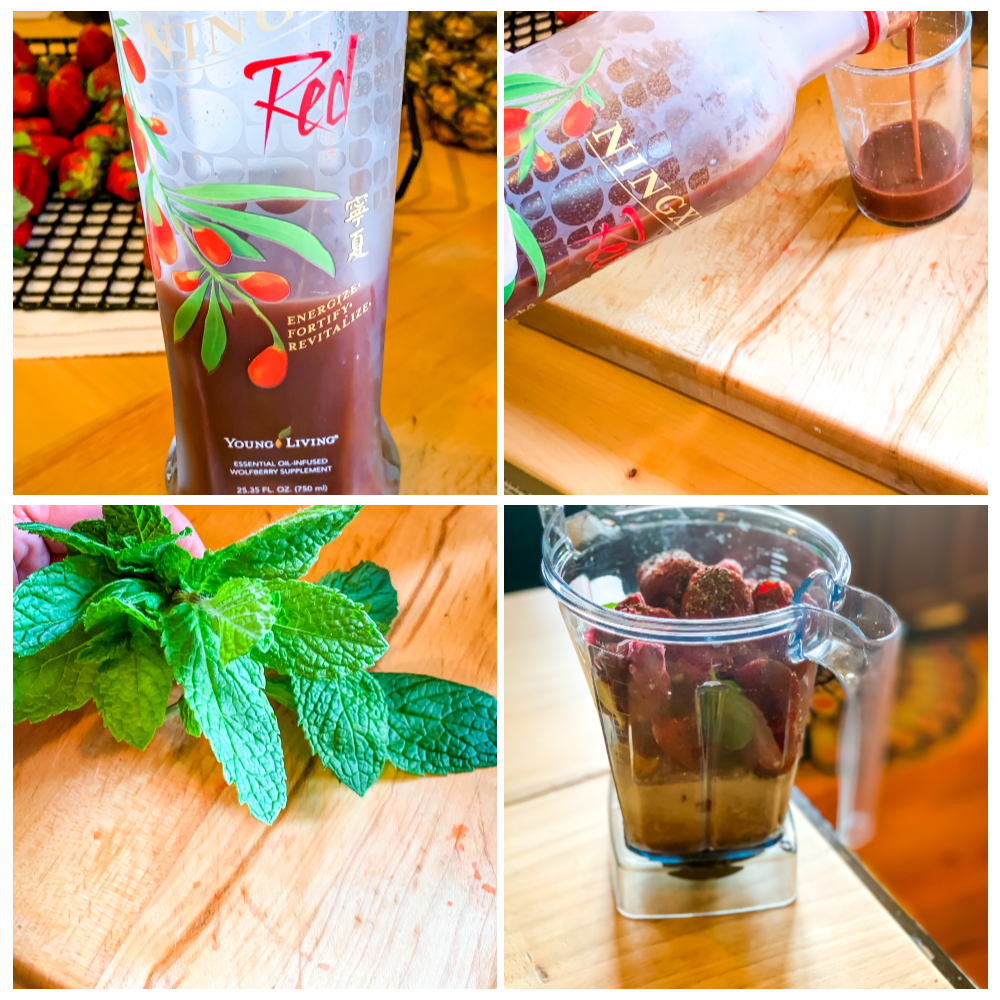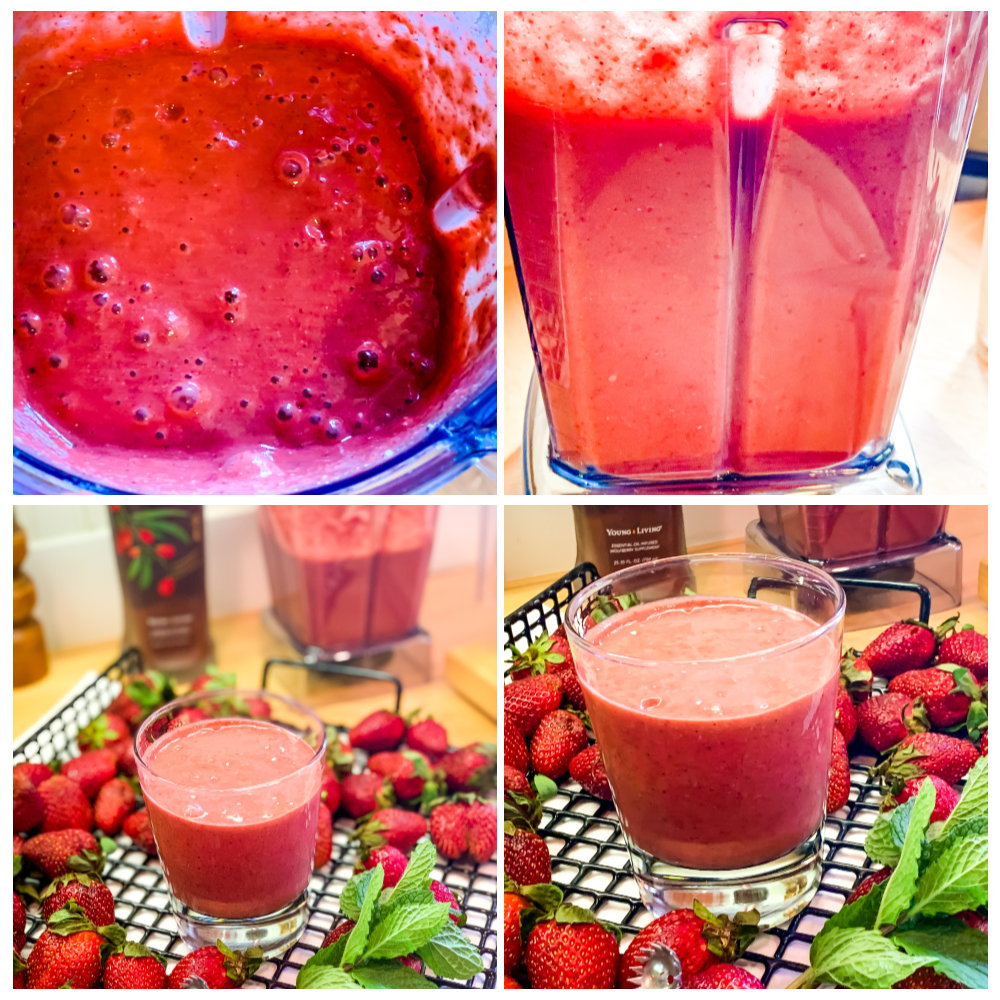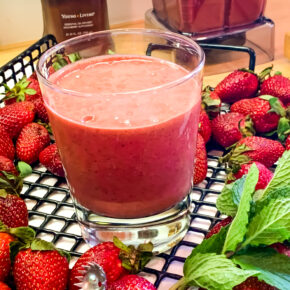 Easy Strawberry Smoothie
Ingredients
3/4

cup

Pistachio Milk or Almond Milk

24

Fresh Strawberries – cleaned and hulled

Young Living Ningxia Red Drink – optional*

1/2

cup

Cashews

1

tbsp.

Chia Seeds

1

tsp.

Almond Extract

1

tbsp.

Honey

2

tbsp.

Mint
Instructions
In a food blender, place the milk in first. Next layer with the strawberries, leaving a few for the top. If using the Young Living antioxidants drink, or another variety, pour that over the berries. Add the cashews, chia seeds, almond extract, honey, and mint. Process until all ingredients are a smooth and creamy mixture.

Pour into a glass and enjoy it. Place the remaining in the refrigerator.
Other Posts The you May Enjoy…
Chewy Pecan Squares with Wildflower Honey
Gluten-Free Cherry & Pistachio Snack Cake
Easy Chicken Sausage and Veggie Saute Dinner
View my latest cooking videos, and please consider subscribing to my YouTube channel!
This post may include amazon links. As an Amazon Associate I earn from qualifying purchases.