I love this easy spring frittata recipe! It is definitely a family friendly dish and the perfect way to start the day.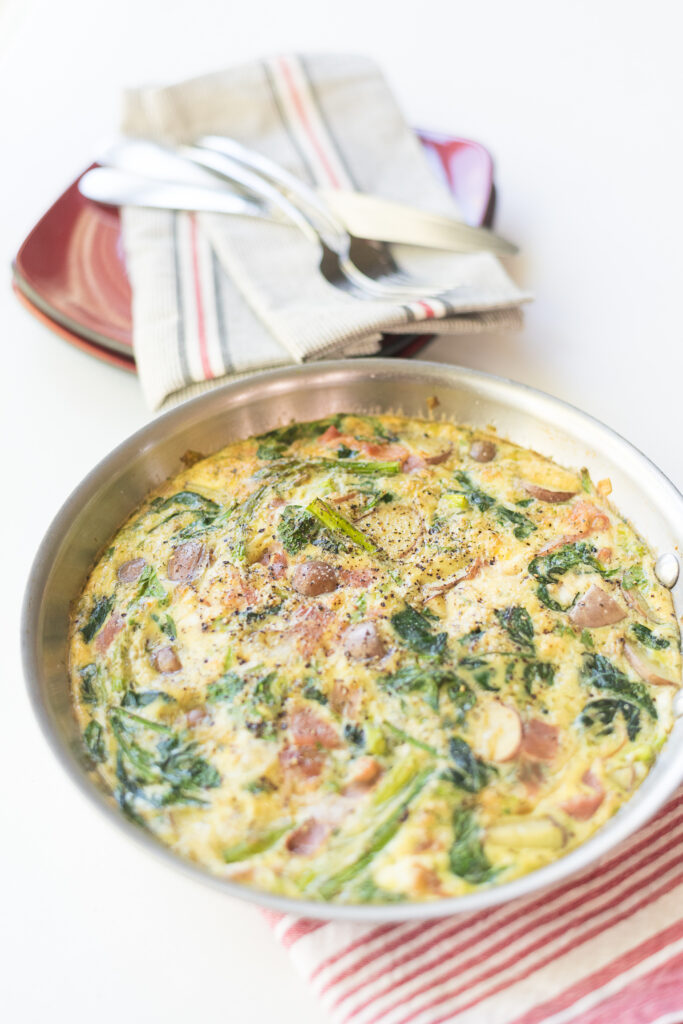 A frittata is an Italian or Spanish version of an omelet, and it's a useful technique to learn because it does not take the same finesse as the latter – there is no flipping or folding. Eggs and the other desired ingredients are heated briefly on the stovetop, then finished in the oven and browned under the broiler. It's wonderful to make when you want to use up various vegetables, etc. in your refrigerator. It's springtime and we all want to be outside more, so any easy throw together dinner that can come from the refrigerator is the perfect answer.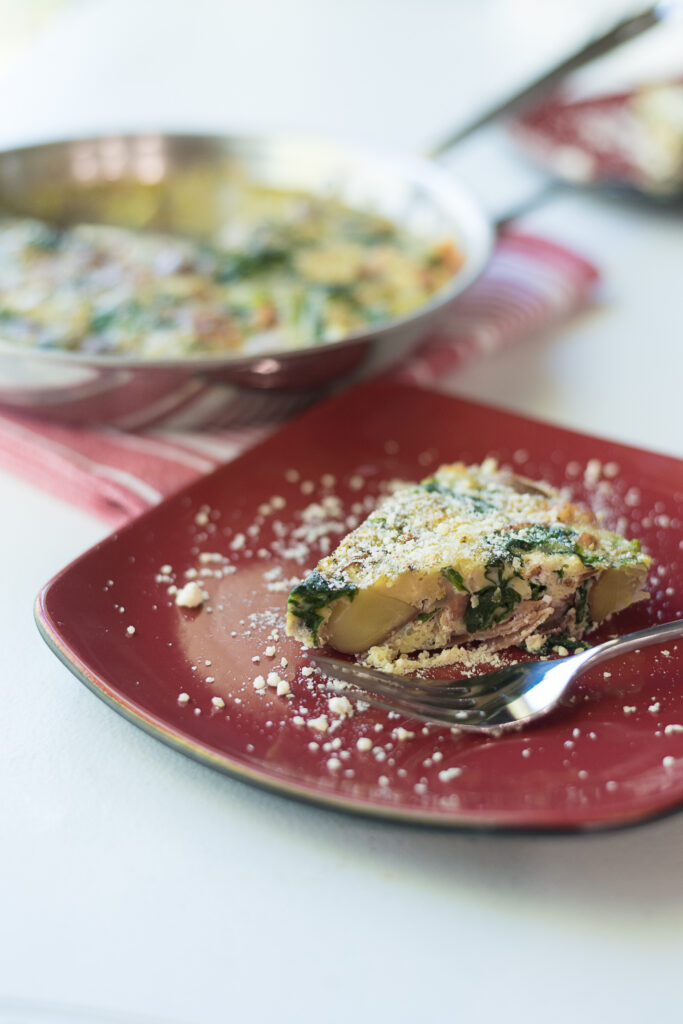 I absolutely love frittatas because they are so easy and versatile! You really can use anything you have on hand. This is started on the stovetop and the slide it right into the oven and broil until golden. The nice thing about this frittatas is that you can cook this the night before then slice, warm and enjoy for the next day for an easy morning meal.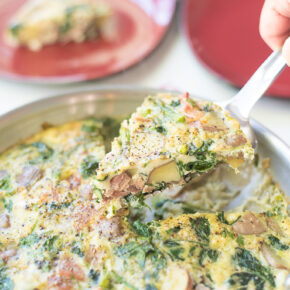 Easy Frittata with Asparagus, Potato, Prosciutto, and Italian Parsley
Ingredients
4 to 5

Asparagus – trimmed and cut into 2-inch tips and pieces

1/3

cup

Extra-Virgin Olive Oil

1

cup

Green Onions – sliced using white and green parts

1/2

lb.

Red Potatoes – peeled and sliced

1

packed cup Baby Spinach leaves – coarsely chopped – organic

if possible

8

Large Eggs – organic

if possible

2

tbsp.

Fresh Italian parsley – chopped

1

tsp.

Fresh dill – chopped

Kosher Salt

3

oz.

Prosciutto – thinly sliced and cut into strips

1/4

cup

Parmesan – fresh grated
Instructions
Blanch the asparagus tips and pieces in blowing salted water for 2 minutes, so they turn bright green, then drain and rinse under cold water; set aside.

In an 8-inch non-stick frying pan, heat 1 tbsp. of the olive oil. Add the spinach and cook for 2 minutes, or until wilted. Remove from heat; set aside

In an 8-inch skillet, heat the olive oil over medium heat. Add the green onion, reduce the heat to medium-low, and cook 4 to 5 minutes, without browning, stirring, until soft. Add the potatoes and cook, without browning, for about 15 minutes, stirring, until the tender. Transfer to a bowl.

In another bowl, beat the eggs, parsley, dill, and salt. Stir in the asparagus, potatoes, and spinach and prosciutto—Preheat the broiler.

Heat the remaining olive oil in the same skillet over medium heat. Add the egg and vegetable batter. Cook the frittata for about 7 to 8 minutes until the edges and bottom of the egg batter start to set – the middle will still be fairly runny.

Place the frittata under the broiler and broil until the egg batter is finished setting about 4 minutes. Remove from the oven and transfer to a plate. Sprinkle with the parmesan cheese. Let cool slightly and slice into wedges. The frittata can be served warm or at room temperature.
Step By Steps for this easy spring frittata recipe!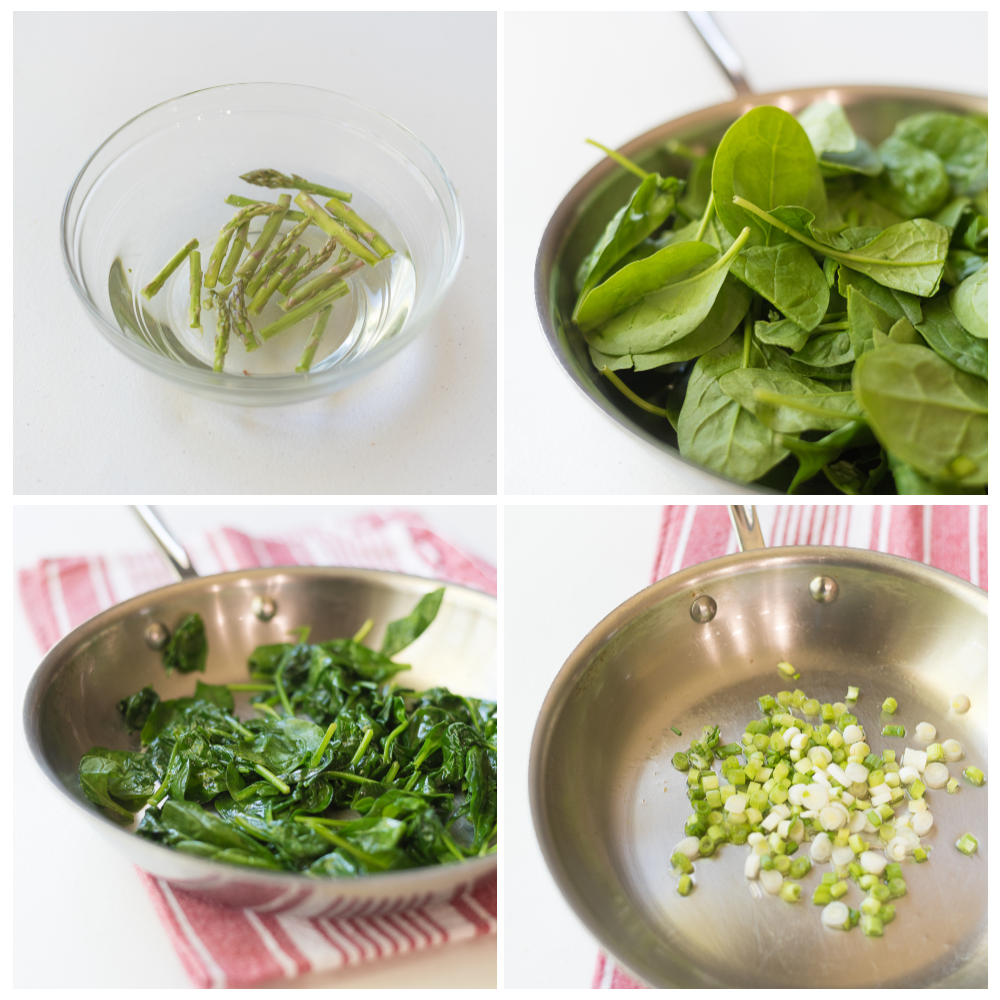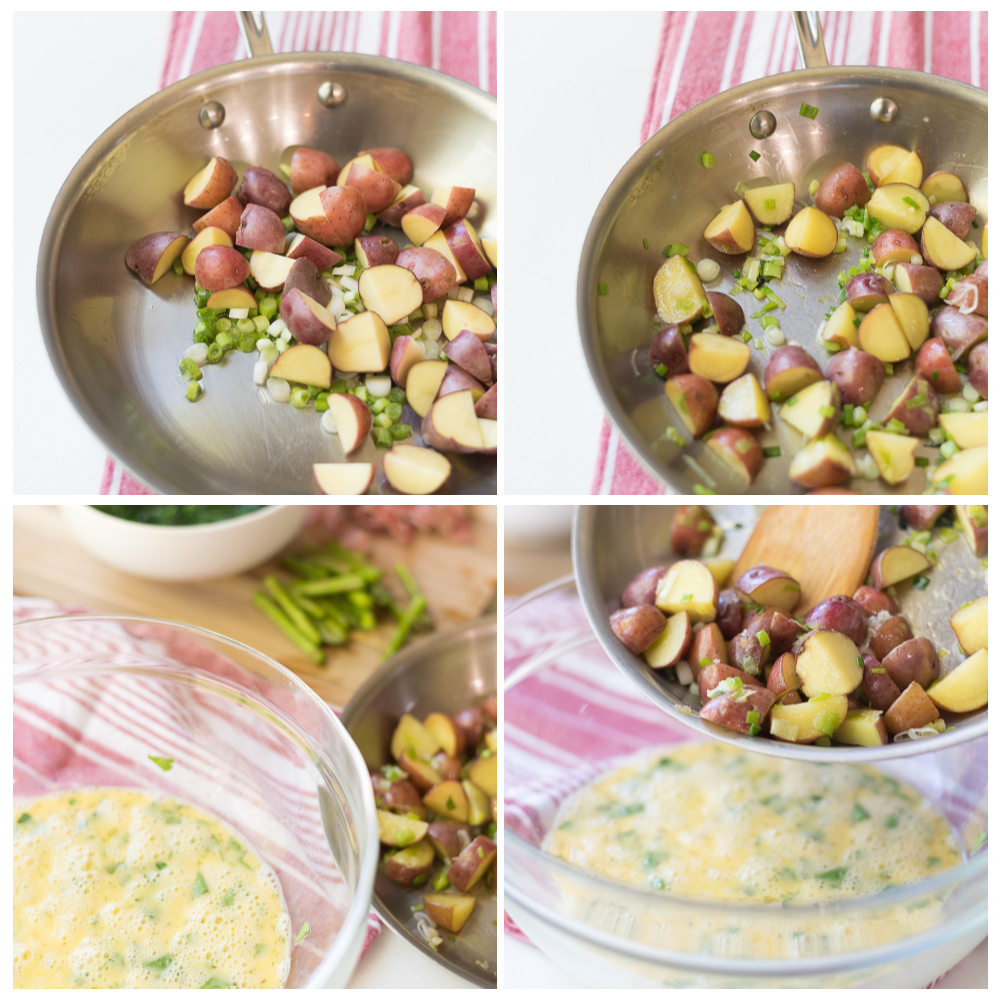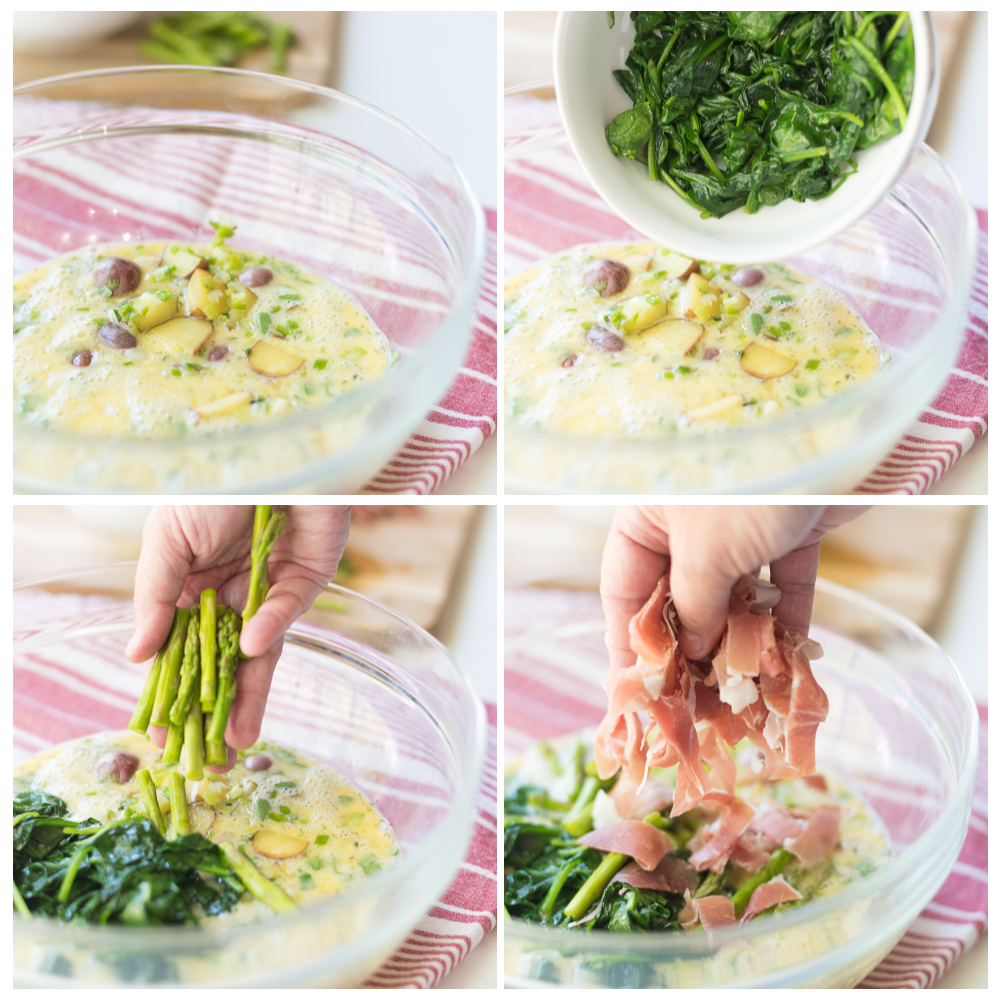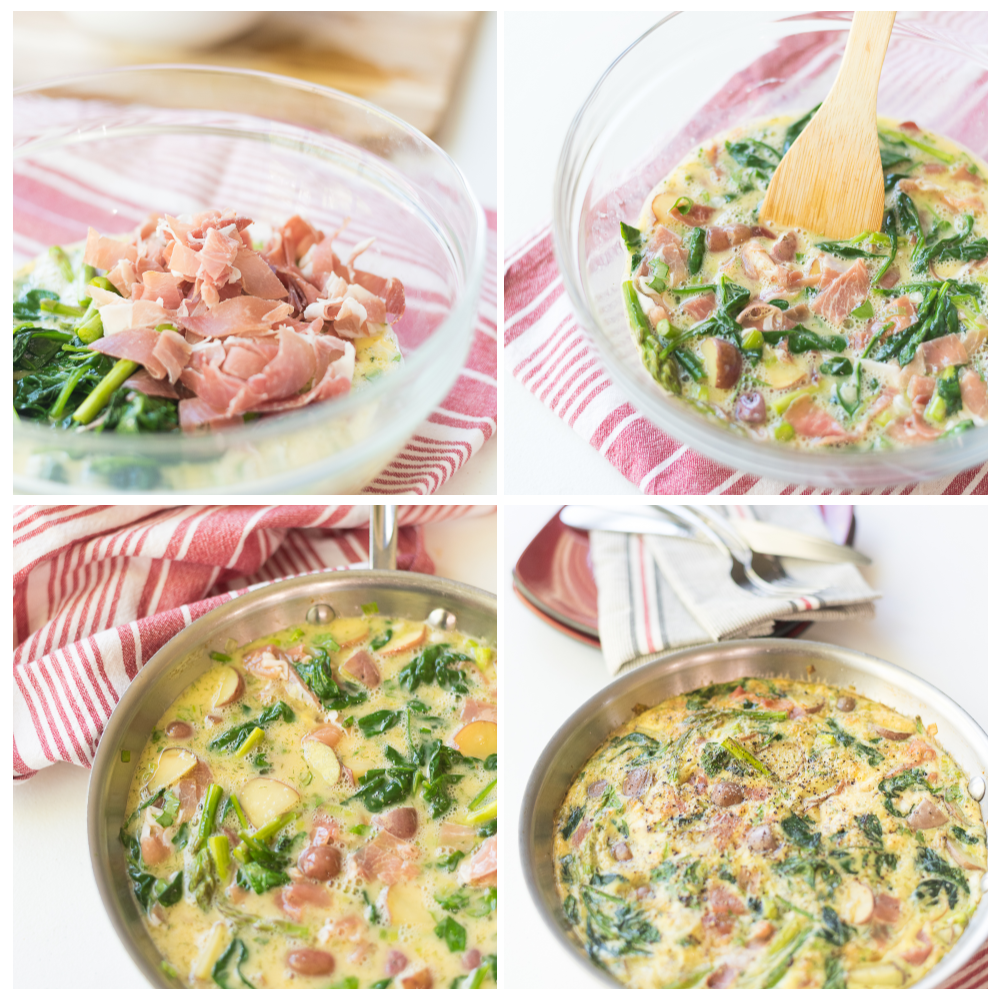 Other Posts The you May Enjoy…
Chewy Pecan Squares with Wildflower Honey
Gluten-Free Cherry & Pistachio Snack Cake
Easy Chicken Sausage and Veggie Saute Dinner
View my latest cooking videos, and please consider subscribing to my YouTube channel!
This post may include amazon links. As an Amazon Associate I earn from qualifying purchases.