As we find ourselves home, and needing easy pantry type recipes to cook, I found this delicious Thai Kitchen Red Curry Noodles with Chicken, Cilantro, and Cashew recipe. It was on the back of the box, but I was intrigued by all the yummy ingredients.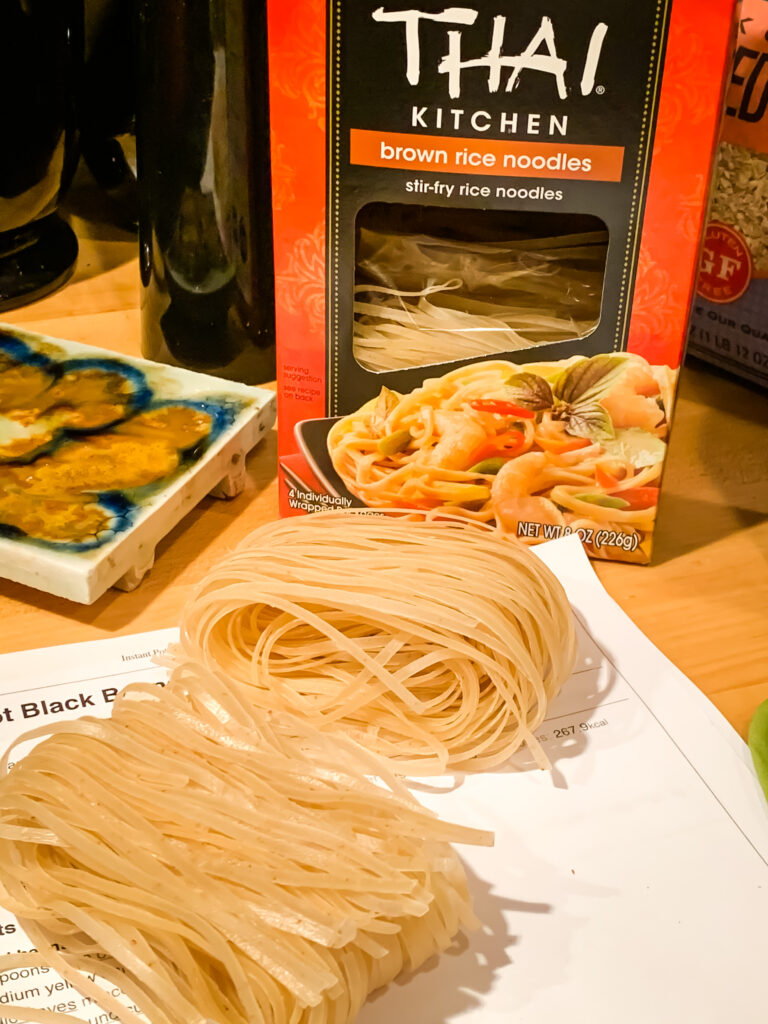 I had never tried using brown rice noddles, not sure why? Although I had them in my pantry, I just never decided to use them. The best part, they are gluten-free, and this dish is dairy-free also.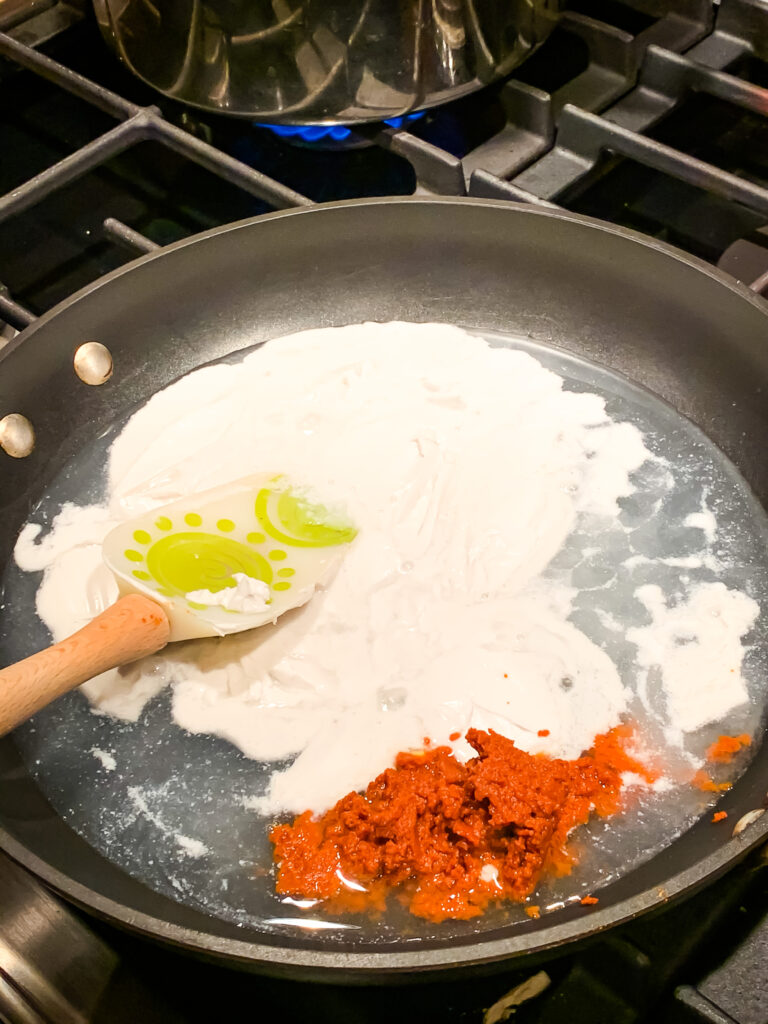 I will touch on a few health benefits. Brown Rice is a highly nutritious grain that contains an impressive amount of vitamins, minerals, and beneficial compounds. Consuming whole grains like brown rice can help prevent or improve several health conditions, including diabetes and heart disease.
It's time to dive in and make this dish. In a box, there are four individual packs of the noodles.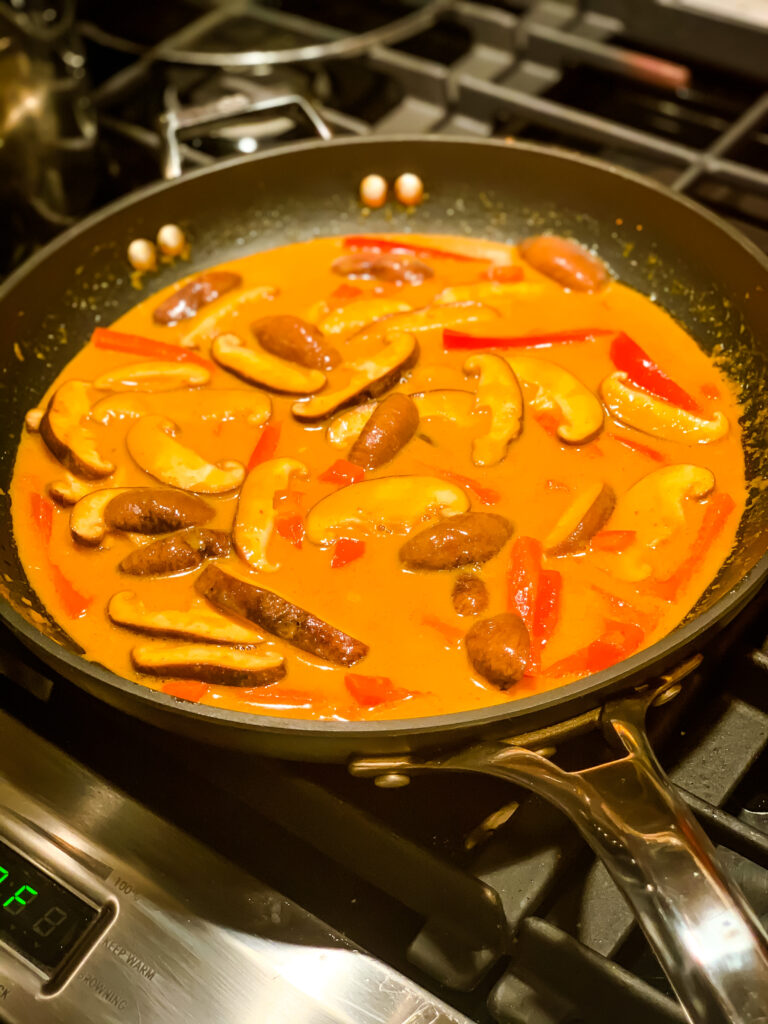 Also I like that so we could use what we needed for two people. The recipe says it will serve four, but we ate the entire stir-fry.
How this recipe came together…
Red Curry Noodles with Chicken, Cilantro, and Cashews is the type of recipe to be completely ready when you start the cooking process. The recipe happens quickly, and having your mise en place* ready is helps make the cooking go smoother.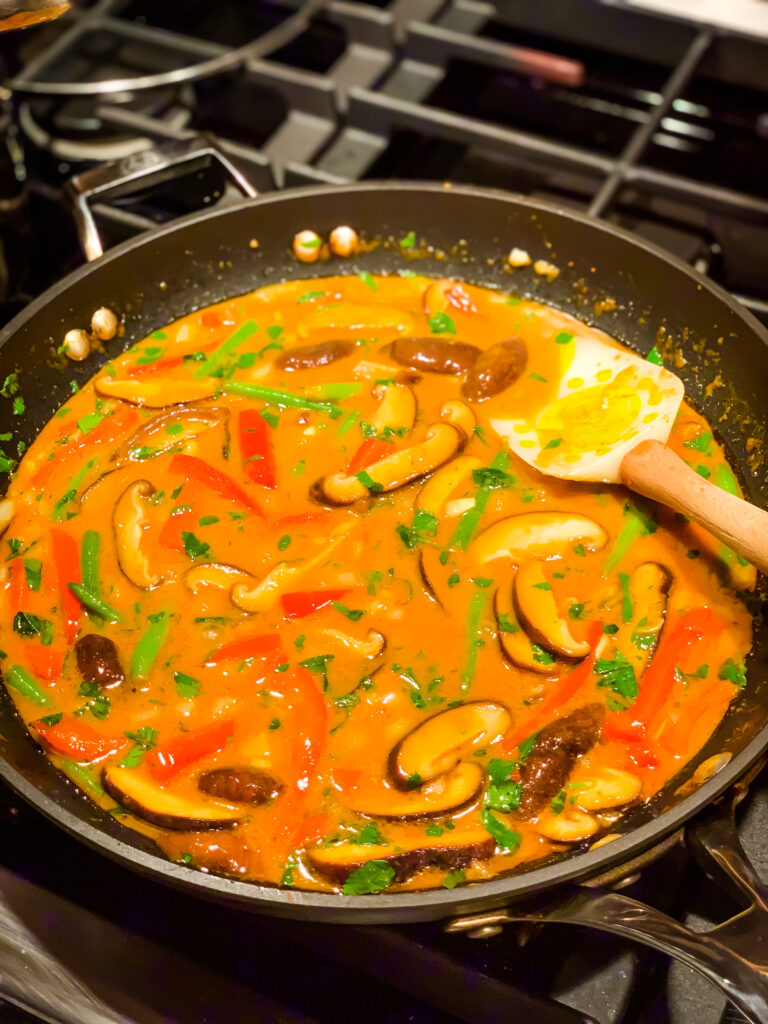 You begin by boiling a big pot of water to a boil, add the noodles, and take off the heat and let stand for 5 minutes. How easy is that! Meanwhile, in a large skillet, simmer the coconut milk (of course, unsweetened) with the red curry paste and the brown sugar. You will see a beautiful orange, and silky mixture start to develop.
It's time to stir in the vegetables at this point. My favorites for this recipe are mushrooms, green beans, and red bell pepper. The is the beauty of this dish that you can use what you have on hand. For example, you could use broccoli, snow peas, cauliflower, peas, canned tomatoes or whatever you have on hand.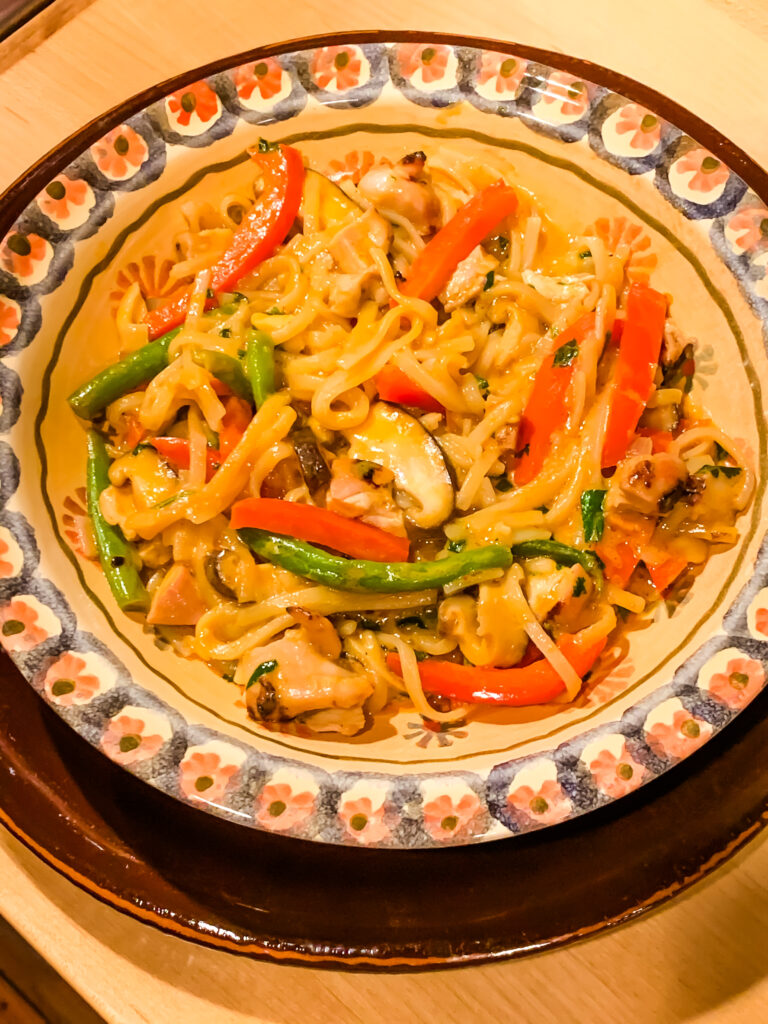 Next, add your protein. I used chicken thighs in the recipe, but you can add shrimp in its place if preferred. The recipe also lends itself to be vegetarian.
You finish the dish with a premium fish sauce, the cilantro (or basil), and garnish with the cashews.
*Mise en place (MEEZ ahn plahs) is a French term for having all your ingredients measured, cut, peeled, sliced, grated, etc. before you start cooking.
Below are items that I used for this recipe..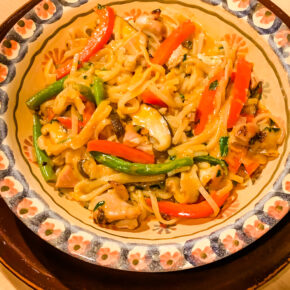 Red Curry Noodles with Chicken Thighs, Cilantro, and Cashews
Ingredients
2

Packages

of 4 ounces Thai Kitchen Brown Rice Noodles

1

Can

of 13.66 ounces Thai Kitchen® Coconut Milk

2

Tbsp.

Thai Kitchen® Red Curry Paste

1

Tbsp.

Dark Brown Sugar

1

tsp.

Kosher Salt or to taste

1/2

lb.

Organic Kitchen Thighs – boneless and skinless – cut into strips

1/2

Medium Onion – sliced into bize pieces

1

Red Bell Pepper – sliced into bite-size pieces

1/4

lb.

Shitake Mushrooms – cleaned and thinly sliced

1/4

lb.

Frozen Green Beans – cut into bite-size pieces

1/4

Cup

Fresh Cilantro

2

Tbsp.

Red Boat Fish Sauce – 40 degrees N

Cashews – chopped for garnish

Fresh Ground Pepper for garnish
Instructions
Bring a large pot of water to boil. Remove from heat. Add two packages of brown rice noodles. Make sure to break apart with a large fork. Let stand for five minutes (off the heat) or until noodles are tender but firm.

In a large skillet, bring the coconut milk to a low simmer on medium heat. Adjust the temperature depending on your stove. Stir in the red curry paste and brown sugar until thoroughly blended. Bring to a boil, but reduce the heat to low and simmer for five minutes.

Stir in chicken and vegetables into the coconut mixture. Cook the chicken and vegetables for four to five minutes or until the chicken is cooked, and the vegetables are tender-crisp. Stir in the fish sauce and let simmer for one minute. Add the noodles and mix with vegetables until heated through and hot. Serve immediately.

Garnish with Cilantro and Cashews.
Other Posts The you May Enjoy…
Instant Pot Corned Beef and Cabbage
Fudgy Avocado Brownies with Fudgy Chocolate Frosting
Easy Chicken Sausage and Veggie Saute Dinner
View my latest cooking videos, and please consider subscribing to my YouTube channel!
This post may include amazon links. As an Amazon Associate I earn from qualifying purchases.