Classic Homemade Maryland Crab Cakes are better than any restaurant version as they are loaded with lump crab meat. Enjoy these easy crab cakes as an appetizer or as a main course.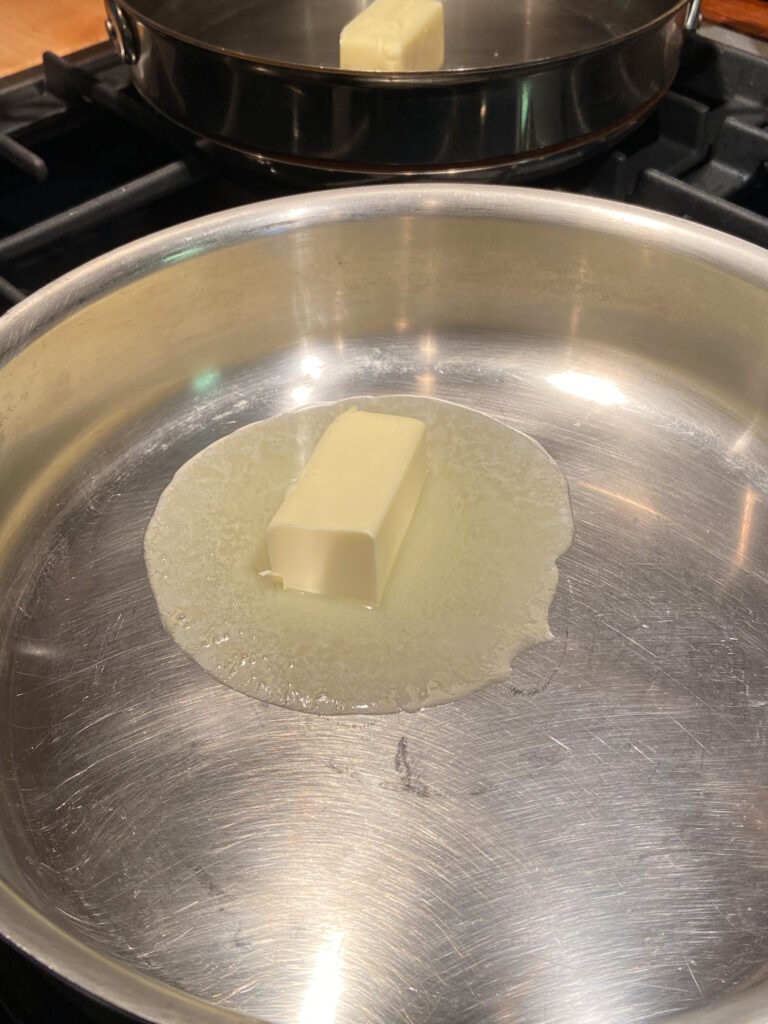 Maryland staple, these crab cakes made with fresh jumbo lump crab meat made with Old-Bay seasoning and Tabasco gives these cakes a real East Coast appeal. Wonderful during the fall and winter, small gatherings for dinner, lunch, or make mini-cakes as an easy appetizer. They are authentic and easy to prepare.
We all can't be in Maryland, but fresh Jumbo Lump Crab Cakes can be made anywhere. Fresh crabmeat is readily available in finer grocery stores across the country. It's time to gather your ingredients and start making a family favorite sure to please.
How to create these crab cakes at home
Let's get started. Heat your favorite large skillet over medium heat with half the butter and olive oil, and add the green onion, celery, red pepper, Italian parsley, Old Bay, Worcestershire, Tabasco, and salt and pepper, cooking until the vegetables are soft. Set aside.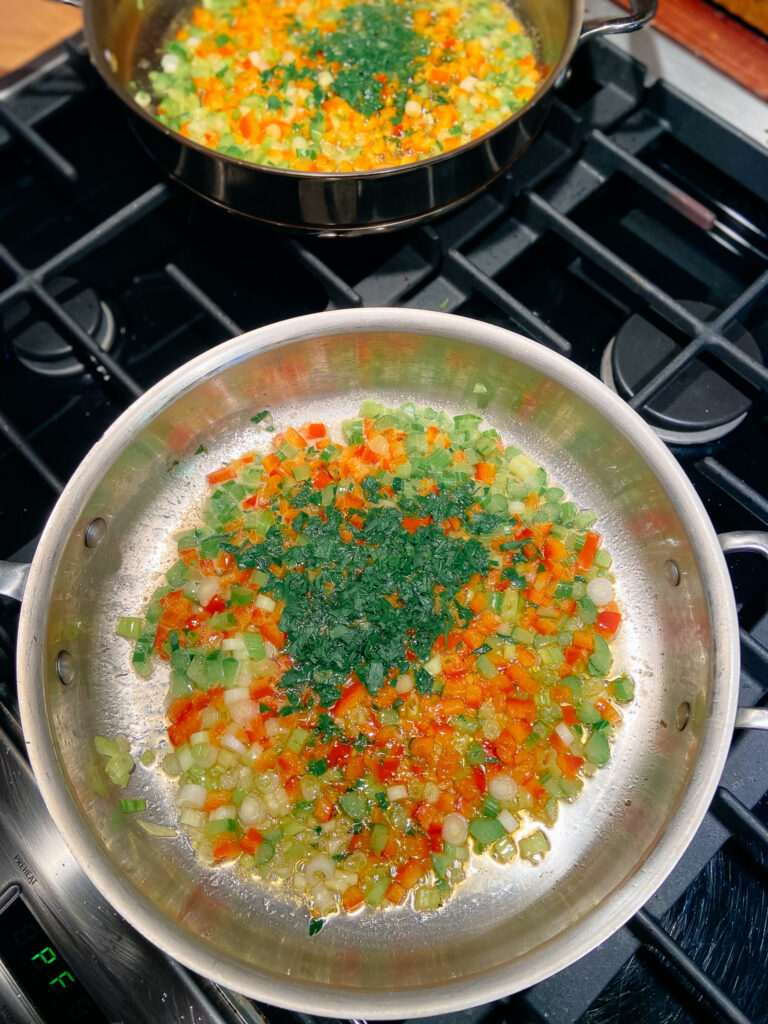 In a large mixing bowl, add your crab meat, panko breadcrumbs, mayo, dijon, and eggs. Stir to combine. Now it's time to add everything together to have your crab mixture. Let chill for about 30 minutes. They will cook better that way.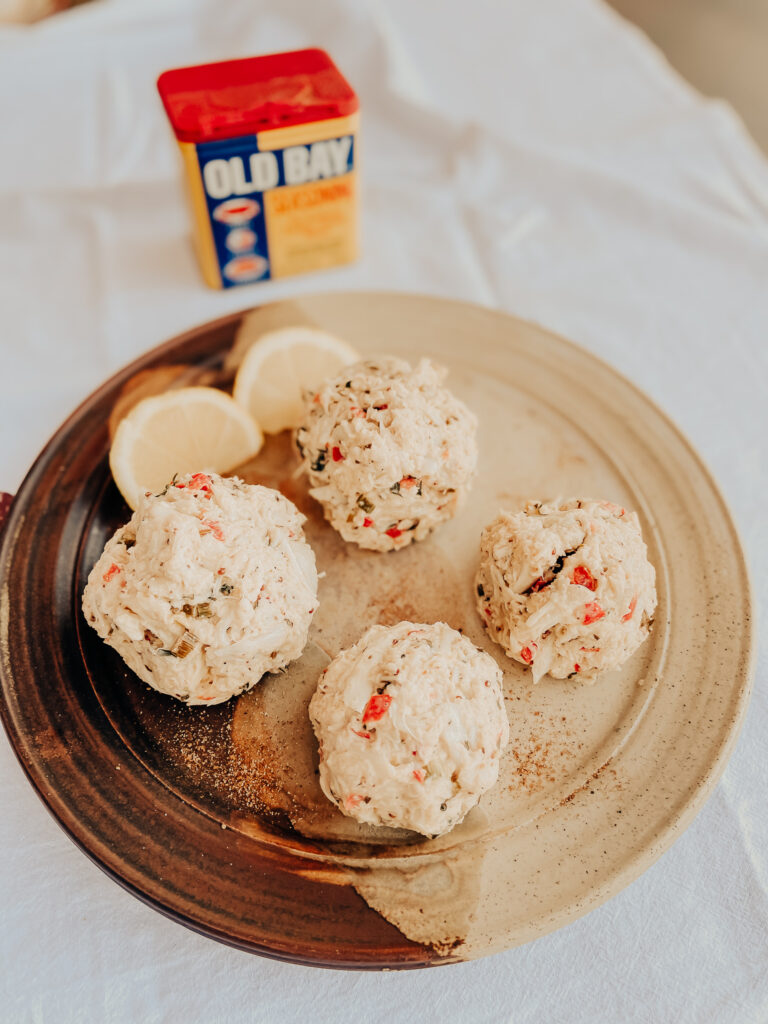 During the chilling time, make the Roasted Red Pepper Remoulade Sauce. It's so easy. Just add all the ingredients to a food processor and give it a whirl, and you have a tasty, somewhat spicy sauce for the cakes. Set aside until ready to serve.
There are many schools of thought as to saute or bake, but I am a saute person. I love the sizzling pan and the crispy brown that a good hot skillet will give the crab cakes.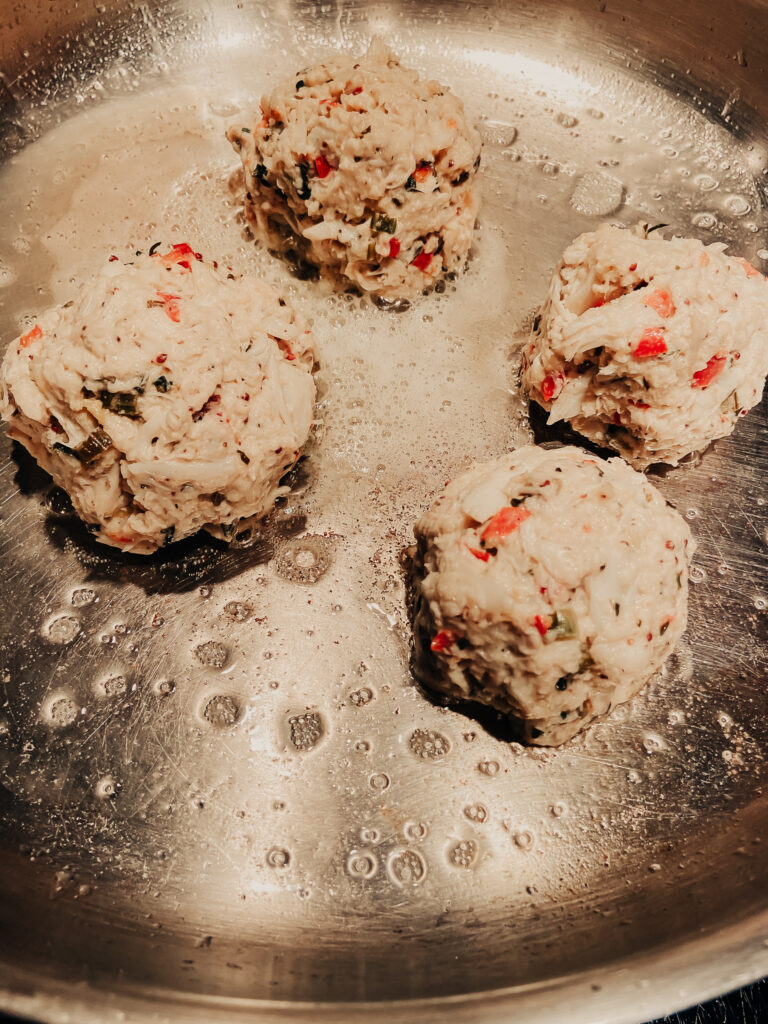 Heat the last of the butter and olive oil in your large skillet. Remember, don't crowd the cakes, because that will cause them not to brown as evenly. Form the crab mixture into medium-sized balls depending on what you are making the crab cakes for.
Next, add your crab cakes balls to the pan. Let cook until there are beginning to sizzle. With a spatula, press the cakes down until flat but your desired thickness.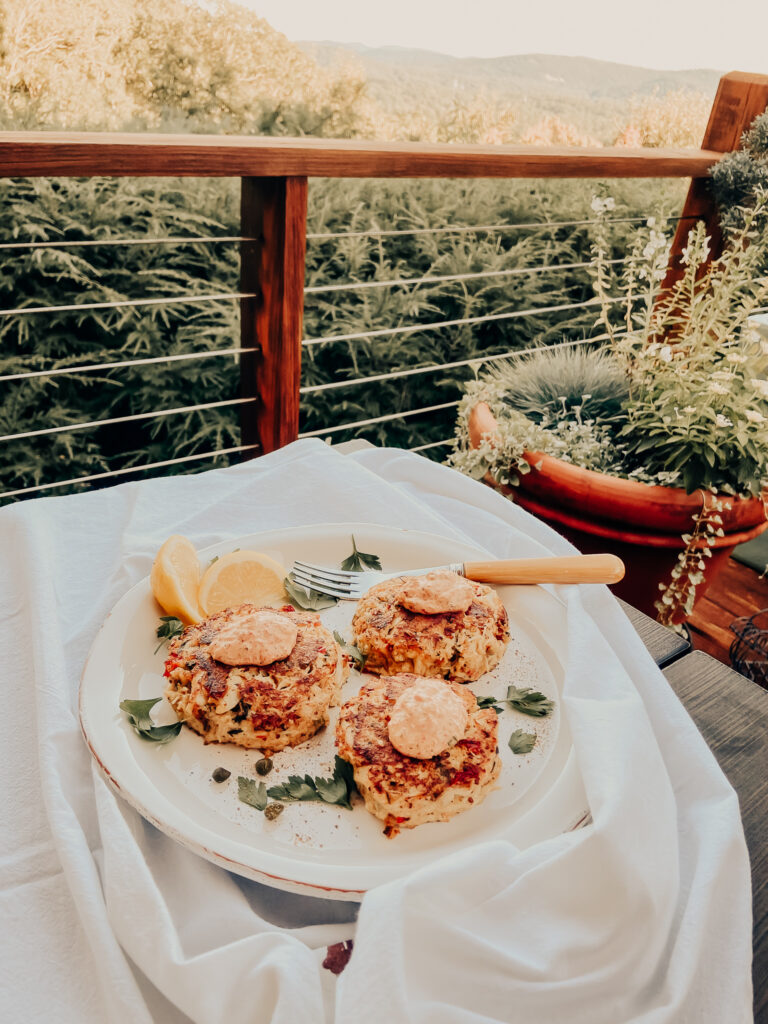 Be patient, and let the cakes brown and slowly flip them and brown on the other side. The crab cakes are ready to serve with the Roasted Red Pepper Remoulade Sauce. Enjoy!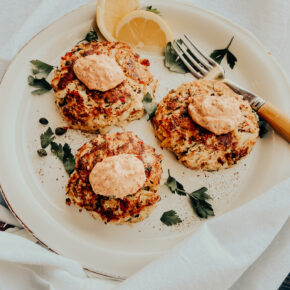 Classic Maryland Homemade Crab Cakes with Roasted Red Pepper Remoulade Sauce
Ingredients
4

Tbsp

Butter

Unsalted

2

Tbsp

Olive Oil

1/4

Cup

Green Onion

Finely Chopped; White and Green Parts

1/2

Cup

Celery

Finely Chopped

1/2

Cup

Red Pepper

Finely Chopped

1/4

Cup

Italian Parsley

Minced

1 1/2

tsp

Old Bay Seasoning

1

tsp

Worcestershire Sauce

1/2

tsp

Tabaco Sauce

3

Tbsp

Lemon Juice

1/2

tsp

Kosher Salt

1/2

tsp

Fresh Ground Black Pepper

1

Pound

Jumbo Lump Crabmeat

Drained and picked over to remove shells

1

Cup

Breadcrumbs

Fine; Gluten-Free if desired

1/2

Cup

Mayonnaise

2

tsp

Dijon Mustard

2

Eggs
Ingredients: Roasted Red Pepper Remoulade Sauce
1

whole

Roasted Red Pepper

seeded

1/2

Cup

Cornichons

lightly chopped

2

tsp.

Capers

drained

1

Tbsp

Dijon Mustard

I like a grainy mustard

1

tsp.

Fresh Tarragon

dried if not avaiable – chopped

1

tsp.

Chervil

dired

1/4

Cup

Italian Parsely

minced

2

Cups

Mayonnaise

Kosher Salt and Fresh Ground Pepper – to taste
Instructions
In a large pan, place the 2 tablespoons butter and 2 tablespoons olive oil over medium heat. Add onion, celery, red pepper, parsley, Old Bay seasoning, Worcestershire sauce, Tabasco, salt and pepper and cook until the vegetables are soft, for about 5-7 minutes. Cool to room temperature.

In large bowl, break the crabmeat into small pieces and toss with the bread crumbs, mayonnaise, mustard and eggs. Add to the cooked mixture and mix well. Cover and chill in the refrigerator for 30 minutes. Shape into medium to large crab cakes.

Heat the remaining 2 tablespoons butter and 1 tablespoon olive oil in a large saute pan over medium heat. Add the crab cakes and saute for 4 to 4 minutes on each side or until nicely browned. Drain on paper towels and serve immediately.
Instructions for Sauce
Making the sauce: In a food processor, place all the ingredients and process until well combined. Adjust the salt and pepper. Chill for an hour or more before serving.
Other Posts The you May Enjoy…
Grilled Watermelon Mint Salad with a Lime, Honey Dressing
View my latest cooking videos, and please consider subscribing to my YouTube channel!
This post may contain affiliate links and I may earn from qualifying purchases.