Do you need a pick me up during these cold winter months? Then, I have just the answer with the Citrus Salad with Avocado, Pomegranates, and Blush Vinaigrette. Citrus fruits are in season now until March and April.
The Citrus Salad with Avocado, Pomegranates, and Blush Vinaigrette recipe (this is a sneak peek!!) is included in my ebook, Winter Seasonal Recipes from Laurie Bakke's Kitchen, now available Here.
When we think of citrus we think of lemons, limes, oranges, and grapefruits, but now there are many varieties of the famous four. I decided to use Blood Oranges, Ruby Red Grapefruits, and Clementines in the Citrus Salad.
The best way to pick out the perfect citrus is to pick up the fruit. If it feels heavy, that is a good sign the heavier, the juicier! Also, look for blemish-free rinds. Look for fruit with a finely textured peel versus a thick, heavily dimpled peel. Finally, avoid citrus with soft, tender spots or any brown spots.
However, there are so many more options to use:
I found a few great sources on the Epicurious site that describe citrus and all the varieties. Take a look: How To Navigate Citrus Season and The Ultimate Winter Citrus Primer Article
Back to making the salad:
It's time to hit the grocery store to buy your citrus and all the ingredients. If you can not find the citrus in the recipe, there are many options you will be able to buy. See above.
Next, the delicious avocado and tasty pomegranate:
The avocado should be firm but not mushy, and darker green in color. Now, time to buy the pomegranate. The fruit should have a square-like shape that is firm with no brown spots. But you can also buy the fruit already seeded called Arils. You can find them in the produce section or frozen.
Time to make the dressing:
First, take a good quality red wine vinegar*, and place in a small bowl. Whisk* in the olive oil*. Add the next ingredients whisking until thoroughly mixed. I like to use Roasted Almond Oil*. Set aside.

Getting the citrus ready:
Here is a great description from The Kitchn (one of my favorite websites) of how to correctly pith any citrus. It takes a few times to get the hang of it, but then you will know and be pithing citrus fruit all the time.
I found that a great grapefruit knife* is the perfect tool to supreme or segment your citrus.
Time to put the salad together:
Place the arugula or spinach, if you prefer, on a medium-sized platter. Add the citrus and avocado on top of the arugula. Then, add a small amount of the vinaigrette and toss gently to combine. Finally, add more vinaigrette if needed, but be careful not to overdress.
Sprinkle with the pomegranates and the mint over the salad. Add a sprinkle of freshly ground pepper to the salad.
A few options to try would be adding toasted Silvered Almond Nuts and Goat Cheese crumbles. Enjoy!!
I think every kitchen should have a top-quality Red-Wine Vinegar. My favorite is available at your local finer grocery stores, but I found it also on The French Farm site, another favorite site to find the best quality products.
I do have a favorite whisk from Kuhn Rikon. You will find many great gadgets on their site.

I have been researching for the best everyday olive oil to find in grocery stores. Meanwhile, I have found over and over that the California Olive Ranch is the winner every time. Available at grocery stores.
My family and I love using nut oils in my vinaigrettes. So, I found the Roasted Almond Oil can be delicious in the salad, but a good Extra-Virgin Olive oil will also work.

Also, I have found that a grapefruit knife is a perfect solution for segmenting or supreming the citrus. Here is one I purchased recently for myself.
This fresh and festive salad is easy to make and great served during the the winter months when citrus is in season. It is so refreshing; the salad will be gone quickly!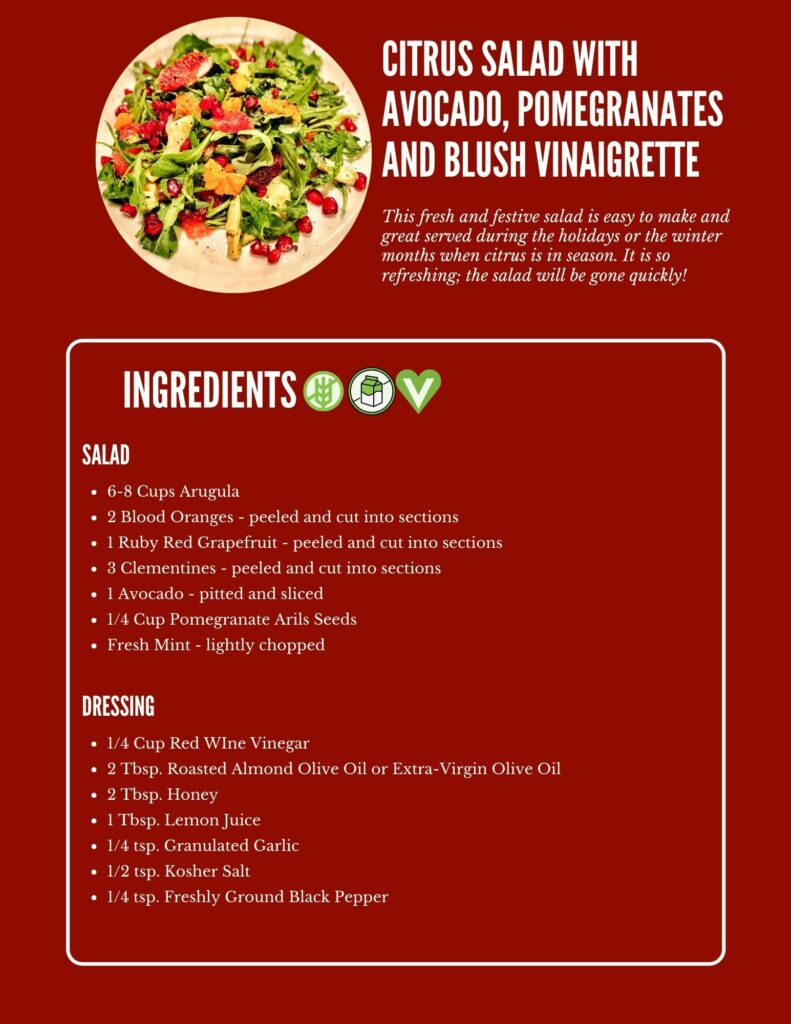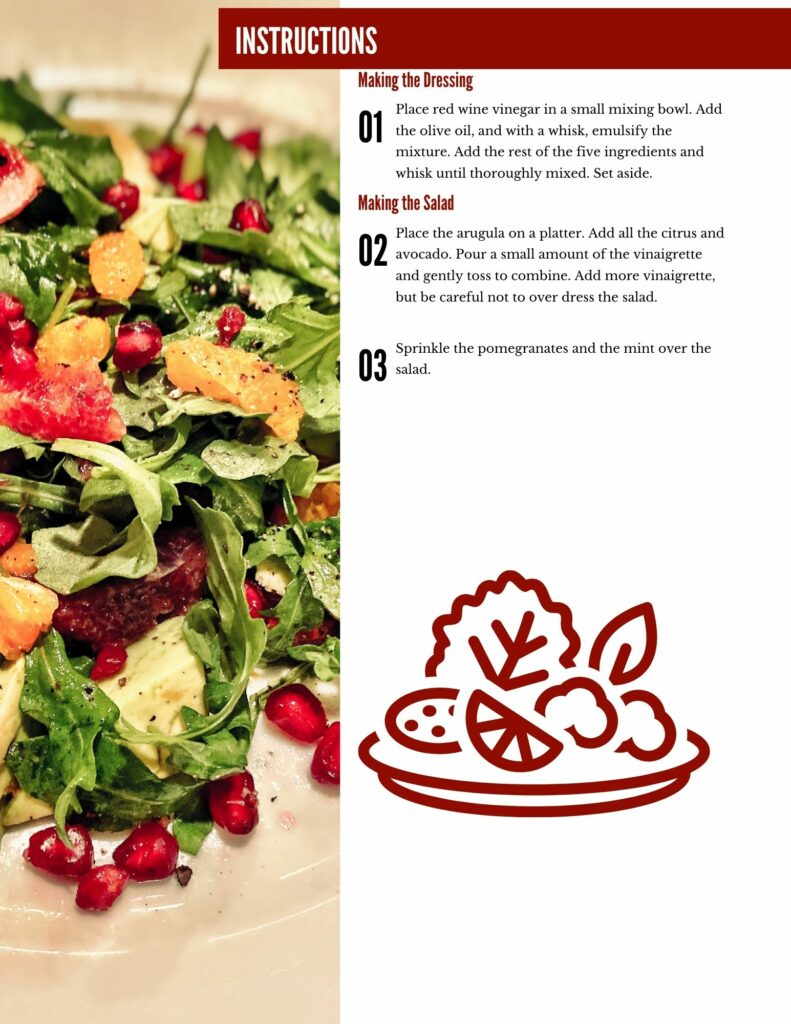 Other Posts The you May Enjoy…
Meyer Lemon Bars with Lavender Crust
Grilled Watermelon Mint Salad with a Lime, Honey Dressing
View my latest cooking videos, and please consider subscribing to my YouTube channel!
This post may contain affiliate links and I may earn from qualifying purchases.