If you're a fan of pecan pie, you will these pecan squares. You can make these chewy delights all year long. A buttery shortbread crust and rich caramel-pecan topping make them truly over-the-top! Therefore, the perfect hostess gift, to treat your co-workers, or for a real treat for Mother's Day!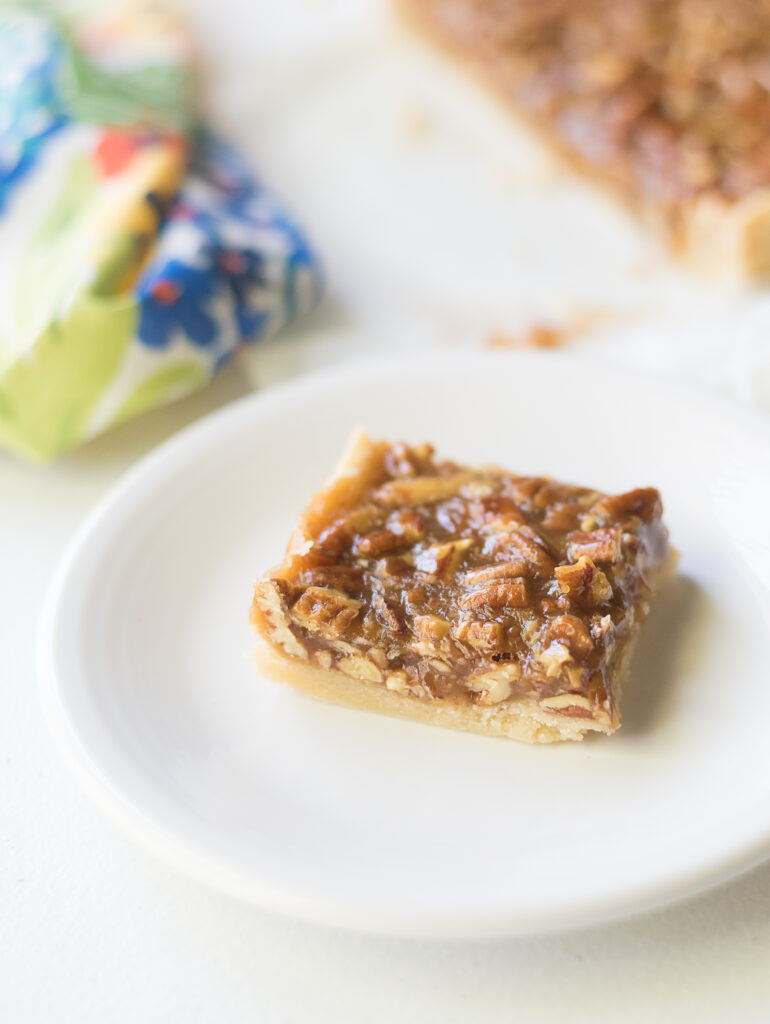 Summer is on the air, and it is time to think of outdoor and picnic foods, hence, amazing pecan squares! The pecan nut with their crunchy texture and buttery flavor make for an interesting ingredient to include in several dishes, and they look pretty on the plate too. Native to America, these delicious nuts are steeped in history in our country. Now whether you say pee-can or peh-kahn, they are probably one of the most sought-after nuts can be tossed in just about anything.
The pecan squares are a cross between a cookie and candy. They are so easy to cut up in fours and mix with other pick-up desserts.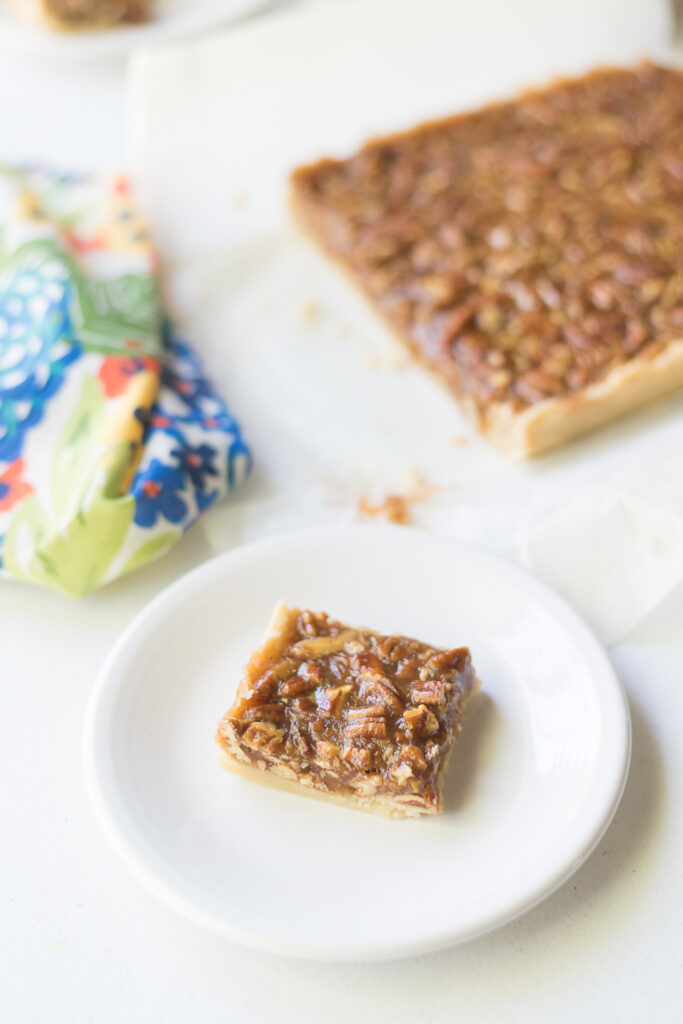 When making the squares, it all begins with the crust. It's not hard to make and, oh, so delicious. It's dense and buttery all in one. The crust is soft and buttery, and the topping has the right amount of give while still being chewy and creamy and chock full of pecans.
When making the pecan mixture, I love to use wildflower honey, because of its floral flavor, your pecan squares will taste like you have the goodness of wildflowers in every bite. When you begin cooking, you will need to watch constantly when cooking on the higher heat. It's a close second to making caramel, so there is always a point that it can be burned. Also, be careful when adding heavy cream and pecans. It's hot! Once the mixture is done, pour quickly onto the prepared crust.
Remember to let the squares cool and then wrap in plastic wrap and place in the refrigerator until cold.
Wildflower Honey Benefits
If you are planning to buy wildflower honey for its health benefits, raw wildflower honey is what you need. Raw honey is strained, not filtered, and is processed without using any heat at all and is in the same condition as when it left the hive. Heating honey (pasteurization) destroys the all of the pollen, enzymes, vitamins, antioxidants, and minerals. Almost all of the commercial honey sold is in the supermarkets is heated. Raw honey will come from lesser-known, artisanal producers.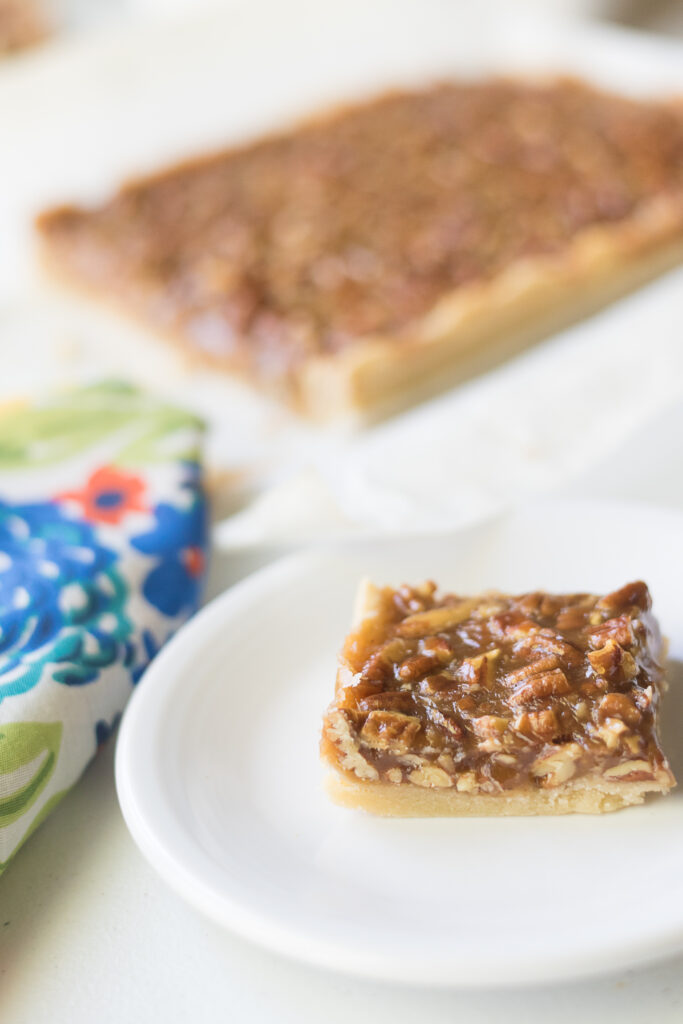 Wildflower is one of the most popular varieties of raw honey. You can order wildflower honey online so you can start using this excellent ingredient for your salad dressings, meat marinades, and other home-produced sauces. Get your raw honey from your trusted local sources.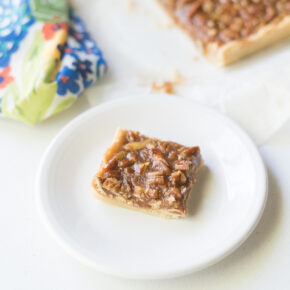 Chewy Pecan Squares with Wildflower Honey
Ingredients
Crust:
1 1/4

lbs.

Unsalted Butter – at room temperature

3/4

C.

Sugar – granulated

3

Eggs – large

3/4

tsp.

Pure Vanilla Extract

4 1/2

C.

All-Purpose Flour*

1/2

tsp.

Baking Powder

1/4

tsp.

Salt*
Topping:
1

lb.

Unsalted Butter

1

C.

Honey – wildflower

3

C.

Light Brown Sugar – packed

1/4

C.

Heavy Cream

2

lbs.

Pecans – coarsely chopped
Instructions
Preheat oven to 350 degrees.

For the crust, beat the butter and the sugar in the bowl of an electric mixer fitted with a paddle attachment, until light, approximately 3 minutes. Add the eggs and the vanilla and mix well. Sift together the flour, baking powder and salt. Mix the dry ingredients into the batter with the mixer on low speed until just combined. Remove from the mixer.

Press the dough evenly into an ungreased 18x12x1-inch baking sheet, making an edge around the outside. The dough will be very sticky; sprinkle the dough and your hands lightly with flour until the dough is spread out very evenly throughout the entire sheet. Bake for 15 minutes, until the crust is set but not browned. Allow to cool completely.

For the topping, combine the butter, honey and brown sugar in a large, heavy-bottomed sauce pan. Cook over low heat until the butter is melted, using a wooden spoon to stir. Raise the heat and boil for 3 minutes. It is very important to cook for the 3 minutes, as this is bringing the boiled mixture to a candy-like consistency. Remove from the heat. Carefully stir in the heavy cream and pecans. The mixture will rise up, so be prepared to stir until the mixture starts coming together.

Pour the mixture over the crust, trying not to get the filling between the crust and the pan. Bake for 25 to 30 minutes, until the filling is set. It does cook after the squares come out of the oven. Keep this in mind when taking out of the oven. Remove from the oven and allow to cool. Wrap in plastic wrap and refrigerate into cold. Cut into bars and serve.
*I prefer unbleached flour over bleached because I have found that bleached flour sometimes carries off-flavors and can taste flat.
*Use non-iodized salt since iodized salt can have a chemical taste.
*This makes a large recipe and can be divided by two for a smaller amount, if desired.
Step By Step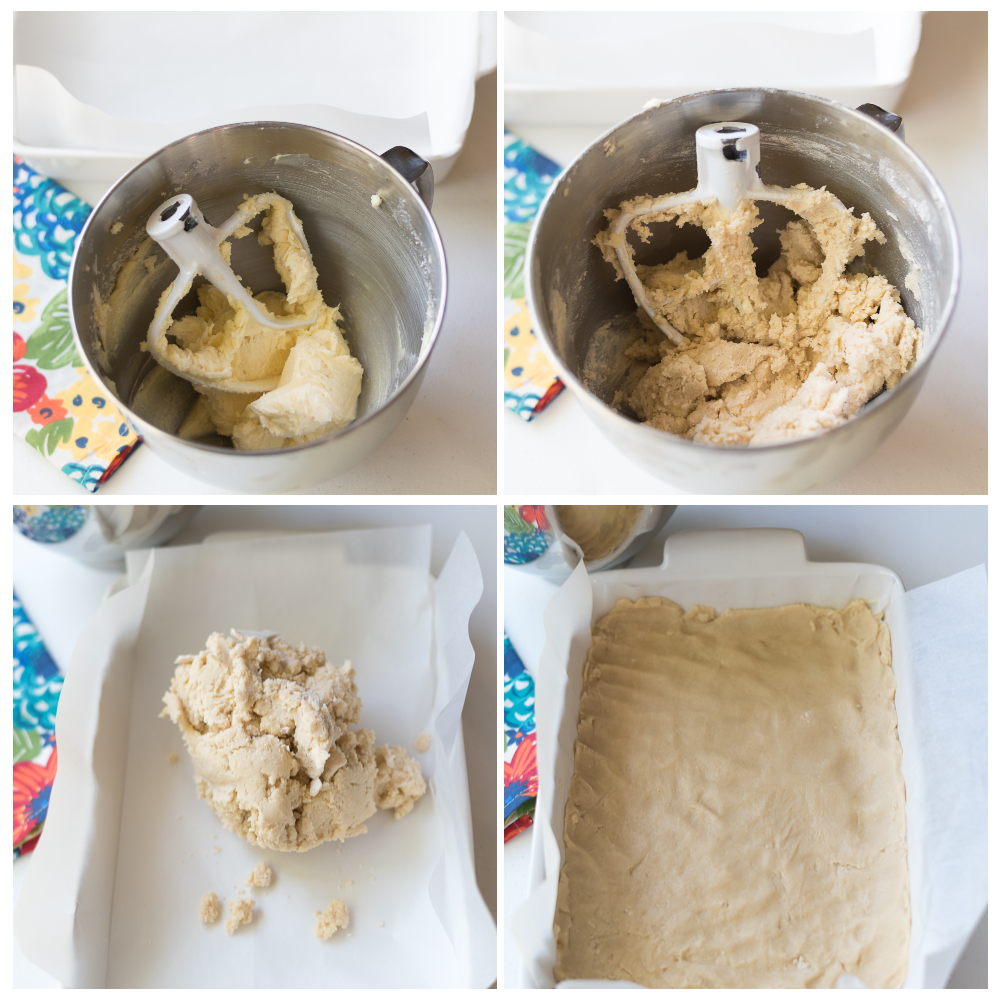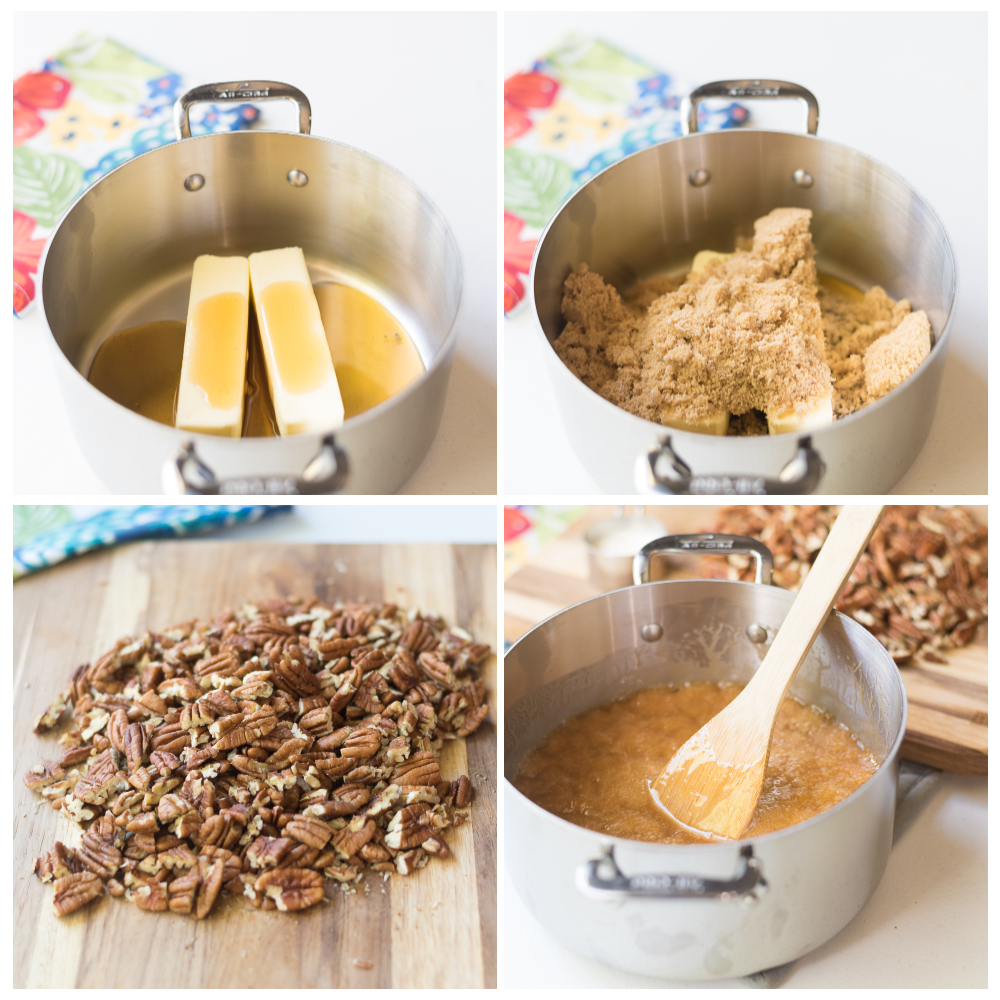 Other Posts The you May Enjoy…
Gluten-Free Cherry & Pistachio Snack Cake
Easy Chicken Sausage and Veggie Saute Dinner
View my latest cooking videos, and please consider subscribing to my YouTube channel!
This post may include amazon links. As an Amazon Associate I earn from qualifying purchases.