First, I have had the pleasure of growing up in Hendersonville, NC. We have been back for over 30 years to the North Carolina mountains, where I have recently discovered the locally owned and operated "AVL Box." The mission is to promote all local products delivered to your door and at a designated pick-up location. To sum it up, it's easy!
So, I came back into contact with Cassie Cosgrove. She owns the new "AVL Box". I have known her parents, Dena and Jeff Cosgrove, my entire life, and our families grew up together.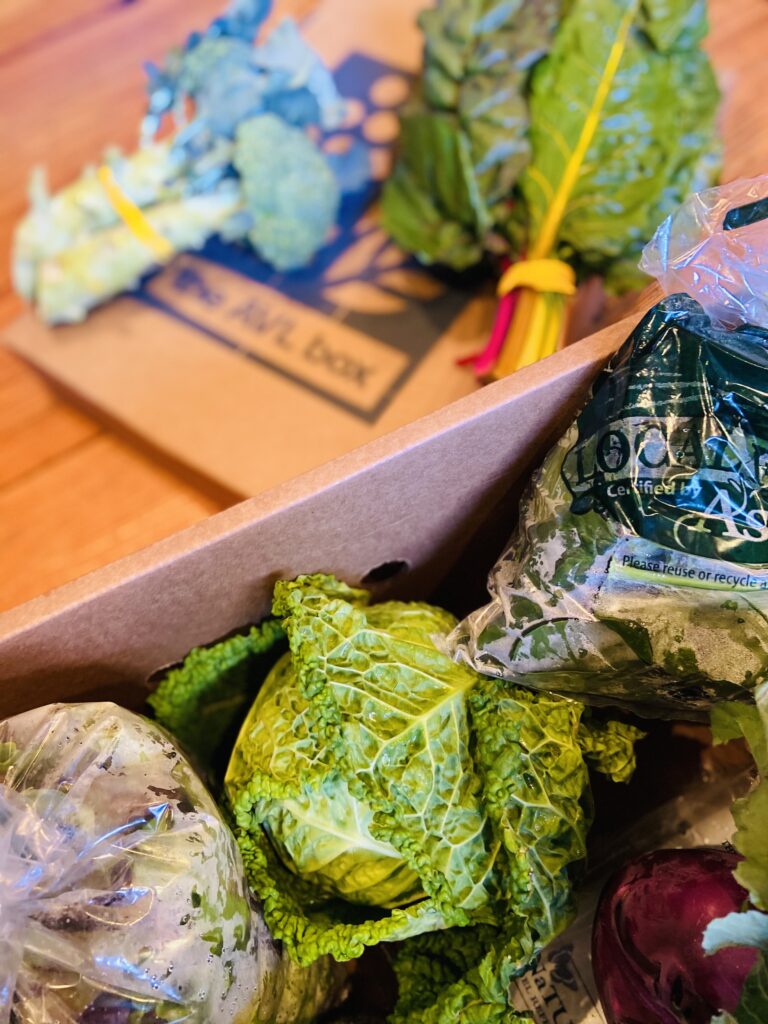 Next, I got a phone call from Cassie a couple of weeks ago. She told me about moving here and her new venture – the "AVL Box." Here is the link https://theavlbox.com/. She wanted to give me a box to see what I thought. And if I liked it would I write a review. Guess what? I loved the box.
Inside The AVL Box
The next day Cassie brought me a beautiful box loaded with fresh, local produce, including many other specialty items. For example, it was full of fresh lettuce, kohlrabi (I have never cooked), savory cabbage, swiss chard, oyster mushrooms, and napa cabbage. Needless to say, there was more.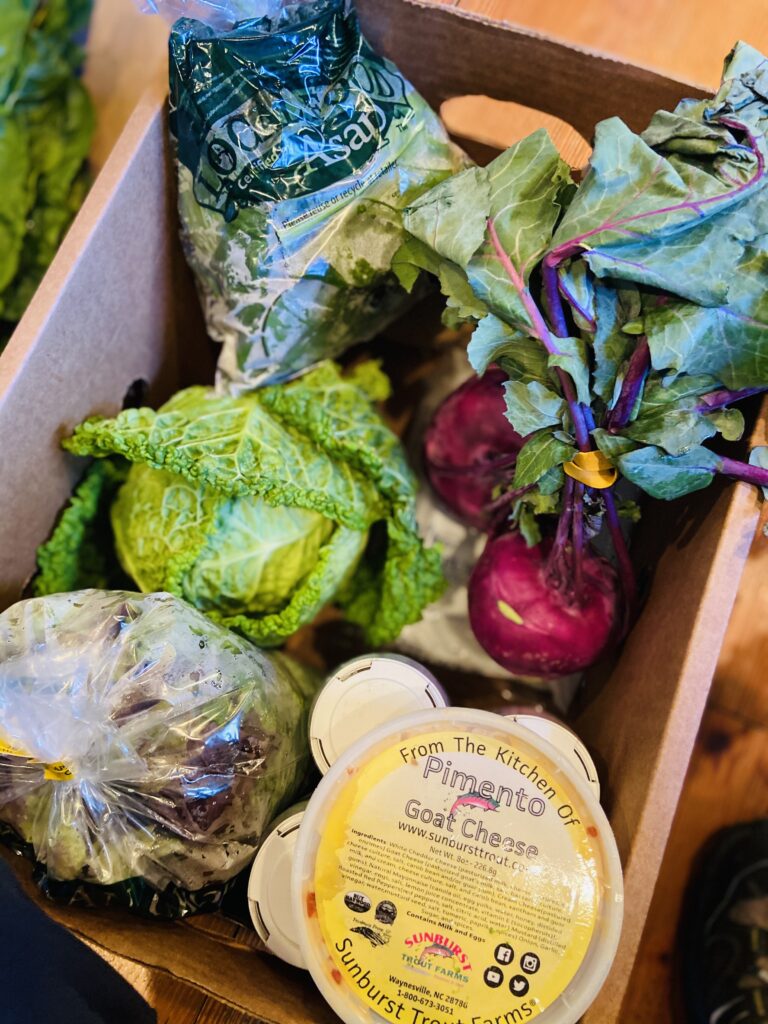 I also gave her my cookbook, Laurie Bakke's Cookbook, to look over. Cassie now has the book for sale on her site. It is wonderful for local people to help promote each other. Here is a link to the cookbook on the AVL Box website. https://theavlbox.com/product/laurie-bakke-cookbook
The Options
There is an option to add extra items, which I took advantage of. I love to find new local products and incorporate them into my recipes. For instance, local sourwood honey, Dynamo, Independent and Sharewell coffees, French Board chocolates, and more. They carry cheeses; Sunburst smoked Trout and Goat Cheese pimento cheese, hot sauces, relishes, and sauerkraut. Not to be left out, organic household cleaners. I could go on and on with how much I like the "AVL Box."
There is a wonderful assortment of local jellies and bread mixes from Copper Pot and Wooden Spoon. Last but not least, Underground Baking's fresh baked bread can be added to the box. It's a wonderful idea. I have signed up and love having fresh produce in my refrigerator.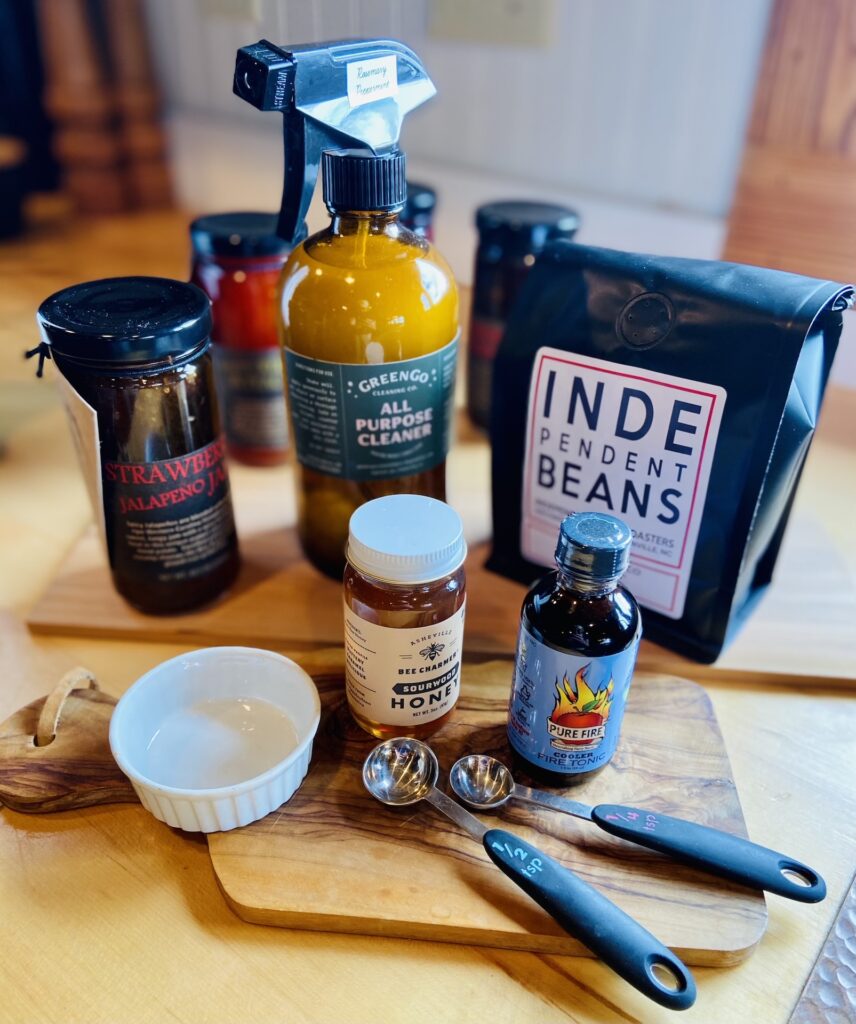 With all my produce, I made a delicious savoy cabbage salad with avocado, pomegranate seeds, and toasted pecans. The recipe will be coming out in an e-book I am working on. I would highly recommend anyone to sign up for the AVL box. Try the box one time and then sign up for weekly, bi-weekly, or monthly. Whatever suits your fancy.
Other Posts The you May Enjoy…
Grilled Watermelon Mint Salad with a Lime, Honey Dressing
View my latest cooking videos, and please consider subscribing to my YouTube channel!
This post may contain affiliate links and I may earn from qualifying purchases.