Apple Roses Tartlets are not only oh so delicious, but gorgeous too! Thinly sliced apple slices are arranged on top as a rose for a beautiful presentation.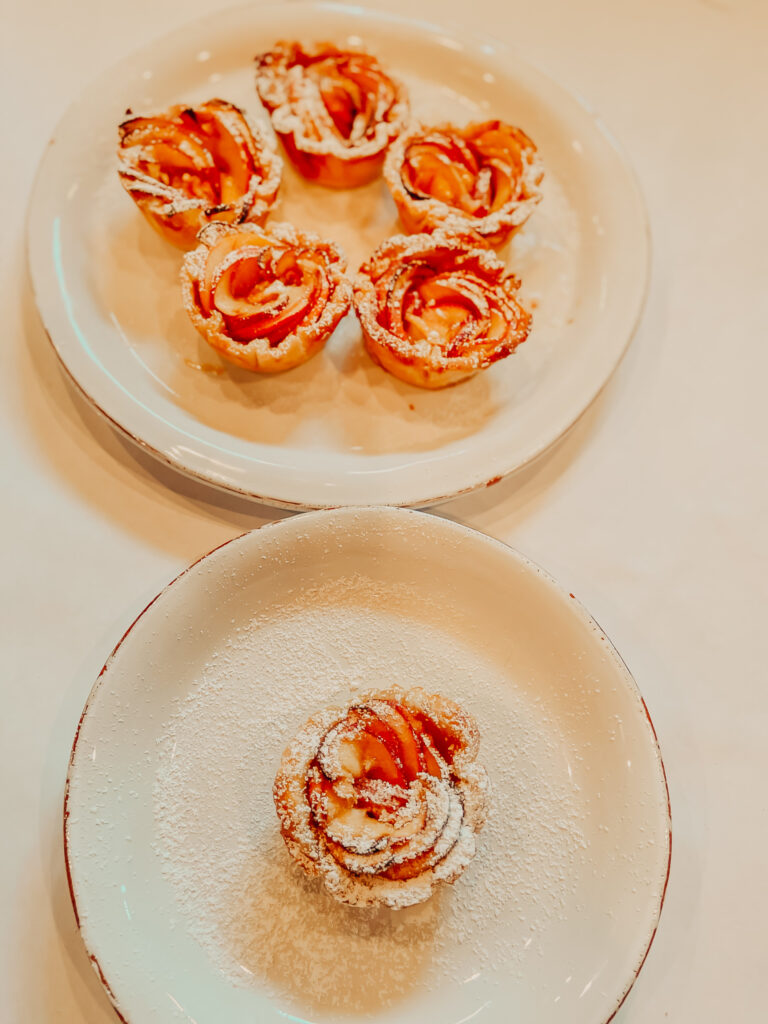 Autumn is here, and what better way to enjoy the bounty than with apples. For example, Apple Roses Tartlets glazed with Apricot Preserves are the perfect answer.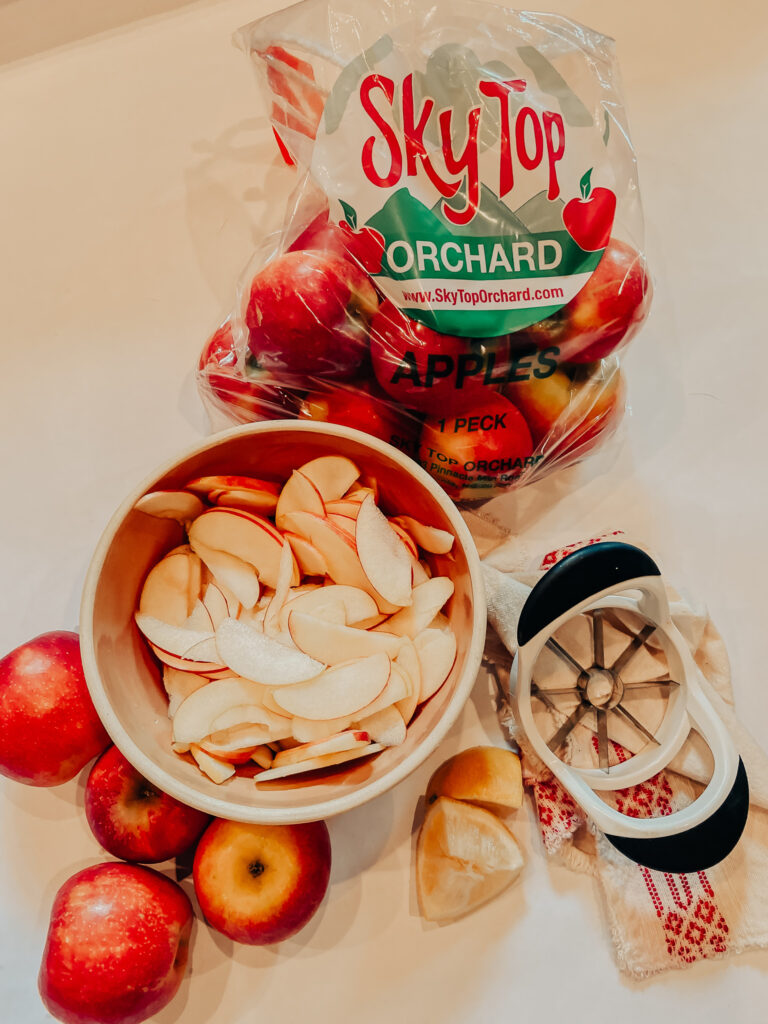 With the beauty of the rose and the apple flavors brushed with apricot, brown sugar, and butter, you have the perfect apple dessert or afternoon snack.
That makes these mini apple roses a veritable feast for the eyes and the taste buds. However, they may look fancy, but they're surprisingly simple to make.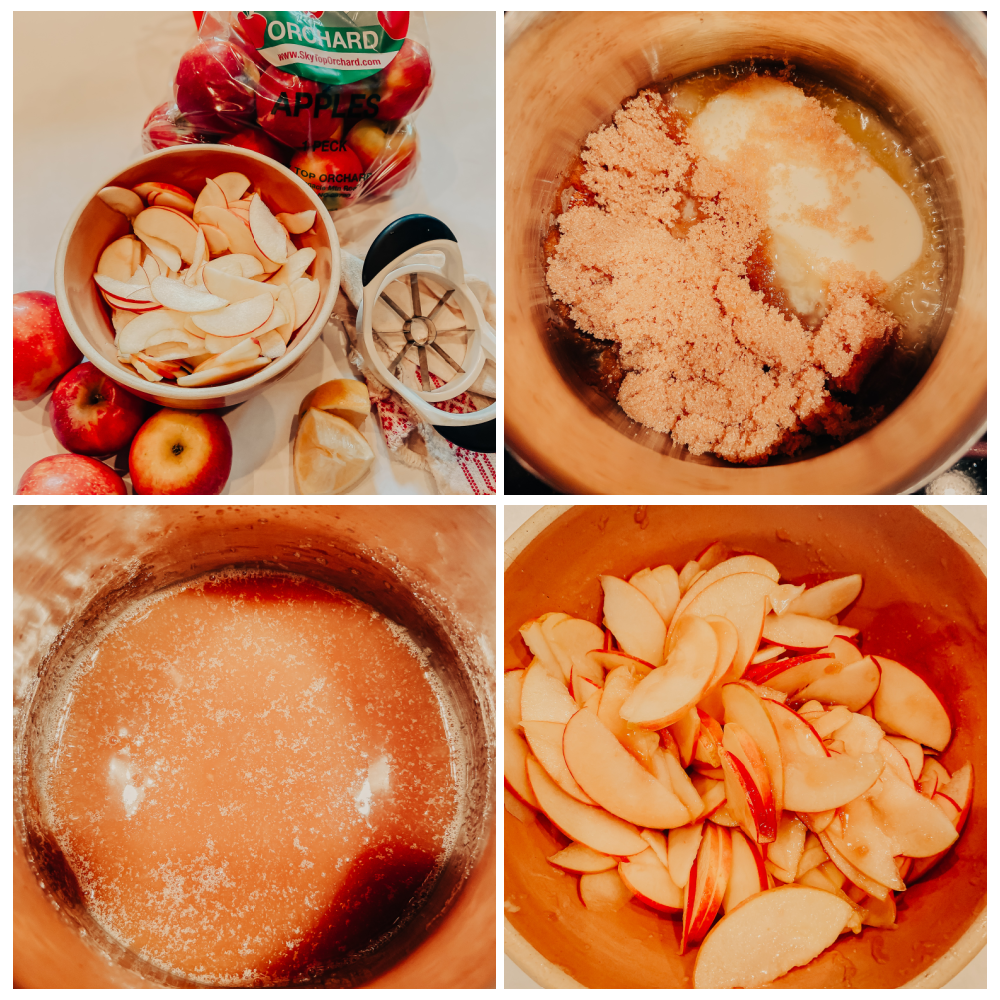 I recommend using Honeycrisp apples, but if not available, try Pink Lady or a Braeburn is a good alternative. The apples to be crisp, firm, sweet, and a bit tart with a pinkish hue on the skin.
You can shortcut this recipe by buying already made pie dough. Of course, your favorite pie dough recipe is always the best, but in a pinch, it can be a lifesaver.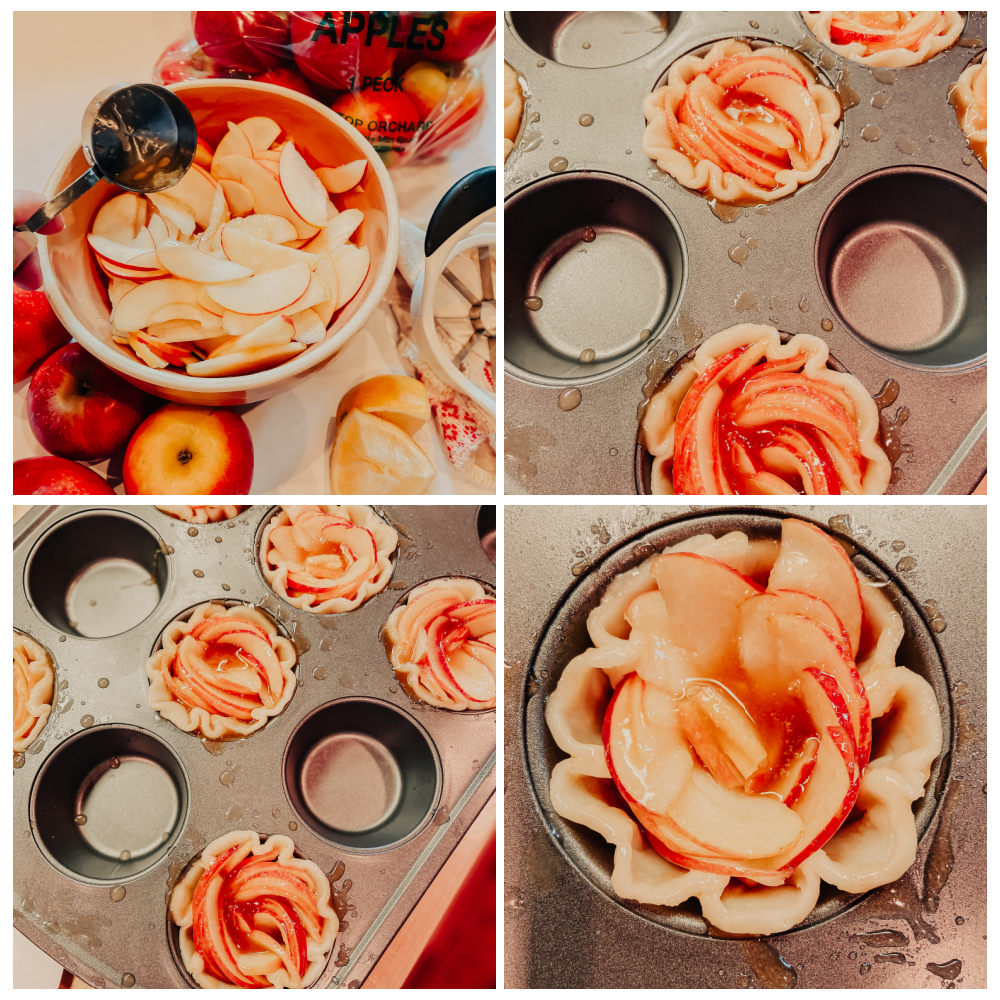 Roll out the pie dough to around a 1/4-inch thick. Next, take the cookie-cutter or what ever you use and make your rounds. Place them in the chilled muffin tin. Put back in the refrigerator.
While the dough is chilling, you can begin slicing your apples. I have an apple corer I used, which was very helpful. Next, take the freshly squeezed lemon juice and cover the apple to prevent browning.
Now its time to make the brown sugar, butter, and preserve sauce. Once that is heated, pour over the sauce the apples. It just smells of fall. Yummy!
Pour the mixture over the apples and let sit for about 10 to 15 minutes or until pliable to use.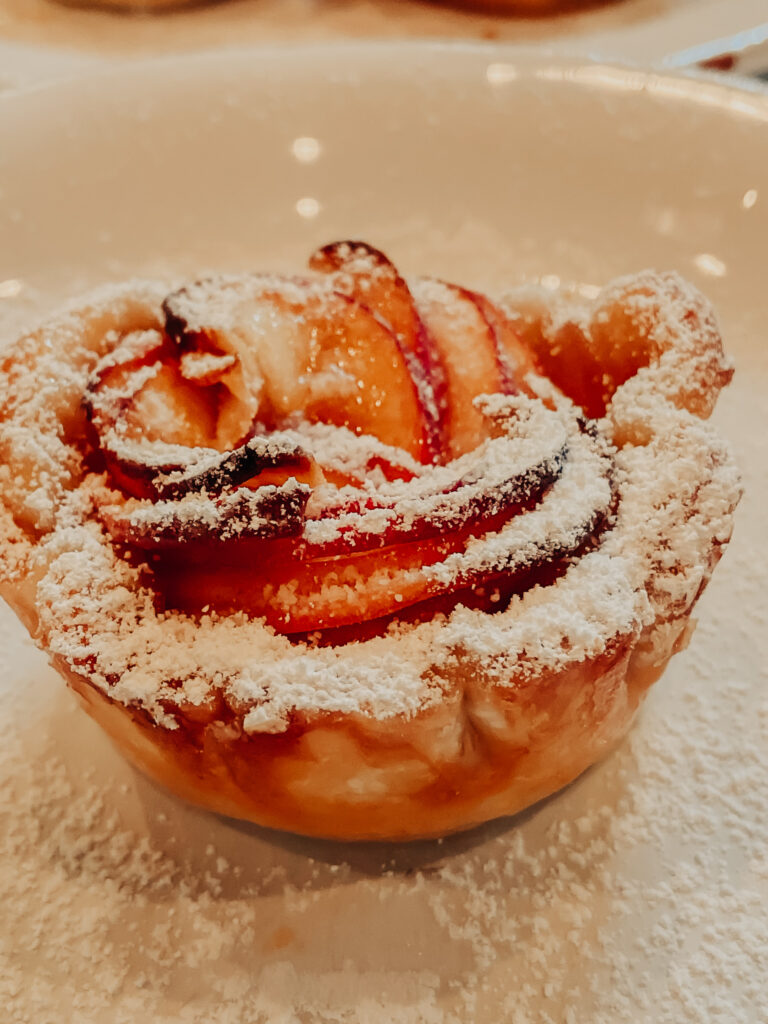 It's time to make the roses. Line the apple slices on a cutting board. It's important to overlap the slices horizontally. Lastly, it's time to begin rolling the slices into your rose.
Remove the chilled tart from the refrigerator, and place each rose into the pastry. You may have to arrange to get the rose more in place. Now it is time to bake the apples.
Finally, when the cooked apples tarts come out of the oven, they will be lightly browned and sizzling. The Apple Roses Tartlets are ready to eat. Bon Appétit!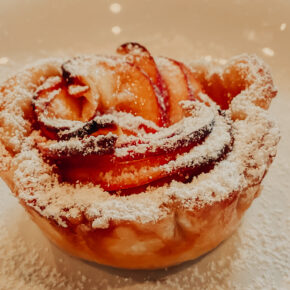 Apple Rose Tartlets
Ingredients
1

Pie Crust – or your favorite pie crust recipe

3

Honeycrips Apples – cored and sliced into 1/16-inch thin

1/4

C.

Lemon Juice – freshly Squeezed

4

Tbsp.

Unsalted butter

1/2

C.

Light brown sugar – tightly packed

2

Tbsp.

Apricot PreservePowdered Sugar – for dusting the tart

Vanilla Bean Ice Cream – can be dairy-free

if desired
Instructions
Chill a muffin tin while preparing the dough. Prepare the pie dough as instructed. Once ready, roll out on a lightly floured surface about a 1/4 of an inch thick; using a 3 to 4inch cookie cutter, biscuit cutter, or a cup, punch out rounds. Remove muffin tin from the refrigerator. Gently press rounds into each well. Transfer pie crust-lined muffin tin back to the refrigerator to prepare to fill.

Core the apples. Using a very sharp knife, cut the apples into half-moon shapes 1/16-inch thin. Place in a large bowl, add the lemon juice and toss to coat.

Place the brown sugar, preserve, and butter in a small saucepan over medium-low heat. Stir and cook until ingredients are melted and combined. Pour the mixture over the apple slices and toss to combine. Set aside for 5 to 10 minutes to allow apples to become pliable. If apples are still not pliable, quickly microwave in 15-second bursts until apples are pliable. Strain the apple slices and discard liquid in a bowl. Set aside.

Start with about 10 slices, laying the slices out horizontally, skin side toward you, overlapping the previous apple by half. To form roses, arrange about 10 apples laying the slices horizontally in a straight row, skin side towards you with each slice overlapping one another to create a 12-inch line. Starting with one end, gently roll apples. Transfer rolled apples into each pie crust. Repeat rolling apples until all pie crusts are filled.

If it is easier to make the rose with your hands, place the apples between your fingers one at a time and keep adding the apples until you get a coil for the apples. Refrigerate for 5 minutes.

Meanwhile, arrange a rack in the middle of the oven and heat to 350°F. Bake until the crust is golden and apples have cooked about 30 minutes. If apples start to brown faster than pie crust, lightly place aluminum foil on top. Take the tarts out of the muffins tin. Place on a rack to cool. To serve – place on a platter or a single dish. Sprinkle with powdered sugar, and if desired, serve with ice cream or dairy-free ice cream.
Other Posts The you May Enjoy…
Grilled Watermelon Mint Salad with a Lime, Honey Dressing
View my latest cooking videos, and please consider subscribing to my YouTube channel!
This post may contain affiliate links and I may earn from qualifying purchases.