These melon skewers are the perfect appetizer for Labor Day!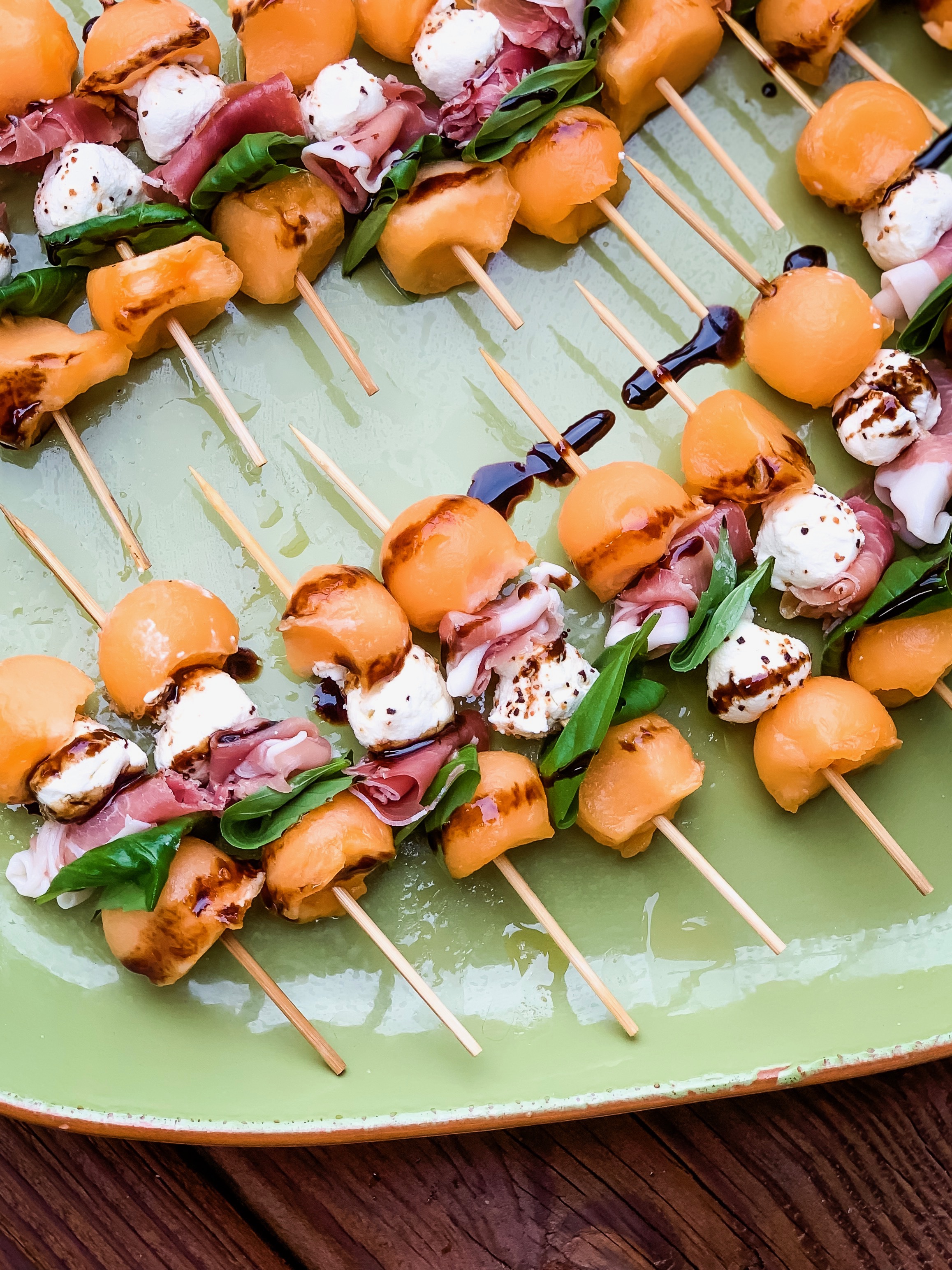 Ready for Labor Day! Put some Cantaloupe Prosciutto Skewers with Fresh Basil on the list for the long weekend ahead. It is the best appetizer ever. While being very refreshing, it is also effortless and presents beautifully. I know we all look for a quick, but a tasty appetizer to bring to your parties over the holiday.
That brings us to late August and early September and what's in season. Apples, arugula, basil, berries, chard, cilantro, corn, green beans, figs, mint, melons, peaches, rosemary, tomatoes, thyme, and the list goes on and on. Head to the produce markets every chance you get. Buy as much as you can, and freeze the extra for the cold months. I love going to our local stands in Hendersonville.
I have one that I am very fond of because I feel they are sticking closely to local produce. The stand is a family-owned business called Johnson Family Farms on Kanuga Road.
I was shopping one day at Johnson's. They had the sweetest looking cantaloupes. Make sure the cantaloupe is truly soft and ripe. The young store-bought melons will miss the mark. I bought a few, and came home, and try to think of a way to turn those into something delicious as an appetizer for a dinner party I was attending that night. I already had on hand, goat cheese, prosciutto and tons of fresh basil. That is how Cantaloupe Prosciutto Skewers happened.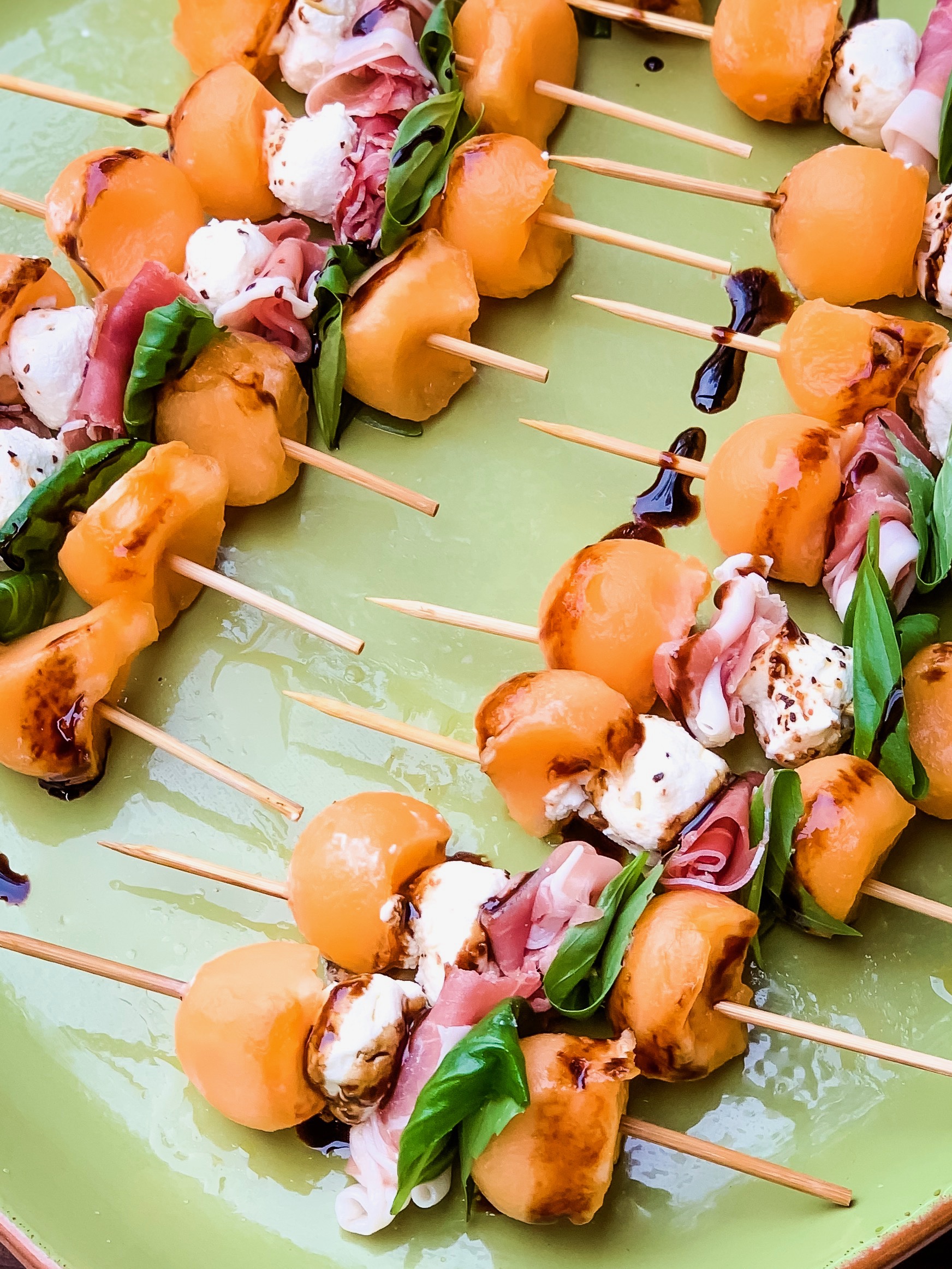 Cantaloupe is a fruit that gets looked over. Cantaloupe is probably one of the most underrated fruit but should be top on the list. They carries a host of benefits, aside from being delicious. Also, Cantaloupes are rich in beta-carotene, an antioxidant that converts into vitamin A in the body, as well as C. It can aid in helping with inflammation and oxidate stress.
Other Posts The you May Enjoy…
Easy Homemade Pimento Cheese Spread
View my latest cooking videos, and please consider subscribing to my YouTube channel!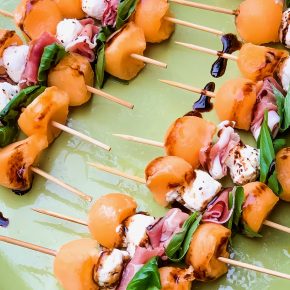 Cantaloupe Prosciutto Skewers with Fresh Basil
These melon skewers are the perfect appetizer for Labor Day!
Ingredients
2

Cantaloupe – halved and seeded

16

Fresh Basil Leaves – cleaned and folded in half

16

Slices Prosciutto – split down the middle and rolled up

12

oz

Fresh Goat Cheese

Extra Virgin Olive Oil

Kosher Salt

Fresh Ground Pepper

Balsamic Vinegar – for drizzling

16

6-inch Wooden Skewers or Decorative Skewers
Instructions
With a medium-size melon baller, scoop out round balls of the melon. You should

have 32 all together. Set aside.

Mix the olive oil, salt, and pepper in a medium mixing bowl. With the goat

cheese, form into 1 inch round balls. They can be placed into the olive oil mixture

and thoroughly coated.

When preparing the prosciutto, place a slice on a cutting board. Cut down the

center, and then roll up so it will fit on the skewer.

Assemble the skewers. Layer the cantaloupe, prosciutto, basil leaves folded in

half, goat cheese balls, and the second piece of cantaloupe until you have 16

skewers.

Place on a serving platter. Drizzle the balsamic over the skewers 3 to 4 times.

Garnish with more basil.