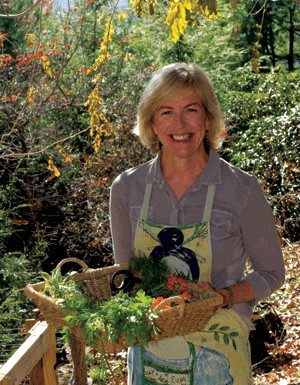 Laurie Green Bakke made her mark in Hendersonville, NC when she opened Cafe Laurie in 2002. For six years, her restaurant embodied a fresh, fast gourmet-to-go style that quickly caught on and established Laurie Bakke and Cafe Laurie as a unique addition to the culinary world. She sold the business in 2007 and almost by chance, began her path of cookbook author. Behind the Scenes from Cafe Laurie was intended to be a gift to her daughter, Megan, as she was heading off to college. Working with scrapbook artist Brenda Fuqua, it became a one-of-a-kind hand-crafted edition.
Attending culinary school in the 1990s at Asheville-Buncombe Technical College was a way for Laurie to truly hone her love of cooking and appreciation for it as an art form. She had no idea that it would be the start of a career that spanned her time as an Executive Sous-Chef at Highland Lake Inn, restaurateur, restaurant and food consultant, cooking class instructor, and ultimately, writer. Laurie is a member of Women Chefs & Restaurateurs.
Laurie and her husband, Paul Bakke, live in Hendersonville, NC. Their two children, Chris and Megan Bakke, graduated from UNC-Chapel Hill. Chris currently lives in Denver, Colorado, and Megan currently lives in Boston, Massauchetts.
For questions about Laurie Bakke's Cookbook, her recipes, or to follow Laurie's culinary progress, please contact her here.