Creme Anglaise: This rich, creamy vanilla custard sauce will take your desserts to the next level! A classic recipe that's infinitely versatile, made from just five ingredients, plus lavender in this recipe. 
The creme base is versatile when used to make ice cream, as a layer in a fruit tart and more. It also can be flavored with liquors, chocolate, spices, and herbs. I love to use fresh vanilla bean because it is the ideal place to see the distinctive flecks that show you made it from scratch.
Here is a link with an in-depth step by step of how to properly temper eggs, in the recipe, from the fantastic blog – Food 52
https://food52.com/blog/6621-how-to-temper-eggs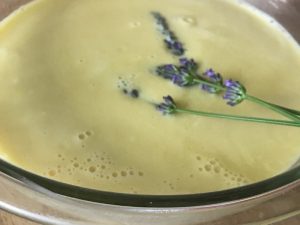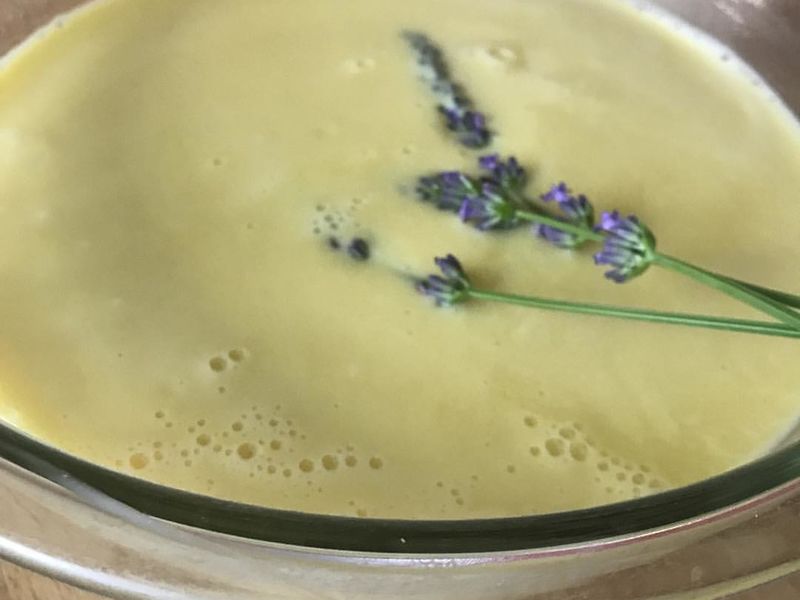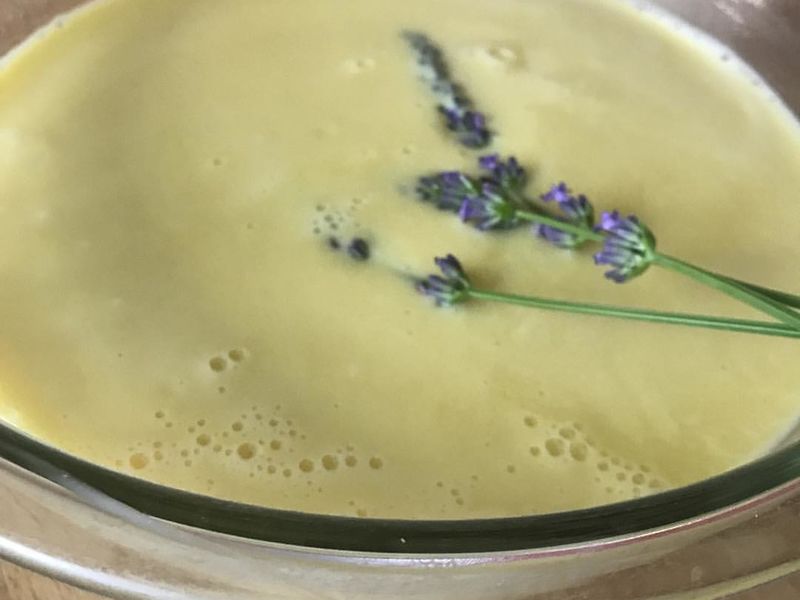 Ingredients
1 Cup Milk - regular
1 Cup Heavy Cream
4 Egg Yolks
1/2 Cup Granulated Sugar
1 Fresh Vanilla Bean - split and scraped or 1 tsp. Pure Vanilla Extract
1 Tbsp. Pesticide-Free Fresh or Dried Lavender Flowers
Instructions
Pour the milk and cream into a medium saucepan, place over medium heat, and heat until small bubbles appear along the edges of the pan.
In a separate bowl, whisk together the egg yolks, sugar, salt, and vanilla bean until creamy. The next step is called tempering the eggs. It's a process of slowly melding the two mixtures together very slowly, so the eggs do not curdle.
Pour about 1/2 cup of the hot milk into the egg mixture, whisking constantly.
Next, begin pouring the egg-milk mixture into the saucepan, place over medium heat and cook, continually stirring with a wooden spoon, until the mixture thickens and lightly coats the back of the spoon, about 1 minute.
Do not allow it to boil. An instant-read thermometer inserted into the custard should read 180 degrees or coat the back of a wooden spoon.
Remove from the heat and immediately stir in the lavender flowers. Pour the custard into a bowl and cover with plastic wrap that is placed directly on the surface to prevent a skin from forming, and refrigerate overnight or until chilled. (At this point, if you are short on time, place the covered custard over an ice bath in a larger bowl. It will chill down faster).
Pour the custard through a fine-mesh sieve. If the custard comes out smooth, I sometimes don't strain the custard.
Serve immediately but can be refrigerated up to one week but best if used in a few days.
http://lauriebakkeskitchen.com/2019/01/lavender-creme-anglaise/
Property of www.LaurieBakkesKitchen.Com