This orzo salad is delightful in the summer months when the heat outside is so hot, all you want to eat is lighter fare. It is delicious and holds well when chilled.
This recipe makes enough for 20 people, so adjust accordingly for your size crowd.
Summertime Greek Orzo Salad with Shrimp, Lemon, and Fresh Dill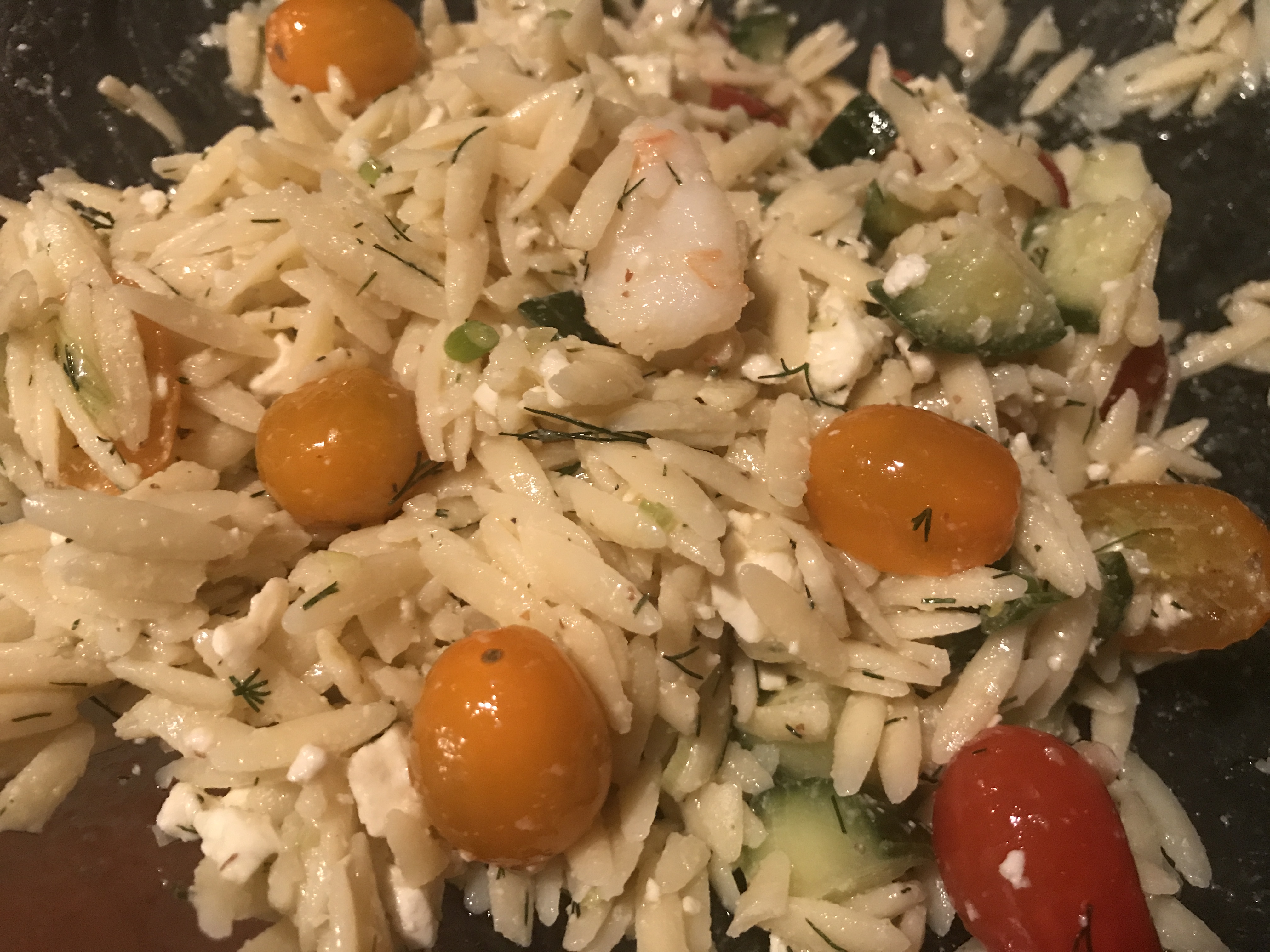 Ingredients
LEMON DILL ORZO AND SHRIMP SALAD:

2 lb. Orzo Pasta (rice-shaped)
2 Bunches Green Onions - minced
1 lb. Feta Cheese - crumbled
3/4 Cup Fresh Dill - chopped
1/4 Cup Italian Parsley - chopped
1/2 Cup plus 1 Tbsp. Fresh Squeezed Lemon Juice
1/2 Cup Extra-Virgin Olive Oil*
3 lb. Uncooked Large Shrimp - peeled and deveined
1 1/2 English Hot House Cucumber - quartered, lengthwise, cut into 1/4 inch pieces
2 Baskets Multi Color Cherry Tomatoes - halved
Kosher Salt and Fresh Ground Pepper - to taste
Fresh Dill - for garnish
DIJON LEMON VINAIGRETTE:

3 Tbsp. Lemon Juice - freshly squeezed
2 Cloves Garlic - minced
1/4 Cup White Wine Vinegar
3 Tsp. Grainy Dijon Mustard
3/4 Cup Extra-Virgin Olive Oil
1 Tsp. Kosher Salt
*A flavored olive oil can be substituted for plain olive oil.
Instructions
To cook the shrimp, drop them into a large pot of boiling water until the shrimp start turning pink and just cooked through. Drain into a large colander and quickly add ice on the top and mixed through the shrimp to cool as quick as possible to stop the cooking process.
Cook orzo in large pot of boiling salted water until just tender; about 10 minutes. Drain. Rinse with cold water to cool and drain well. Add a few tablespoons of olive oil to prevent sticking. Transfer to a large bowl and chill.
While orzo is cooking, prepare the vinaigrette. Mix all ingredients in a blender and refrigerate until ready to mix the salad.
If you have time to refrigerate overnight, then at this point, add green onions, feta cheese, chopped dill, lemon juice and olive oil: mix well. This part of the salad can be refrigerated overnight along with the prepared vinaigrette.
If you do not have time to refrigerate overnight, then go ahead and add cooled shrimp, salt, and pepper to taste. Mix the vinaigrette, cucumbers and cherry tomatoes and mix well. Garnish with dill and cherry tomatoes around the edge.
http://lauriebakkeskitchen.com/2017/07/summertime-greek-orzo-salad-with-shrimp-lemon-and-fresh-dill/
Property of www.LaurieBakkesKitchen.Com