Chicken, White Bean and Poblano Chili topped with Cilantro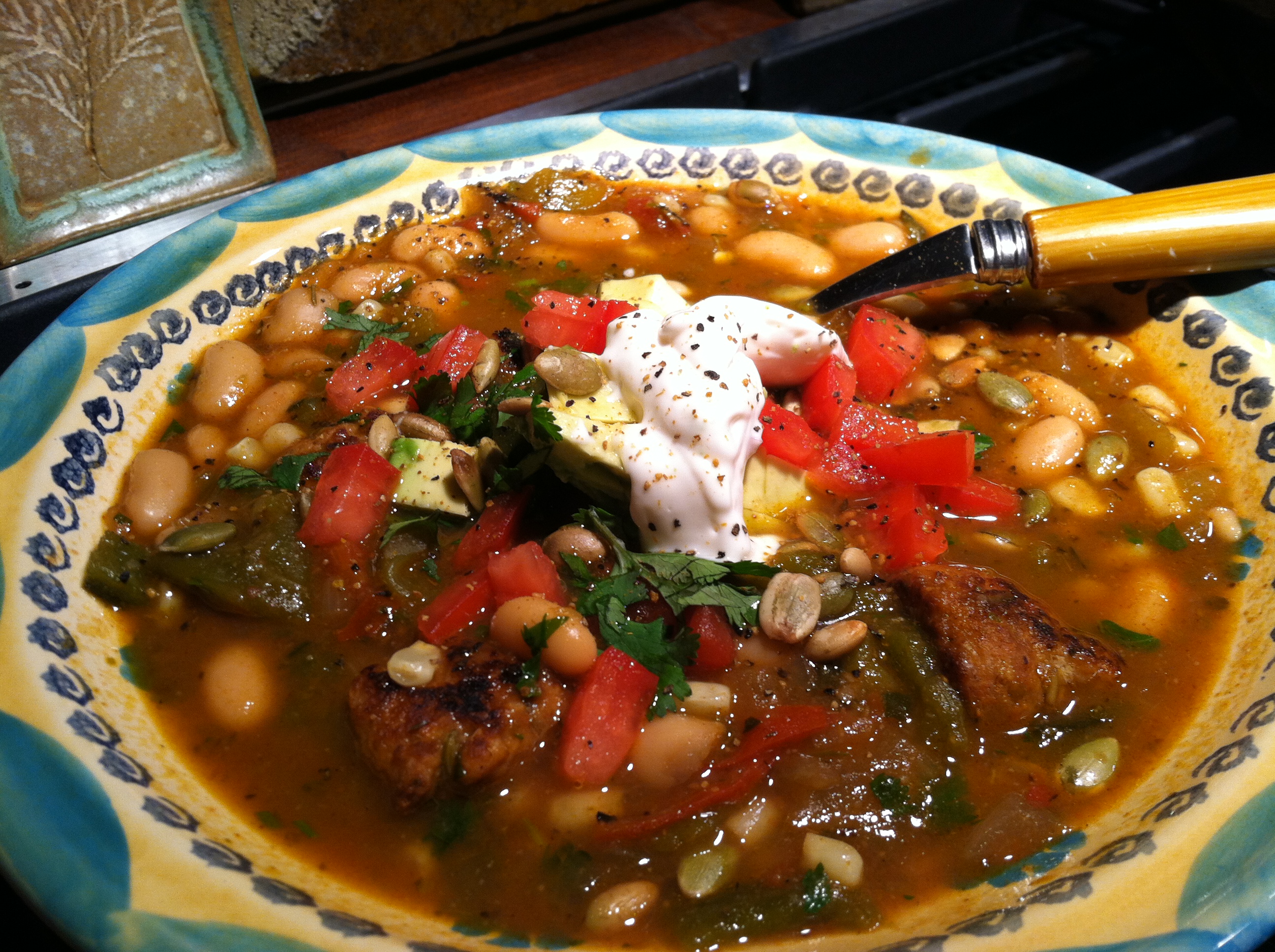 Ingredients
4 - Poblano Chiles
3 Tbsp. Plus 2 tsp. olive oil -divided
1 Medium to Large Yellow Onion - medium diced
4 Garlic Cloves - minced
2 Tbsp. Chili Powder
1 Tbsp. Cumin - ground
1 tsp. Fennel - dried
2 tsp. Oregano - dried
2 Tbsp. Apple Cider Vinegar
2 - 32 oz. Box Chicken Broth - low sodium
2 14 oz. Can Fire-Roasted Tomatoes
2 Can Green Chili - diced
3 Bay Leaves
3 14 1/2 oz. Can Cannellini Beans - rinsed and drained
6 Cups Chicken - cooked and shredded
1/4 Cup Fresh Cilantro - chopped
Garnishes: avocado slices, diced roma tomatoes, cilantro, sour cream and toasted pumpkin seeds
Instructions
Preheat oven to 500°.
Line a rimmed baking sheet with foil: add poblano chilies and coat with 2 teaspoons olive oil. Roast at 500° for 15 to 20 minutes or until peppers look blistered, turning several times. Remove and let cool enough to handle. Peel and remove seeds. Do not rinse. Chop peppers.
Heat the remaining 3 tablespoons oil in a large heavy saucepan or Dutch oven over medium heat; add onion. Reduce heat to low, and cook, stirring often, about 10 minutes or until onion is tender. Add the garlic, and cook, constantly, about 1 minute. Stir in the chili powder, cumin, fennel and oregano. Add the chopped poblanos and stir constantly for about 2 minutes.
Stir in the vinegar, chicken broth, tomatoes and green chilies. Bring to a low boil over medium-high hear, and reduce to low. Simmer, uncovered, about 30 minutes, stirring occasionally. Add the bay leaves, beans and chicken and simmer for about 10 to 15 more minutes.
Serve in a soup bowl and garnish with avocado, diced roma tomatoes, sour cream, cilantro and toasted pumpkin seeds.
http://lauriebakkeskitchen.com/2013/03/chicken-white-bean-and-poblano-chili-topped-with-cilantro/
Property of www.LaurieBakkesKitchen.Com