What goes perfectly with Grilled Lamb Burgers, steak, and most other grilled summer dishes? Zesty Sweet-Hot BBQ Tater Fries & Grilled, Caramelized Red Onions! Two yummy creations, one of which, the Sweet-Hot BBQ Tater Fries, was adapted from the 2008, summer issue of Bon Appetit. So give them a whirl yourself and make that summer menu just a little more exciting!
Sweet-Hot BBQ Tater Fries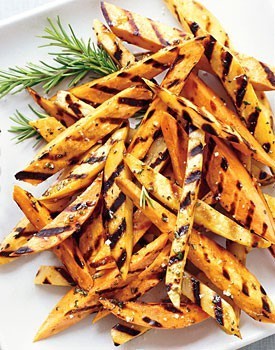 Ingredients
2 lbs. Sweet Potatoes - peeled and cut lengthwise into 1/2 -inch thick slices, each slice cut lengthwise into 1/2-inch wide strips
3/4 Cup Extra-Virgin Olive Oil
1 Tbsp. Fresh Rosemary
1 Tbsp. Golden Brown Sugar - packed
1 tsp. Garlic Powder
1/4 tsp. Cayenne Pepper
Additional Olive Oil
Instructions
Prepare the barbecue - medium heat. Place the potatoes in a large baking dish. Add 1/4 cup oil, fresh rosemary, brown sugar, garlic powder and cayenne pepper to potatoes. Sprinkle potatoes with salt and pepper: toss to coat very evenly. Brush grill lightly with oil. Place the potatoes on the grill, spacing about 1-inch apart. Grill until potatoes are tender and slightly charred and has grill marks, turning occasionally, about 10 minutes total.
Transfer the potatoes to a bowl or platter and season to taste with salt and pepper and serve. Garnish with fresh rosemary sprigs.
http://lauriebakkeskitchen.com/2012/06/perfect-sides-for-grilled-summer-dishes/
Property of www.LaurieBakkesKitchen.Com
Grilled and Caramelized Red Onions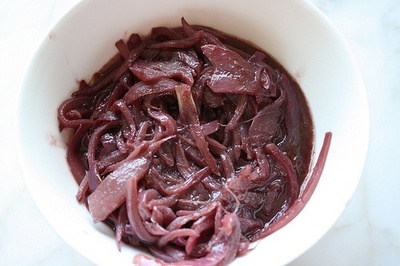 Ingredients
3 Large Red Onions - peeled and thickly sliced
3 to 4 Tbsp. Extra Virgin Olive Oil
3 Garlic Cloves - peeled and thinly sliced
1 Tbsp. Sugar
2 Tbsp. Red Wine Vinegar
1 Tbsp. Fresh Thyme - roughly chopped
2 Tbsp. Fresh Oregano - roughly chopped
2 Large Bay Leaves
1/4 tsp. Red Chili Flakes or to taste
1/4 tsp. Salt
Freshly Ground Pepper - to taste
Instructions
Brush both sides of the sliced onion with a little olive oil. Turn the grill on medium-high heat. Place the onions on the grill, turning occasionally, about 5 minutes or until almost tender and lightly browned on both sides. Watch that the onions don\'t get too soft.
Heat the remaining oil over medium-high heat in a large skillet. Add the onions and garlic and cook, stirring, for 5 minutes, until the onions start to become slightly tender. Sprinkle with sugar and stir until well combined. Add the vinegar, thyme, oregano, bay leaves, and chili flakes. Adjust the heat as necessary, so the onions are not burning but are browning nicely. Cook for an additional 5 minutes or until the onions start to caramelize. Add small amounts of additional water if the onions get to dry.
Remove the bay leaves and season with salt and pepper to taste.
http://lauriebakkeskitchen.com/2012/06/perfect-sides-for-grilled-summer-dishes/
Property of www.LaurieBakkesKitchen.Com