This is the time of year, with Memorial Day here, when we start thinking about the outdoors, gardens, grills and food.  As I sit today, I am thinking of the types of burgers (meat or not) and the vast condiments that accompany our meals through the summer.
First, I can start with the burger, which has taken a life of its own, with the varieties and the ethnic culture so influencing what we eat today.  Burgers can consist of beef, turkey, lamb, chicken, seafood, or be made vegetarian which can be mixed with fresh herbs, spices, onions and more.
To begin the "Burger Month", I will start with Grilled Lamb Burgers with Tzatziki Sauce.  This is a Greek favorite and one that we are starting to see more and more in the United States.
Grilled Lamb Burgers topped with Tzatziki Sauce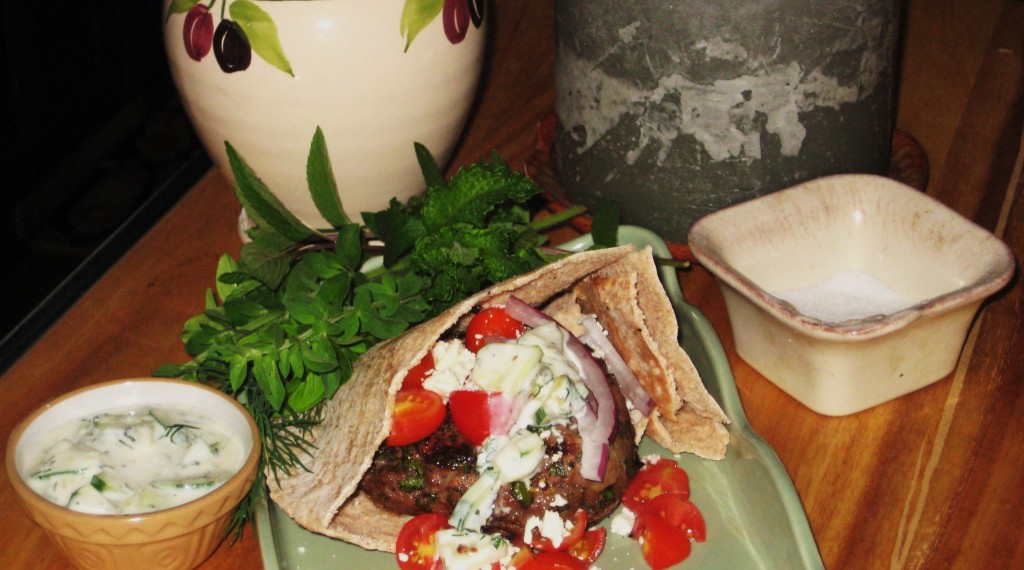 Ingredients
2 tsp. Cumin Seeds – toasted and ground
2 tsp. Coriander Seeds – toasted and ground
2 tsp. Kosher Salt
1 ½ tsp. Freshly Ground Black Pepper
1 ½ Lbs. Ground Lamb
2 tsp. Grainy Style Mustard
1 Small Sweet Onion – grated
2 Garlic Cloves – minced
2 Tbsp. Fresh Oregano – chopped
2 Tbsp. Fresh Mint – chopped
Slices of Red Onion, Chopped Cherry Tomatoes and Feta Cheese – for topping
Half a Whole Wheat Pita Bread – open in the middle
Tzatziki Sauce:

1 Medium English Cucumber – peeled and chopped
1 Cup Yogurt – Plain (Can use Greek Yogurt is desired)
½ Cup Sour Cream
2 Green Onions – minced
1 Garlic Clove – minced
¼ Cup – Pepperoncini – seeded and chopped
1 Lemon – zest and juice (1 tsp. zest and 2-3 Tbsp. juice)
½ tsp. Cumin - ground
1 ½ Tbsp. Fresh Dill – chopped
1 Tbsp. Fresh Chives - chopped
2 tsp. Fresh Mint – chopped
1 Tbsp. Olive Oil – extra-virgin
½ tsp. Kosher Salt
½ tsp. Freshly Ground Black Pepper
Instructions
Toast cumin and coriander seeds in a dry skillet over medium heat, shaking pan often, until seeds are just beginning to brown, about 1 minute. Let cool slightly. Finely grind seeds in a spice blender. Place in medium mixing bowl and stir in salt and fresh ground black pepper. Once combined, add the lamb, mustard, garlic, oregano and mint. Begin mixing, but do not over mix. This will cause the burgers to be dry. Set aside.
Grill the burgers over medium-high heat, turning only once, 3 to 4 minutes on each side or until desired doneness. Remove from grill and cover loosely, let rest for about 5 minutes.
To serve: Place burger into pita bread. Top with red onion slices, chopped tomatoes and feta cheese. Place a dollop the Tzatziki Sauce on the top and garnish with fresh mint, dill and oregano.
For the Tzatziki Sauce: Using a vegetable peeler to remove alternating strips of the cucumber peel, this will create white and green strips. Half the cucumber lengthwise, then chop into bite size pieces. Place in a mixing bowl, add the remaining ingredients and toss to combine. Check and adjust for the salt and pepper to taste.
http://lauriebakkeskitchen.com/2012/05/may-is-national-burger-month-2/
Property of www.LaurieBakkesKitchen.Com