Spring is here and with it brings an abundance of ingredients to the table. The season opens with a splash of green lettuces, pea shoots, fava beans, asparagus and parsley and moves on to a broader palette of color by introducing luscious skinned citrus, deep red strawberries, mango, spring salmon and tender pink lamb.
This month, I'm sharing an Herb and Lemon Marinade for lamb. It will transform your main dish into a centerpiece for the season's table.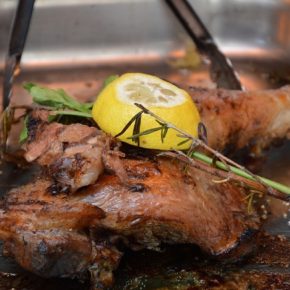 Mediterranean Marinade and Sauce for Lamb
Ingredients
1

cup

extra-virgin olive oil

2

cups

fresh Meyer lemon juice

if not available use regular lemons

3

cloves

garlic – minced

2

bay leaves

6

sprigs flat-leaf Italian parsley

2

sprigs each of fresh rosemary

thyme and mint (large stems removed)

Kosher Salt and Fresh Ground Pepper

4 to 5

Lb.

Leg of Lamb – deboned and butterflied

ask the butcher

Count on a 1/2 pound per person plus a pound

Trim any excess fat from lamb

Poke holes in lamb

Red Wine Finishing Sauce

1

cup

beef broth – low salt

1

cup

red wine

2

Tbsp.

balsamic vinegar

3

tsp.

shallots – chopped finely

1

Tbsp.

each of fresh rosemary

thyme and mint

3

Tbsp.

unsalted butter

3

Tbsp.

Italian parsley – finely chopped
Instructions
Mix all ingredients in a stainless mixing bowl. Place lamb in large glass or ceramic dish and pour marinade over. Cover with plastic wrap and marinate in the refrigerator overnight. Check the meat and turn a couple of times. Remove the lamb from the refrigerator. Brush off and discard the marinade. Start the grill. Season lamb with additional salt and pepper, if desired.

Place leg of lamb on grill and sear it on high heat for 15 to 18 minutes. Turn the grill down to medium to medium-high and cook for 5 additional minutes for desired temperature of medium-rare. To check for doneness, insert an instant meat thermometer into the center of the meat and read the temperature: 120 degrees is rare, 130 is medium-rare, 140 is medium, 150 is medium well. Remove from the grill and cover with foil and let rest for 10 minutes.

Cut meat against the grain and place on serving platter. Pour sauce over the meat and garnish with fresh rosemary, thyme and mint and serve immediately.

Mix all ingredients in a saucepan and boil rapidly until reduced to 1 cup. Remove from heat and add butter and parsley. If lamb is not ready, let cool and reheat when ready to use. Pour over cooked lamb and serve.

Chef Note: Beef, Quail or Pork can be substituted for lamb.