Fondue is an ideal opener for parties, get-togethers and family dinners. Delicious, fun to make and simple to prepare, it is no wonder that fondue is back in style.
It is not necessary to serve fondue in a fondue pot; a warmed ceramic bowl could work nicely. However, I do think every family should have a fondue pot! The experience will not be the same without it.
Irish Cheddar and Stout Fondue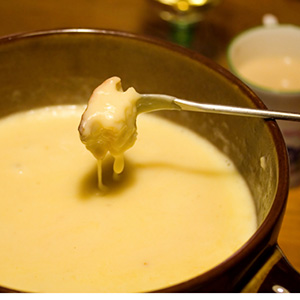 Ingredients
I pound Irish Cheddar (such as Dubliner), grated (see chef note)
2 tablespoons all-purpose flour
2 tablespoon unsalted butter
1 medium size onion - small dice
1/8 teaspoon nutmeg - fresh grated (if not available, then use ground nutmeg)
1/2 teaspoon kosher salt
1-1/4 cups Irish stout (such as Guinness or Murphys)
1 tablespoon coarse-grain Dijon mustard or very seedy mustard
Instructions
Toss the cheese with the flour in a bowl and set aside.
In a fondue pot, melt the butter over medium heat. Add the onion and cook, stirring frequently, until golden brown and very soft, about 10 minutes.
Add the nutmeg, salt, and the stout. Simmer for 5 minutes. Add the mustard, whisking until well combined. Increase the heat to medium- high, stirring constantly, until the liquid boils.
Decrease the heat to medium-low and add the cheese mixture, 1/2 cup at a time, stirring until melted after each addition. If the mixture becomes too thick, add more stout. Taste, adding more salt if necessary (that will depend on the cheeses and mustard). Serve immediately with suggested items.
Serving Suggestions for the Fondue:

Irish Brown Soda Bread – cubed
Chicken Apple Sausage – cooked and cut in bite-size pieces
Red or Yukon Gold Potatoes – steamed and halved or quartered
Cauliflower Florets – steamed
Small Brussels Sprouts – steamed
Granny Smith Apples – cored and cut into wedges
Arrange sausage, vegetables and apples around edge of large platter
Beverage suggestions:

Stout or ale, such as Guinness
Full bodied Cabernet or Merlot
Crisp Sauvignon Blanc
Notes
The Dubliner cheese is available at The Fresh Market in Hendersonville, Hendersonville Community Co-op, and Earth Fare in Asheville.
http://lauriebakkeskitchen.com/2011/12/fondue-for-the-holidays/
Property of www.LaurieBakkesKitchen.Com
Photo Credit: Hannaford.com