This recipe has been handed down from my great-grandmother, to my grandmother, to my mother and now to me. I have hosted Thanksgiving dinner at my house since my family moved back to Hendersonville, from Chicago, in 1992. Some years we went out, especially while I was working at Highland Lake Inn, but as the years went on, home was where we wanted to be. Each year different people have come and gone, but the recipes have remained constant.
The core of the meal is the stuffing!
Photo Source: deepsouthdish.com on Pinterest
Let's get started!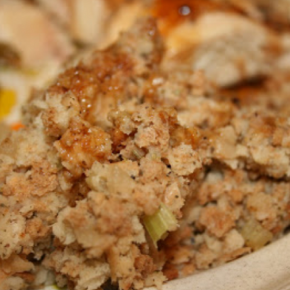 Old-Fashioned Herb and Cornbread Stuffing
Ingredients
16

Cups

– Stuffing Bread

can be white or wheat – 1 loaf – broken into bite-sized pieces

1

Pkg. – Pepperidge Farm Stuffing

1

Pkg. – Arnold's Cornbread Stuffing

4

Cups

– Celery – chopped medium dice

3

Cups

– Lg. Onion – chopped medium dice

4

– Sticks Butter – unsalted

1

Cup

– Bouillon

chicken

1

Cup

– Walnut or Pecan Pieces – toasted lightly

2

Apples – Cored

Seeded and chopped small dice

2

Tbsp

– Sage – Fresh or Dried/to taste

1

Tbsp.

– Marjoram – Dried/ to taste

2

Tbsp.

– Sugar

2

– 3 Eggs – lightly beaten

Kosher Salt and Fresh Ground Black Pepper – to taste
Instructions
In a very large mixing bowl, add the stuffing bread, herb and cornbread stuffing and mix together until well combined. Set aside. In a large saute pan, add the butter. Let heat up for just a minute: then add the celery, onion and saute until soft and translucent. At this point, add the walnut/pecans and apples and saute for 2 to 3 minutes.

While still very hot, add the onion mixture to stuffing mixture and combine thoroughly. Begin to season with the sage, marjoram, sugar, eggs and salt and pepper to taste. Add the cup of bouillon at the last.

The mixture will be very hot. Sometimes for seasoning a hot item, it is best to walk away for a moment. Let your taste buds cool down and drink some water. Then return to the mixture and finish seasonings.

This stuffing is ready to stuff in the turkey, if baking, or put in casserole dishes for heating, if frying.
Keep checking back for more recipes for Thanksgiving and after!!