It is still technically summer!  Yes, summer does not end until September 22-23 when the beginning of autumn begins.  So I have a few recipes that I have to sneak in before we officially begin fall. There is so much abundance of fruits and vegetables that are available at this time of year.  I could post and post, but I am going to stay on course with some that have turned into real treasures.
The first recipe is from Alice Waters written in a Food and Wine article that is linked below.  It is the Creamy Peach Tart with Smoky Almond Crust.  It is a winner.  With the fresh peaches(or nectarines) and the creamy cheesecake filling, the tart all comes together with the crust.  It is made with real Nilla Wafers and Smoky Almonds and to pull it all together – good old-fashioned butter.
This is really a quick and easy recipe that takes about 30 minutes.
Source: https://www.foodandwine.com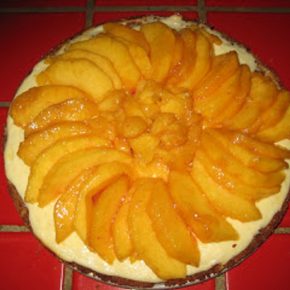 Creamy Peach Tart with Smoky Almond Crust
An almost-instant crust, made with vanilla wafer cookies and smoked almonds, is the secret to this simple and unusual tart.
Ingredients
2 cups vanilla wafer cookies, such as Nilla Wafers (5 ounces)
1/2 cup smoked almonds
1/4 cup plus 2 tablespoons sugar
4 tablespoons unsalted butter, melted
8 ounces cream cheese, softened
1/4 cup sour cream
1 egg
2 firm, ripe medium peaches, peeled and cut into thin wedges
INSTRUCTIONS
Step 1
Preheat the oven to 350°. In a food processor, combine the vanilla wafers with the almonds and 2 tablespoons of the sugar and process until fine. Add the melted butter and pulse until the crumbs are evenly moistened. Press the crumbs into the bottom and 1/2 inch up the side of a 9-inch springform pan. Bake for 10 minutes, until the crust is set.
Step 2
Meanwhile, wipe out the food processor bowl. Add the cream cheese, sour cream, egg and 2 tablespoons of the sugar and process until smooth. Pour the custard into the crust and bake for 15 minutes, until set. Let the tart cool slightly and transfer to the freezer to chill, about 15 minutes.
Step 3
In a bowl, toss the peaches with the remaining 2 tablespoons of sugar. Arrange the peaches in 2 concentric circles over the custard. Remove the ring, cut the tart into wedges and serve.