The tuna steaks have a flavorful marinade that infuses the fish as it sears on a hot grill. Everyone has a different preference on the doneness of fish and meat, but sushi-grade tuna is best cooked rare to medium rare. While the marinade yields a significate portion, it can be used to marinate chicken, pork, and vegetables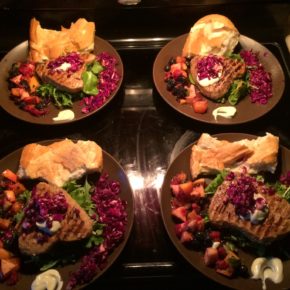 Grilled Tuna Steak with Oriental Coleslaw and Wasabi Mayonnaise
Ingredients
4 -

Fresh Tuna Steaks

Marinade - recipe to follow

Oriental Coleslaw - recipe to follow

Wasabi Mayonnaise - recipe to follow

Baby Mixed Salad Greens or Rustic Ciabatta Roll
Marinade:
1/4

C.

Soy Sauce

1/4

C.

Balsamic Vinegar

1/2

C.

Dijon Mustard

1

Egg Yolk - pasteurized

2

t.

Granulated Garlic

3/4

C.

Extra-Virgin Olive Oil

1/4

C.

Toasted Sesame Oil

2

T.

Mayonnaise

Kosher Salt and Fresh Ground Black Pepper - to taste
Oriental Coleslaw:
1/3

Red Cabbage - thinly shredded

1/2

C.

Sugar

2

T.

Key Lime Juice - preferably Nellie and Joe's Key Lime Juice

2

T.

Soy Sauce

1/4

t.

Chinese Five-Spice Powder

1/2

t.

Ginger - ground

2

T.

Toasted Sesame Oil
Wasabi Mayonnaise:
1/2

C.

Mayonnaise

1

t.

Wasabi Powder

Kosher Salt and Fresh Ground Black Pepper- to taste
Instructions
Begin with the marinade.

In a large bowl, add the soy sauce, balsamic vinegar, Dijon mustard, egg yolks, garlic, salt, and pepper; whisk until well blended. Slowly add the olive, canola and sesame oil and whisk until emulsified. Add the mayonnaise and whisk until blended.

Place the tuna steaks in a shallow dish, and pour enough marinade over to coat both sides evenly. Let the tuna sit for 20 to 30 minutes. At this point, prepare the Oriental Coleslaw and the Wasabi Mayonnaise.

In another large bowl, add the sugar, key lime juice, soy sauce, Chinese Five-Spice, and ginger and whisk together. Slowly add the sesame oil. Add the shredded red cabbage. Combine well and set aside.

In a small bowl, combine the mayonnaise and wasabi powder and season with salt and pepper to taste.

To assemble the dish, place the salad greens on a plate or grilled ciabatta roll with the seared Tuna Steak on top. Top the steak with the Wasabi Mayo and serve with the Coleslaw on the side. If served on the roll, place the coleslaw on the top of the steak.